If ever there was a player on the Islanders' roster that Islanders fans were willing to see more of, then that player would have to be backup goaltender Kevin Poulin. With questions surrounding the Islanders' ability to keep up their play over the course of a full season based on who they have in goal, Poulin's effort in a 3-1 victory over the Boston Bruins certainly has had fans clamoring to see what the young netminder can do if given more starts.
After appearing in 96 games at the AHL level for the Bridgeport Sound Tigers, many fans believe, and rightfully so, that it is time for Poulin to finally prove his worth to the franchise that drafted him back in 2008. While Anders Nilsson probably won't be pushing his way to the NHL even if Poulin doesn't have the best of showings this season, the Islanders' coaching staff and management must evaluate what they have in their backup goalie so they can proceed accordingly in the future. Evgeni Nabokov will have the ability to test free agency once again this summer, and with a plethora of high-ticket goalies potentially putting themselves out on the open market, circumstances might just work out in Poulin's favor.
Nabokov Still No. 1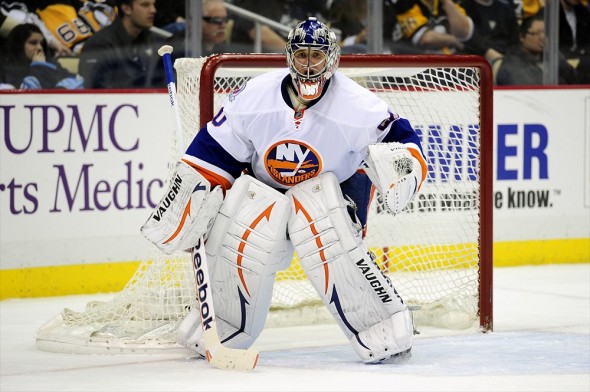 First and foremost, there is a reason why the Islanders have developed the way that they have over the last two years, and a big part of that stems from the team's support between the pipes. When Evgeni Nabokov arrived on Long Island, the Isles' three-headed goalie carousel was in full swing as Rick DiPietro, Al Montoya, and Nabokov all had to battle for their respective starts in New York's crease.
Not only did Nabokov jump ahead of the goalies in front of him by playing solid hockey, he essentially provided the stability and poise that the Islanders were lacking in goal since trading away Dwayne Roloson. Since taking over the starting goaltending duties for the Islanders, Nabokov has given his team a legitimate chance to win on most nights – even stealing critical games for the Isles during their stretch-run last season.
Of course, Nabokov has had his shaky moments as an Islander, but there is no questioning the calming veteran presence that the goaltender has brought to this team over the last few seasons. Regardless of fan reaction to Nabokov's play, one must also think back to the calamitous times when New York had very little consistency from its goaltenders and keep in mind that Nabokov has also been an influential individual in the Isles' locker-room. Whether or not Kevin Poulin wrests time away from Nabokov is still to be seen, but for the meantime, it should be expected that the Russian netminder will continue to garner the lion's share of starts for the Islanders.
The Poulin Wall?
So far, it is unknown what the Islanders have in Kevin Poulin. It is known that Poulin possesses great athletic abilities and is a very sound technical-style goaltender, but he has also shown a propensity to be vulnerable and unsettled on the first few shots taken against him when he plays.
Being susceptible to surrendering goals on the first few shots of the game is a problem that could be remedied by any goalie, but such a fix can only be instilled if the goaltender gets more starts for his team. Starting Poulin once every couple of weeks won't aid the goalie in terms of getting him into a rhythm, and it certainly won't give Islanders management a big enough sample size to determine what exactly their prospect goalie could bring to the team in the future.
As Islanders fans witnessed on Saturday night, Poulin was able to track the puck, play with friendly and unfriendly bodies in front of him, and come up with the clutch save when need be. It can be argued that Poulin and the Islanders received a couple of fortuitous bounces, but Poulin was on display all night and did not fail to impress his teammates as Thomas Hickey explained when Christian Arnold had a chance to catch up with him:
"You look at his matchups this year, he's been put in some tough spots," Hickey said. "Going against Chicago he played great there. Philadelphia we didn't give him a good enough performance and tonight he was good against a really good hockey team."
Despite the fact that Poulin hasn't had a set schedule for playing time, he has patiently waited for his opportunities and has certainly made the most of them. It will take more than a couple of games to find out what Kevin Poulin is really about, but unless he is given more starts it will be virtually impossible to tell what the goalie can be capable of and if he fits into the Islanders' long-term plans.
More importantly, Poulin's performance on Saturday night embodied the gritty performance that a backup goaltender is supposed to give his team when his number is called. Islanders' head coach Jack Capuano is always talking about his team's battle level and the players' ability to bring a certain type of hard-working effort to the ice every night, and it is hard to think that Poulin didn't personify such a work ethic in his most recent start.
A Symbiotic Relationship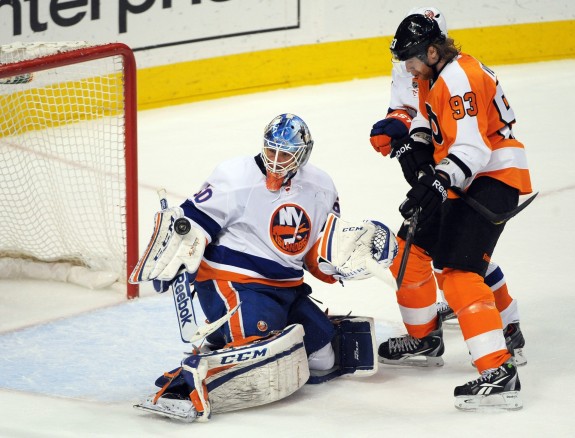 With Evgeni Nabokov starting 41 games last year in a lockout-shortened season, Poulin will definitely need to spell New York's starter a lot more this season. Being the warrior that he is, Nabokov will always claim to be ready for the next start, even if it means playing on back-to-back nights or starting three contests over the course of four nights. However, if the Islanders want to get back to the Stanley Cup Playoffs and make a run in the postseason, then their hopes will hang largely on Nabokov's shoulders.
Whether or not Nabokov ran out of gas during last year's playoff series against the Penguins can be a point of contention amongst Islanders fans (even though the Senators' Craig Anderson didn't fare much better against Pittsburgh), but one thing is for certain, and that is the fact that Nabokov will need to be rested way more this season.
Playing Poulin only when there are back-to-back game scenarios probably won't do much for the goalie's confidence, so it is of the utmost importance for the goalie to see game action as often as possible. Not only will Nabokov benefit in terms of receiving extra time off to keep his legs fresh, it could also give the veteran more time to get a better look at Poulin and potentially give him some pointers on his play so that he can better adjust to the NHL.
How Kevin Poulin will deal with more responsibility could only be surmised, but an increased workload for the backup can only serve to the betterment of the Islanders. Whatever the decision may be down the line, Poulin has definitely shown that he is worthy of receiving more time in the Isles' crease.
In his third year with The Hockey Writers, Toli covers all things related to the New York Islanders. Focusing on the Islanders, the NHL Draft & draft-eligible prospect goalies, and hockey history, Toli can be contacted on Facebook by searching/messaging Toli Metter and on twitter by searching @ToliMetterTHW.