When the Seattle Kraken return from the All-Star break, not only will they be looking to clinch their first-ever postseason berth, but plenty of players will also be looking to reach individual career milestones. Whether they are for their overall career or time spent just with Seattle, there will be plenty of reasons to celebrate over the final home stretch of the 2022-23 season. Here is a look at some potential milestones.
First Kraken To 100 Career Points With The Organization- Jared McCann, Jordan Eberle or Yanni Gourde
Jared McCann, Jordan Eberle, and Yanni Gourde are all closing in on becoming the first players to hit 100 points as a Kraken. They are all separated by five points and are all projected to hit the milestone sometime this season. Vince Dunn can also join the 100-point club with the franchise this season but currently sits at 71 and will most likely reach the milestone after the other three.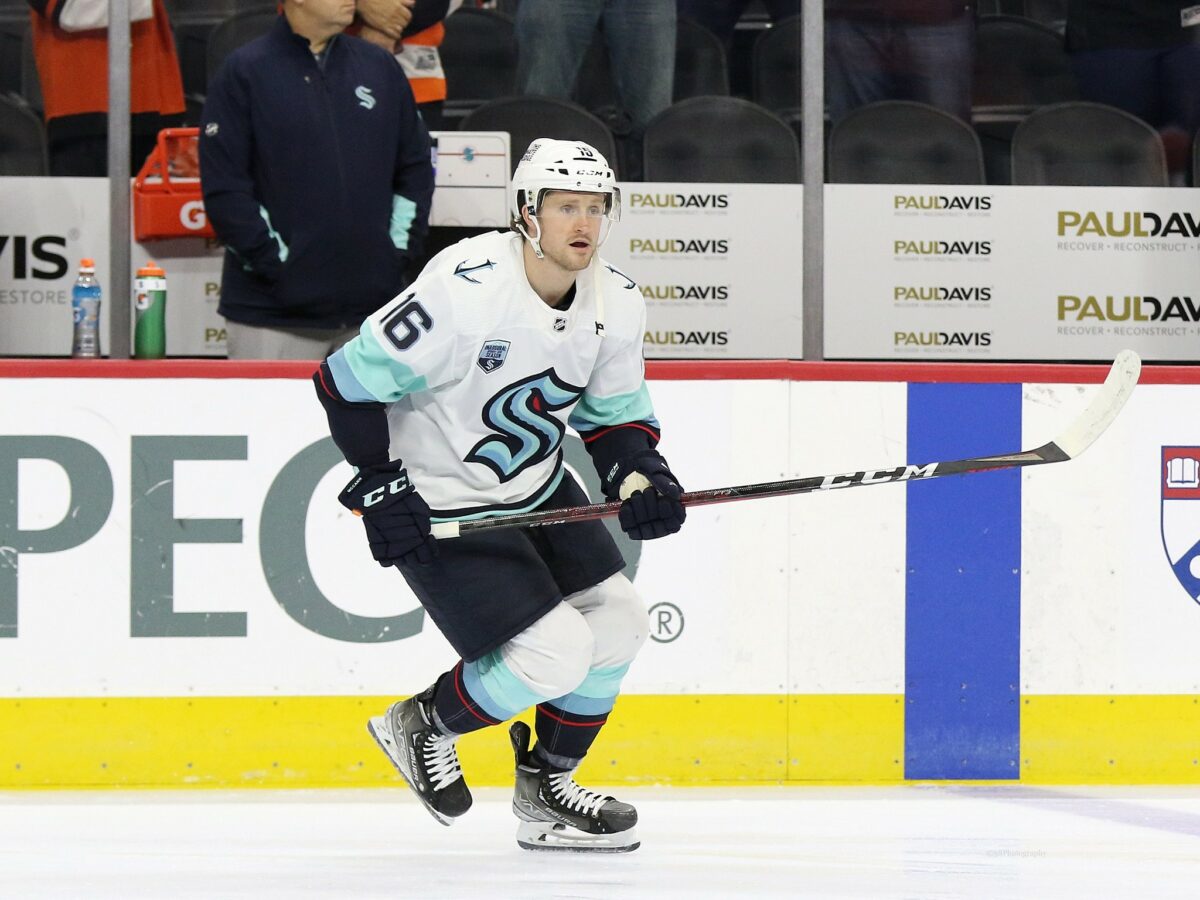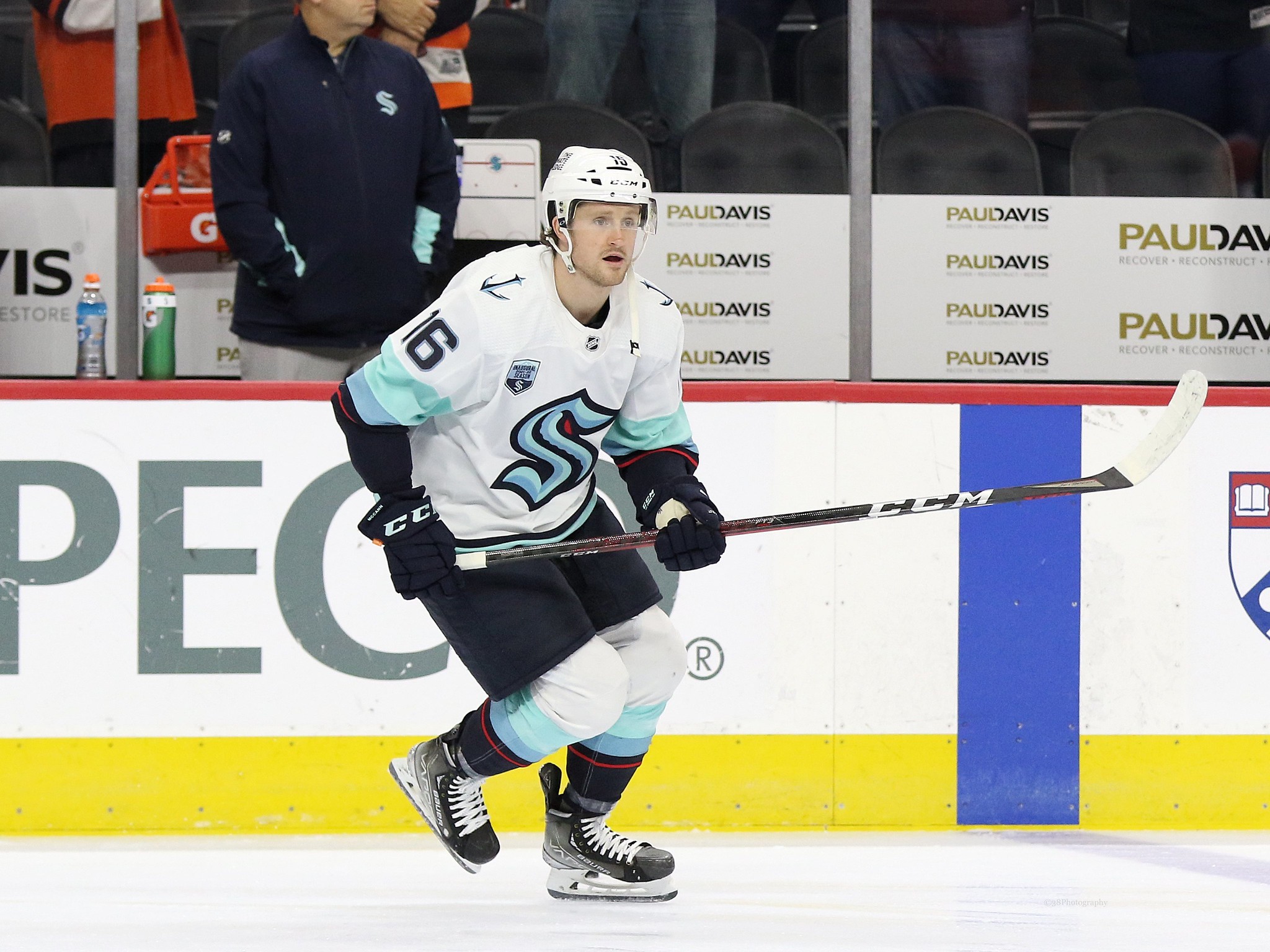 The odds-on favourite would be McCann, who leads the pack with 85 career points. Based on his production and goal-scoring ability, he should be able to hit the 100 mark in the next 20 or so games. Hot on his tale though is Eberle who is at 82 points followed by Gourde with 80. While the race to the playoffs is exciting, the battle for first to 100 will be a fun competition for fans and players to keep track of.
First Kraken Goaltender To 25 Career Wins With The Organization- Martin Jones or Philipp Grubauer
This milestone race is a little surprising considering the length of time each goaltender has spent with the organization, but both Martin Jones and Philipp Grubauer have the opportunity to become the first Kraken goaltender to have 25 wins with the organization. Both have 23 career wins, and based on Seattle's play this season, both should have no issues hitting the milestone. The two have also combined for 46 of the franchise's 54 victories, or just over 85%.
Related: 6 Keys of Kraken's 6-Game Winning Streak
---
Latest News & Highlights
---
Based on recent play and how coach Dave Hakstol has deployed both over the last 20 games, it is safe to say Jones will be the first to 25. That said, if the Kraken do decide to split the games down the stretch and give Grubauer the easier matchups, the German keeper may snag the 25-win trophy from his counterpart. Regardless of who hits the milestone first, both will need to be sharp from now until the regular season, as their play will be a key component to securing a postseason spot.
50 Career Goals- Vince Dunn
Dunn is currently on pace for 16 goals this season which would put him over the 50-goal threshold for his career as he is only two off the milestone. The NHL's Third Star of the Month for January is having a career year and is on pace to set new career highs in goals, assists and points. He is developing into the number one defenceman Seattle hoped for when they selected him in the Expansion Draft and may even get a few Norris votes at the end of the season.
The most surprising part of Dunn's goal scoring is that all nine of his goals have been scored at even strength. In fact, during his 122-game career in Seattle, he has only scored two goals on the power play with the other 14 coming at even strength. Being able to contribute offensively at even strength is an important asset to have and one the former 2015 second-round pick is starting to master as he closes in on game #400 for his career.
150 Career Assists- Adam Larsson
Known mostly for his defensive game, Adam Larsson needs just two assists for 150 in his career. When he does pass the milestone, he will become just the third defensive from the 2011 draft class to reach 150 career assists, joining Dougie Hamilton (289) and Jonas Brodin (160). He will also become just the 25th Swedish defencemen in NHL history to hit the career milestone.
Related: 3 Kraken Who Could Carry December Success Into 2023
The recently turned 30-year-old is getting better with age and is on pace to set new career highs in assists and points this season. Larsson is also averaging the most minutes in his career and is projected to play his second straight season without missing a game. A leader on and off the ice, he has arguably been Seattle's best defencemen over their short history.
300 Career Points- Alex Wennberg
Coming into the All-Star break with 291 points, Alex Wennberg should have no problem collecting the nine points needed to hit 300 for his career. Once he does reach the milestone, he will be the 11th player from the 2013 draft class to hit 300 points joining the likes of Nathan MacKinnon, Aleksander Barkov and Bo Horvat. Playing beside McCann and on the first unit power play should give him plenty of opportunities to surpass the milestone quickly after the break.
While Wennberg's season has not been what was hoped for, he has provided good depth scoring and enters the break having scored twice in his last three games. With injuries piling up though, Seattle will need more from the former 14th overall pick as he was brought in specifically due to his strong offensive game. A player who just recently skated in his 600th career game, his experience and play-making skills will be relied upon by the Kraken down the stretch.
200 Career Coaching Wins- Dave Hakstol
Thanks to the Kraken's strong start to the season, coach Hakstol is just 10 wins away from 200 in his career. With 29 wins on the season, once he does surpass the milestone, he will be just three wins away from tying his career best for wins in a season of 42. While his game plans and line deployments faced criticism last season, based on the Kraken's play this season, he is showing why he is the right man for the job.
Related: Kraken Name Dave Hakstol as First Head Coach
If and when the Kraken secure a playoff spot, Hakstol for another milestone. While he has made the playoffs twice as a head coach, he has yet to win more than two games in a series. A first-round victory this season would not only be a big milestone for him, but also for the organization, who are looking for their first-ever postseason series win.
Kraken On The Verge Of History
While 63 points won't get Seattle into the playoffs, it has put them in a favourable position to make the postseason. Based on last season's totals, they would need an additional 34 points in their final 33 games to be at the playoff bar. With one of the easier schedules in the NHL ahead of them, Seattle fans should start to get excited as the Kraken would join the Seattle Storm, Mariners and Seahawks, who all made the postseason in the last eight months.
---
---