Kris Letang is arguably a top-five defenseman in the NHL and without question one of the most dynamic blue-liners in hockey. He teeters the line of challenging for a Norris Trophy nomination each season, with health normally the deciding factor in derailing his bid. So, why does it seem like media and fans are so torn on his value and impact to the Pittsburgh Penguins?
I'm always intrigued to see questions lingering about whether or not he's worth $7.25 million annually or if the Penguins should consider trading him. Questioning whether or not Letang should continue playing hockey due to his concussion history is something I have a hard time disputing but doubting the fact that he's truly an impact player? Well, that's a tough sell and something that I'm not personally buying.
With Letang, whether you evaluate solely with the eye-test or take a statistical approach, his ability to put his stamp on a game is quite clear. Yes, he undoubtedly has flaws in his game. You can argue that he isn't well-suited to quarterback a power play. You can also suggest that he's injury prone, though that isn't always something that's within his control, and I'll buy it. What you can't tell me is that the negatives outweigh the positives with a player that boasts that much skill and raw talent. Letang is the cornerstone of the Penguins' blue line and the results prove his worth.
The Good
The Penguins are a different team when Letang is in the lineup and when I say different, I mean they're much better and far more dangerous. We can start by simply looking at their record so far this season without him, which is 1-7-1. The common factor in those eight losses? The Penguins couldn't score. They've had their fair share of scoring issues this season to begin with but without Letang, players like Sidney Crosby, Phil Kessel and Evgeni Malkin aren't provided the opportunity to create from the Penguins' back end. Their breakout improves substantially with Letang and when nothing is available, he's capable of lugging the puck out of danger on his own. Last night, when the Penguins faced the Chicago Blackhawks at Consol Energy Center, Letang put this skill set on display yet again.
With Mike Sullivan at the helm, Letang has started to turn things around this year after a slow start under previous head coach Mike Johnston. He has three goals and ten total points in his last five games, with four of those points coming on the power play. Sullivan has taken the handcuffs off his more creative players, Letang included, and its paying dividends. While I haven't been in support of keeping him on the top power play unit, Sullivan's scheme that nearly forces players to shoot actually suits him well. We should continue to see his numbers improve in that regard.
Since 2010, Letang trails only Ottawa's Erik Karlsson in points-per-game among players with greater than 100 games-played. So, it's only fitting that he's the fourth highest paid defenseman in the NHL (according to sportrac.com). Does he make bad decisions from a defensive standpoint from time to time? Absolutely. That's what you get with a player like Letang and it's no different from any other offensive-minded defenseman in hockey. You also get a blue-liner that completely changes how opponents approach matchup's because they have to account for him.
The Bad
After all of the discussion around Letang's skill set and effectiveness, how do you find something bad in his game? In his case, it's all about defensive pairings. The downside of a player like Letang is that it's challenging to find a partner he can mesh with. He requires a responsible defensive partner that can skate and recover, in order to help cover for him when he joins the rush up ice. Right now, the Penguins have the perfect match in Olli Maatta. However, when Maatta's out of the lineup with injury, Letang has been unable to find a fit with anyone else on Pittsburgh's blue line.
According to stats.hockeyanalysis.com, Letang and Maatta boast a Corsi-for percentage of 59.4. Outside of Rob Scuderi, no other defenseman has topped the 50-percent mark alongside him this season. Furthermore, the pairing of Letang and Maatta currently possesses a goals-for percentage of 71.4. If you're unclear on what those numbers mean, with the two of them on the ice the Penguins account for 59.4-percent of all shot attempts and 71.4-percent of all goals scored. Impressive, to say the least.
No other defenseman can compare to that type of success with Letang, aside from Paul Martin in his tenure with the Penguins. So, when I say this is 'bad', maybe worrisome is a better term and it raises concern that if Maatta were to miss extended time again, how would that impact Letang and this blue line?
The Ugly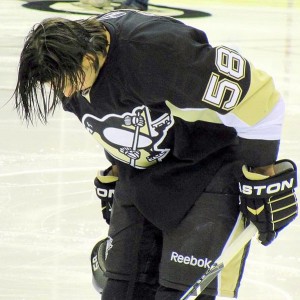 The ugly, when it comes to Kris Letang, is simple. Letang has been the recipient of numerous hits to the head and serious injuries throughout his career. He has also suffered a stroke, which is concerning for an individual his age for obvious reasons. At some point, a player has to think about his future livelihood and consider whether or not his body can withstand the demands of playing professional hockey for much longer.
Recently, Penguins' GM Jim Rutherford stated that he'd like to see Letang change his game a bit to help avoid situations in which he has been injured. While that may sound odd, considering most injuries are uncontrollable and occur as the result of circumstance or another individual's intent to injure, he's referring to Letang putting himself in situations that place him in danger of taking big hits. The problem though, is that Letang's style of play would make it very difficult to continue doing what he does best if he were to try to change his approach now.
You can put money on the fact that Letang isn't going to forfeit possession of the puck easily if there aren't open lanes up ice. So, picture an NFL quarterback staying in the pocket too long and taking a big hit in order to give his receivers time to get open. You may remember a situation in which Shane Doan did what most hockey players are taught to do at a young age and simply finished a check last spring, sending Letang awkwardly into the boards head first. While those hits are unnecessary and have no impact on the game, they are legal in this league and a player like Letang will be a target for someone in those situations. Players are taught to take whatever opportunity they can to let the other team's stars know that they'll have to pay a price to make plays.
Those types of plays, the ones that Letang can potentially get rid of the puck quicker or maybe even turn his back less often when an opponent is bearing down, is what Rutherford is referring to. But, at this point, a lot of damage has been done on Letang's 28-year old brain.
Kris Letang Just Might Be Irreplaceable
My question for those that feel the Penguins should trade Kris Letang is simple; Who do you replace him with? The other part of that is how do you replace him for less money? His annual cap hit always seems to be the central point of argument but if you want a defenseman that can contribute the way he can, you have to pony up the cash for them.
Following last night's OT loss to Chicago, Sullivan stated that when Letang is healthy, you can see the type of influence he has on the game. He continued…
He's a very efficient skater. He can play a lot of minutes. He helps us get out of our end zone.
He also cited Letang's ability to make sound decisions on when to join the rush and when to sit back and the impact on this team when he's doing those things. Letang is an elite blue-liner and a player that isn't easy to find. Defensemen like number 58 don't come around very often and when they do, they're expensive. My outlook on trading Letang is similar to that of Malkin and Crosby. Once you trade Kris Letang, you no longer have a Kris Letang in your lineup. That doesn't sound appealing to me.
As always, thanks for reading. You can always find me talking hockey on Twitter at @Michael29Angelo and here at TheHockeyWriters.com.