Not every prospect makes an immediate impact in the NHL. While some prospects are special and certainly high-profile, not every NHLer can step into the lineup at age 18 and make an impact, as we've seen in recent years with Nathan Mackinnon, Aaron Ekblad, and are about to see with phenom Connor McDavid. Most NHLers debut when they are 20 years old, which proves most players need a few seasons after being drafted to develop and truly hit their stride. It is, in fact, a very small percentage of players that can play in the NHL at age 18, with only 16 players making their NHL debuts at 18 since the 2010-2011 season (stats from quanthockey.com).
The vast majority of NHL players work their way up through every level of the minors along the path to the highest level, paying their dues at stops such as the OHL, ECHL, or even other professional leagues such as the Swedish Hockey League and the Finnish Elite League (Liiga). Many of these overlooked prospects go on to long, prosperous careers with their respective teams, even after entering the league as an overlooked prospect. While all the buzz this summer has been about high-profile youngsters like McDavid and Jack Eichel, these under-the-radar prospects have enough talent to make some serious noise upon entering the league.
G Juuse Saros, Nashville Predators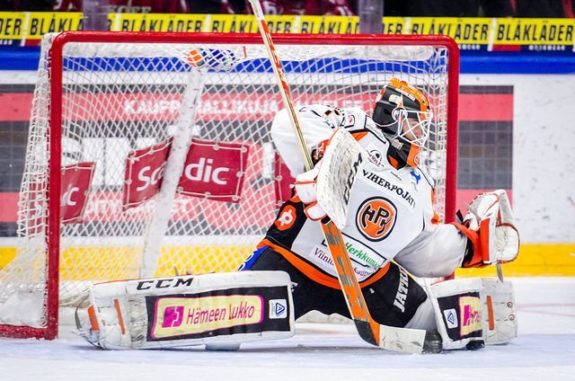 Picked with the 99th overall selection by the Nashville Predators in 2013, Juuse Saros appears to be the latest in a long line of solid goaltending prospects discovered in the later rounds by Nashville GM David Poile. Despite entering the draft as the top-ranked European goalie, Saros mysteriously fell into the Predators' laps in the fourth round, and they were all too happy to snap him up.
Starting in goal for the Liiga club HPK for the two seasons since being drafted, Saros has done nothing but put up solid numbers in Finland's highest professional league. He posted a 1.76 GAA and .923 save percentage in 2013-2014, and was named the World Junior Championship's best goaltender in January 2014 after leading Finland to the gold medal with a .943 save percentage.  Although the 2015 World Junior Championship didn't result in a repeat performance, Saros still posted stellar numbers with HPK, upping his save percentage to .929 despite seeing his GAA rise from 1.76 to 2.14.
The biggest concern with Saros is his small frame, and seeing as how NHL goaltenders are growing in recent seasons, Saros' 5'10", 175 pound frame certainly poses some questions. However, Saros has shown the ability to raise his game in important games, and with him transitioning to the AHL's Milwaukee Admirals soon, will be able to showcase his talents on a bigger stage. With Predators incumbent Pekka Rinne already 32 years of age, Saros should be making a name for himself with Nashville sooner rather than later.
D Colton Parayko, St. Louis Blues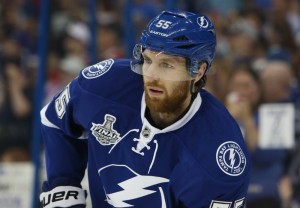 Colton Parayko, a 22-year old defenseman who is a St. Louis Blues prospect, is a bit of a late bloomer. Born in 1993, he was initially passed over in his first year of draft eligibility before being selected by the Blues in the 3rd round of the 2012 draft. Despite being unranked by Central Scouting's North American list, the Blues took a chance on the massive right-handed blueliner at 86th overall. Since being drafted, he has played for the University of Alaska-Fairbanks, captaining the Nanooks in 2014-2015 and leading the team's defenseman in points for the past two seasons.
St. Louis has proven to be an astute drafting and development team, and currently boast one of the most impressive groups of young defenseman in the entire NHL. Parayko, who stands an impressive 6'5″, 220 pounds, looks to be the latest in a long line of burgeoning mobile, two-way defenders. He got into 17 late-season AHL games with the Chicago Wolves last season, and blew away expectations with 3 goals and 7 points to compliment a stellar defensive game. His defense-first style of play and improving offensive ability are reminiscent of Tampa Bay blueliner Braydon Coburn, who this past year helped a young Lightning team to within two wins of a Stanley Cup victory. Coburn's scouting report, taken from Elite Prospects, is eerily similar to Parayko's, taken from Hockey's Future:
A huge rearguard, Coburn is known for his defensive play. He's got a terrific reach and a willingness to block shots. Is very fit and can log a lot of minutes.
Parayko is a big, physical defensive defenseman that has solid positioning, makes a good first pass and breaks up plays with his long reach.
The way Parayko has flown under the radar, if he can enjoy the career Coburn has had with the Philadelphia Flyers and Tampa Bay Lightning, he could turn out to be one of St. Louis' bigger draft steals in recent memory.
D Colin Miller, Boston Bruins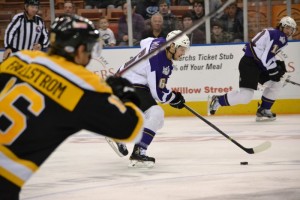 The Boston Bruins traded fan favourite Milan Lucic to the Los Angeles Kings this offseason, and while fans may be hurting over the loss of the beloved power forward, young defenseman Colin Miller may be able to ease some of the pain. Taken by the Kings with the 151st overall selection in 2012, Miller was, like Parayko, passed over in his first season of draft eligibility. After a successful three-year OHL stint that included a season as the captain of the Sault St. Marie Greyhounds, Miller has played the last two seasons in the AHL, and developed into one of the best defenders for the 2015 Calder Cup champion Manchester Monarchs.
When the Bruins attempted to retool this summer, they traded away stud young defenseman Dougie Hamilton. And with captain and longtime number one defenseman Zdeno Chara nearing the end of his prestigious career, Boston is looking to re-stock their blueline corps, with only one of their top six blueliners (Torey Krug) under the age of 27 and not much cap space to work with presently. Enter Colin Miller. Miller made a name for himself in a breakout AHL season last year, posting 19 goals and 52 points in 70 games, and demonstrating his elite physical abilities by winning the All-star game's Fastest skater and Hardest shot competition.
https://www.youtube.com/watch?v=7PJnvj14J6s
While Miller is just 22 years of age, his strong AHL pedigree and physical tools give him a good shot to crack the Bruins' roster next season. And for a two-way defender with fantastic skating ability and the hardest slap shot in AHL history, he may not relinquish his spot on Boston's blueline for years to come.
LW Cole Ully, Dallas Stars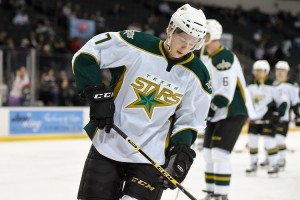 Colle Ully was, like Colin Miller, a 5th-round draft pick. After posting good but not overly impressive totals of 22 goals and 50 points in 2013, the Dallas Stars took a chance on Ully with the 131st pick of the 2013 NHL Draft. Since then, however, Ully has taken off, rewarding the faith of Dallas GM Jim Nill.
In the two seasons since being drafted, Ully has upped his point total from 50 to 72 and then finally, to 94 last season with an offensively stagnant Kamloops Blazers team. While Ully has posted back-to-back 30 goal seasons with Kamloops, it is his high-end playmaking ability that has caught the attention of scouts. And while some have criticized his lack of top-end speed, his fantastic hockey sense and vision have allowed him to excel despite not always being the fastest player on the ice. Ully's scouting report, taken from Hockey's Future, makes a lofty comparison when describing the young left winger:
Moreover, while he is not overly fast he is is a slick player who can bob and weave artfully. Ully's puck poise and vision while seemingly gliding is reminiscent of a young Nicklas Backstrom. He rates high on technical skill and has the hockey sense to put it to good use.
Ully has just 2 games of AHL experience under his belt, getting into two late-season games with the Texas Stars last year. He will graduate to the level full-time next season, and while he could stand to add some weight to his lanky 5'11", 180 pound frame, the late-blooming Ully could become another offensive weapon for the high-scoring Stars within a few seasons.