Game 7. It is the most heart-wrenching 60 minutes of hockey you will experience until overtime. Then, it is downright torture.
A Maple Leafs hockey fan- and I'm not talking about the ones that come out of the woodwork and jump on the bandwagon posting Facebook statuses revealing their lack of knowledge- has gone through the heartbreak of missing the playoffs for 9 years. Making the playoffs was a treat. It was better than looking forward to the circus of a draft lottery- much better.
The way the Leafs lost was impossibly believable. To collapse in the last eleven minutes and twenty two seconds of the third period of game seven was not something I expected, rather, it was something I hoped wouldn't happen. Experience in the playoffs is the true killer. The Bruins have it, and no matter how they have performed in the series, experience in the playoffs outweighs any type of momentum coming into an elimination game.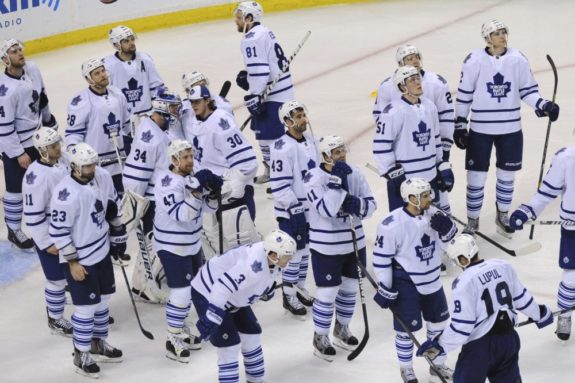 When Kadri scored that goal from Kessel… I felt a weight lift off my chest. Who wouldn't? A 4-1 lead is just about indestructible if you have any playoff experience. Oh… the Leafs current roster has just about zero. The roller coaster of emotions that filled my living room and overpowered any sense of logic I possessed about professional sport were eclipsed by the start of the end. Nathan Horton crushed hearts all over Canada who bleed blue.
If the Leafs managed to keep that goal by Horton out of the net by refusing to collapse down in front of Reimer like they have done time and time again, the narrative may have been completely different. It baffles my mind how the Leafs can make themselves so small in their own end. They refuse to stand up and cover the points which creates so much space for the Bruins to not only set up, but get the Leafs running around. How did the Leafs hang on to the lead up until the third period? They were aggressive and they knew collapsing down would mean the end of their season. In order for Reimer to make those saves, he has to see the puck and be in position. With Phaneuf's backside in your face, it's hard to track the puck.
I'm not picking on Phaneuf. Since his performance in game 4, he turned into a mother with superhuman strength lifting a car off her children. His play elevated significantly, and where there was cause for concern early in the series. That all dissolved after the OT loss in game 4. Adversity was the best medicine for Phaneuf. The same could be said for Lupul and Kadri who started to score when the pressure was on.
The Faceoff Situation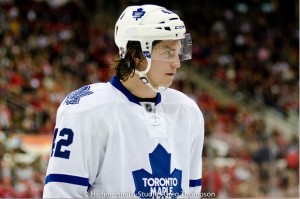 Through this series the Leafs number one centre Tyler Bozak had struggled to be effective winning an average of 30% of his face-offs in the first three games. That is no where near what a number one centre should be producing, especially in the playoffs. If you don't start with the puck you will always be chasing it. It's impossible to score without the puck. The Bruins won 68.5% of face-offs overall. They controlled where the puck was going 68% of the time. Again, in game 7, the Leafs only managed to win 22% of their face-offs. The rest of the draws were scrummed and I can only assume more of those were won by the Bruins given their size.
I'm not outright blaming Tyler Bozak. I'm aware he didn't play the last two games due to an upper-body injury. The offseason mission has to be a centreman, which has been key on the list of potential suitors for years now. Tim Connolly wasn't it. David Steckel wasn't it. Tyler Bozak isn't it. If I was told I was going to be the Leafs number one centre the whole year there's no way I would turn that down. The coaches need to realize he is not the one to support not only the first line, but the second line. He is not dominating the face-off circle, and he needs to be demoted. Who knows if he stays or goes, but if he stays he cannot be the Leafs number 1 or 2 centre next season.
Goaltending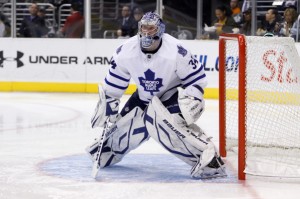 James Reimer showed a flash of brilliance last season before sustaining a concussion in Montreal in a brush with Brian Gionta. His great play was carried over from his first extended stint with the Leafs finishing the 2011 season as the starter. There's nothing negative you can say about Reimer's game. He's back, he has battled through concussion issues, and there was no distraction that could shake his concentration through this series. Some goals weren't his fault, some he would like to have back. That's just the way it goes. But nothing can take away from the fact that he stood on his head and was stealing games in the playoffs for the Leafs- which is exactly what skeptics said he couldn't do.
The Water Bottle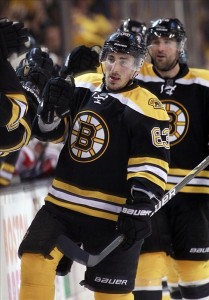 As I sat on the floor (too uneasy to sit on a couch), late in the third before the tying goal was scored, I saw Claude Julien trying to get the attention of his players. It wasn't working. I thought to myself "Drop the puck! Hurry up!" but for some reason there was a significant hold up. My dad asked me what was going on and I said "Julien is trying to get his players attention and they can't hear him, WHAT IS THAT?! WHO THREW THAT?!". Immediately I knew some funky business was going on when that green and orange gatorade bottle came cascading across the ice. The puck should have been dropped, the hold up on the face-off at centre ice was excruciating. Brad Marchand threw that water bottle on the ice to halt play so Julien could position his players where they needed to be. I saw it, I could see something coming, and it's perfect that Marchand was the kid to do it.
The Refs should have dropped that puck. The Leafs were lined up and ready to go and the Bruins were stalling. I'm not being bitter, but this is what happened. In my mind, you shouldn't be able to stop play by intentionally throwing a water bottle on the ice. Sure, great play by Marchand to waste a little more time and get the players' attention. It's just SO Marchand.
Help Me, Help You
It's one thing to be completely into the game. Cheering, yelling, crying, swearing, rolling on the floor… But just stick with it. I understand things might be going wrong, not the way you planned. Things didn't go the way I had hoped or planned either with the Leafs up 4-1 in the third and losing 5-4 in OT. Just stick with it.
I am the kind of person that is genuinely into the game for its duration. If I start a game, I finish it. Many Bruins fans tweeted that they had given up after the Leafs went up 2-1. They tweeted saying they were done with the team, they knew it would happen, and they were going to do something else while the Bruins were eliminated by the Leafs in game 7. They quit on their team, and when the game went to OT, they came back.
Can you just have a little faith in your team? I don't mind you leaving, go ahead and leave. Tweet about how you hate your team, and you can't stand to watch them anymore. But if you're going to do so, don't come back on twitter after a game 7 OT win and declare your love for them. The second round awaits you, and you have already given up on your team once. I don't get that logic.
Maybe I'm just being bitter- nope, I'm not. The love/hate relationship between a fan and their team is a constant juggle between anger and affection. Surprisingly, the balance achieved between both emotions only comes after a terrible collapse by the Leafs, but a sense of adornment of their accomplishments through this first round series. Don't give up on your team in the playoffs, anything can happen.
Katie Flynn is a News Editor at theScore and theScore App as well as an NHL Analyst for H4TV Sports News.