Entering the game last night, I realized that it's the first season in my life where I hadn't convinced myself that the Leafs were somehow going to find a way to compete for – at worst – the Playoffs. I didn't know if watching them play in a season where the best thing that can happen is to finish high in the draft order meant that cheering and yelling at the TV would be somehow empty and/or unnecessary – I need not have worried because when Holland came in alone with about five minutes left in the third, I came right out of my seat and nearly spilled beer on the cat (sorry Pete).
Game one or game 76; competitive or still giving Bozak an absurd amount of ice-time (Babcock: WHY?) it turns out it doesn't matter because hockey is back and the Leafs are fun to cheer for, maybe even more so when the expectations are low.
Thoughts on the Game:
I thought Kadri was the Leafs' best forward by a mile. He was all over the ice, took a penalty for running a guy over, drew a penalty and should have drawn another. He could have had 3 or 4 points if not for Price. He had  five shots and sent several passes through the slot that could have been tapped in but weren't.  All in all I'd say it was a stellar debut by the Leafs sort of new #1 C.
I say "sort of" because while Kadri was the Leafs best player on their best line, Bozak still had more ice time, which I suspect is because Kadri doesn't get PK time and Bozak was being matched up against the Canadiens' top line.
https://twitter.com/SteveBurtch/status/651947960952074240
A great debut for Kadri in the lead role. As for the D, I was happy to see Jake Gardiner lead the team in ice-time and play an all-round excellent game.  I really like that for 2/3rds of a game the Leafs can have either him or Rielly on the ice – this will eventually prove very difficult for teams to defend against because the Leafs will almost always have an explosive skater on the ice who can make those big stretch passes.  You also saw several examples last night of how those two can get back into plays they should be out of – for example Rielly almost saving the first Habs goal.
In the end, Bernier let in a really bad goal on the first shot of the game and an empty-netter. Mike Babcock might not believe in moral victories, but I do. The Leafs were the best team last night and deserved to be the winners.  Sometimes hockey doesn't work that way though and Carey Price and his 36 saves were pretty incredible.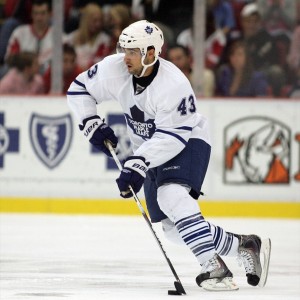 Best Part of the Game:
Kadri. I thought he was excellent and fun to watch all night.  I expect really big things from him.
Also: Gardiner getting the most ice-time and no Roman Polak in the lineup.
Worst Part of the Game:
Komarov's hit on Subban. You hate to see that. Subban had his back to Komarov and wasn't expecting to be hit late like that. The NHL made a nice move towards showing it cares about player safety when they gave Torres 41 games. If they are serious about making the game safer then they have to at least make hits like that a major penalty.
As much as I want the Leafs to win, an off-setting penalty that means 4v4 is unfair in that situation. There is no way you should be able to hit a team's best player from behind like that and not even have to kill a penalty.
Hockey Twitter:
As I said in the debut column of Leafs Daily, I am going to do all I can to be more positive and less caustic in my articles, Tweets and comment responses. So, it's not like I haven't contributed to it in the past, but man is Twitter ever a negative place.
For every thoughtful comment you read, you get 10000 Tweets in your timeline that are just basically people bitching or calling other people stupid. Whether it's the quality of the broadcasts, the broadcasters, other Tweeters or players themselves, it seemed my entire time line was just complaints.
Like, isn't hockey back? Aren't there other things to talk about than just how dumb/bad/out-to-lunch someone else is?  I'm not perfect, I've participated in the same stuff before, but having decided to be more positive and just reading through the stuff last night and not really participating – it was somewhat depressing.
There's a difference between thoughtful criticism and just complaining, and admittedly that line can be occasionally difficult to surmise, so it isn't like I find everything off-putting, just the ones that are snarky and condescending (which is almost all of them).  Twitter can be cool, but I lately it just seems toxic.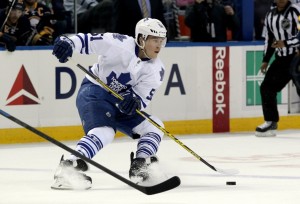 Don't Trust Babcock:
After the game he said "There's no moral victories in the NHL, you either won or you lost. It's real simple that way. But obviously the process is there, and they're trying." (Not sure he said it to, but I'm quoting it here from TSN.ca)
Babcock then went on to suggest Kadri could play better defense and that he doesn't care about chances, he wants goals.
Now, take him at his word if you want, but to me it just seems like a classic case of the coach saying all the right things. I mean, Babcock isn't going to come out and say "We gave a good effort and since we are – at best – a long-shot for 9th place, this is the kind of game we need to play," but I think there is no way he could have gotten to his position if he didn't – at least in private – realize that.
The Leafs did win a moral victory last night, Kadri was by far their best forward, and Price stole the game for Montreal. Babcock might tell the media all the right things, but in reality, he's a master of motivation and he isn't going to let the team get comfortable just because they played one good game.  I mention this because I think the sub-text of what coaches and GMs say is the only thing we should listen to. Obviously everyone is going to ask questions of the coach at the end of the game, but I think we should realize that what they say is as much directed at their own players as the people asking the question.
If you listened to Babcock last night, you might think the score was actually important or that Kadri wasn't the team's best player – but, for one night at least, the Leafs played great, had scoring chances, out possessed the other team and really should have left with two points.
And, best of all: It was a fun game to watch.
Thanks for reading.