The Tampa Bay Lightning won the Stanley Cup with solid depth all throughout their roster. One specific area that can be highlighted in that regard is the defense. When hockey fans think of Tampa's blueliners, usually the first player thought of is Sweden's own Victor Hedman.
Related: Lightning's 3 Worst Trades of the Decade
However, there were other stellar defensemen who thrived in their roles on the squad. Ryan McDonagh, Kevin Shattenkirk, Erik Cernak, and Zach Bogosian come to mind as examples. Another big name for them though on defense is a younger player, Mikhail Sergachev, and he is one of the most important blueliners the Lightning have. That being said, he is scheduled to become a restricted free agent soon, and general manager Julien BriseBois needs to make it a priority to fit him under their salary cap going forward.
Making the Trade
Sergachev was originally a member of the Montreal Canadiens. They selected him in the first round (ninth overall) in the 2016 NHL Draft. He suited up right out of the gates in the 2016-17 NHL season, but was sent back to his junior team, the Windsor Spitfires, in the Ontario Hockey League (OHL) after four games.
Fast forward to the summer of 2017. The Lightning had dealt with the Jonathan Drouin situation for a good portion of the 2015-16 campaign between him not reporting to their AHL affiliate Syracuse Crunch among other issues. The decision was made by then-GM Steve Yzerman in 2017 to trade Drouin along with a 2018 sixth-round pick to the Canadiens in exchange for Sergachev and a conditional second-round pick in 2018.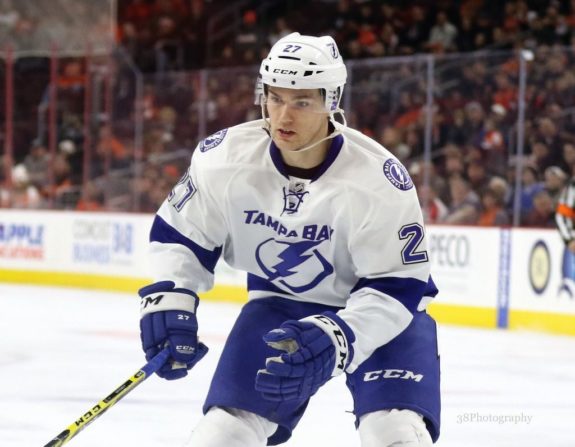 The Bolts determined Sergachev was ready for a regular lineup role on their team. He made the squad and suited up for 79 games in 2017-18. He continually became a better defenseman and gained more of an identity in the league. He had solid veteran leadership to turn to in Hedman and Braydon Coburn, among others. Sergachev posted the following regular-season stats with the Lightning over the years:
2017-18: 9 goals and 31 assists for 40 points in 79 games
2018-19: 6 goals and 26 assists for 32 points in 75 games
2019-20: 10 goals and 24 assists for 34 points in 70 games
He played a significant impact during Tampa's 2020 Stanley Cup run as well. In 25 games, he tallied 3 goals and 7 assists for 10 points.
Keeping Him in Tampa
One reason why re-signing Sergachev is so crucial is because of how young he is. He is and can continue to be the face of that blueline for a long time. He will not play a bigger role than Hedman, but he is solid in his role as a mid-level defenseman. He is great defensively while also being able to produce his fair share of points.
The Lightning have some older players on defense who will not be around as long as Sergachev. Shattenkirk is not getting any younger, and he is an impending UFA. Something tells me BriseBois is not planning on bringing him back because of the team's cap problem. Coburn is 35 years old right now, and the team could now move on from his services, as great of a player as he has been in his career. McDonagh will still be there for a long time, but even he is 31 years old.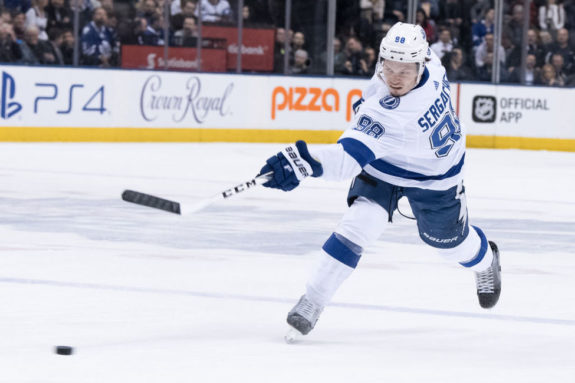 Sergachev is 22, so he potentially has his whole career still ahead of him. He wasted no time whatsoever coming to Tampa and fitting in like a puzzle piece on that blue line. He has accomplished so much already for the Lightning, and he can gain more of a role as a veteran the older he becomes. He is too talented at such a young age for the Bolts to be moving on from him. The potential of what he can bring to the lineup is too great in my opinion.
It is going to be a tough time for BriseBois though. Other free agents he could potentially lose (both in UFA and RFA) include Anthony Cirelli, Shattenkirk, Mathieu Joseph, Patrick Maroon, Mitchell Stephens, Carter Verhaeghe, Cernak, Jani Rutta, Bogosian, and Luke Schenn. He needs to decide who he wants to keep, let walk free, or trade to try and free up cap space. There has already been talk about trading a player under contract to make room, such as Tyler Johnson.
It appears that Sergachev, along with Cirelli, are top priority in the re-sign category. How BriseBois makes the flat cap work in the offseason will be interesting, but he recognizes the important pieces he needs going forward.
I imagine Sergachev will probably want around $3 to $4 million a year, and I would guess the Lightning and his agents are alright with inking him to a three-to-four-year contract as well. The deal could be $9 to $16 million total. The Lightning currently have a little more than $5 million in cap space as things stand right now.
Related: Lightning 50-Goal Scorers
BriseBois has to play around with the lineup and see how he can make bringing Sergachev (and Cirelli) work. It will be interesting to see what transpires in the coming days.
---
---