The Toronto Maple Leafs' rebuild plan is one of the most controversial and talked about topics in sports news today. It seems that every week something huge is happening for them, but that's bound to happen to the NHL's biggest market. Toronto's loyal fanbase is hopeful for a triumphant comeback over the next few seasons after enduring a five-decade Stanley Cup drought. However, this hope and trailing disappointment is not what put the rebuild into place.
The end of 2014 marked the end of the Leafs' reign as most valuable NHL franchise and of course, Forbes was nearly finished preparing 'The Business of Hockey List' for release. This list would soon publicize the profitable franchise for their new first-ranking position: the NHL team with the biggest decrease in value in just one year.
A ripple effect came into play upon the club's increasing loss of profits and some of these ripples hit the Ontario Hockey league's (OHL) London Knights.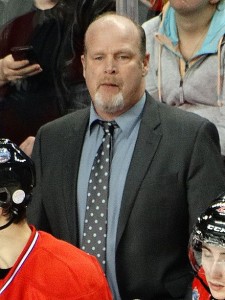 The first bump in the water changed the hockey club's operational staff. On October 21, 2014, Mark Hunter, General Manager and co-owner of the London Knights was named Director of Player Personnel at the Toronto Maple Leafs. Basil McRae, a minority owner of the Knights and Alternate Governor with an active role in the club's scouting department replaced Hunter as the Knights' newest General Manager. Mark's brother, Dale Hunter is the team's Head Coach and majority owner. His role did not change.  Seven months later, Maple Leafs Sports & Entertainment (MLSE) hired London Knights' Director of Scouting Lindsay Hofford, as an Amateur Scout for the Toronto Maple Leafs.
The Leafs' Rebuilding Strategy
Knights come back against Kitchener and move on to Round Three.

Game recap: https://t.co/3AqctjFAnr pic.twitter.com/T2p51WLcet

— London Knights (@LondonKnights) April 15, 2016
When it comes to working with the Leafs, it really is all about who you know… and who you like. That's where the next ripple comes into effect and it directly impacts the Knights' roster. To sum it up, they've been given a unique value proposition. Yes, it's one more selling feature to woo Americans with and it's one more added benefit (the benefit being to play for the Knights and then for the Leafs).
Mark Hunter drafted Mitch Marner at the 2013 OHL Draft and then again at the 2015 NHL Draft as the Leafs' new director of player personnel. Marner played the 2015-16 season with the London Knights alongside J.J. Piccinich, who was also drafted by the Leafs the year prior. If that didn't impress players enough, Aiden Jamieson was invited to the Leafs 2015-16 Rookie Camp as a free agent.
Talk about getting in front of the right people.
This is where signs of a recognizable strategy begin. The Knights started making a reputation for themselves in 2000 (same year as the Columbus Blue Jackets), which is when the Hunter brothers took over. This reputation of theirs has been one of victory and one with a remarkable record.
The Knights in Scouting Armour
http://gty.im/457337578
The Knights entire scouting department have their sights set on high-profile Americans – this too, is part of their reputation. In an article published on March 25, 2016, by Yahoo! Sports, 'London Knights leaning on American stars to keep them on top', McRae is quoted as saying,
"Hopefully our program can convince any player, whether he's from the U.S. or Ontario or wherever, to come play for us."
Ken Hornick is the Knight's Director of Scouting and he was also quoted as saying, "It's not far from the U.S. A lot of American kids will come here… We spend a lot of time scouting in Michigan, New York, and Pittsburgh. We do scout the American kids a lot… We do have an advantage over some of the smaller-market towns in the OHL. It's the place to play. When you get guys like Max Jones come here and Tkachuk, they tell the young guys about it."
The author continues to explain that "under McRae's watch, the team has increased its total of American-born-and-trained players to 10 from eight, up from four in the two campaigns prior to that… They tend to be successful luring them in because of their winning track record under coach and co-owner Dale Hunter…"
The Knight's current roster consists of seven players already drafted in the 2014 and 2015 Drafts, five of whom are American, one Swedish and the other Canadian:
Mitchell Marner, 2015 round 1 #4 overall by Toronto Maple Leafs from Markham, ON, CAN
Christian Dvorak, 2014 round 2 #58 overall by Arizona Coyotes from Frankfort, IL, USA
JJ Piccinich, 2014 round 4 #103 overall by Toronto Maple Leafs from Paramus, NJ, USA
Chris Martenet, 2015 round 4 #103 overall by Dallas Stars from Indianapolis, IN, USA
Daniel Bernhardt, 2015 round 4 #119 overall by New York Rangers from Stockholm, SWE
Brendan Burke, 2013 round 6 #163 overall by Arizona Coyotes from Scottsdale, AZ, USA
Chandler Yakimowicz, 2014 round 6 #172 overall by St. Louis Blues from Kingston, PA, USA
TRADE ALERT:We have acquired the rights to F Sonny Milano from the Flint Firebirds!
Read https://t.co/bxux6fby7S#LK pic.twitter.com/DWICk2vYvV

— London Knights (@LondonKnights) January 7, 2016
The Hunters didn't get all the Americans they wanted, though, as they also tried to woo Zach Werenski, a defenceman selected eighth overall by the Columbus Blue Jackets in the 2015 Draft, as well as Sonny Milano, a left winger selected 16th overall, also by the Columbus Blue Jackets (in 2014). They even traded for Milano's rights from the Flint Firebirds in late December 2015.
It's clear the Knight's in scouting armor frequently travel south, making stops for Canadians along the way. Of course, we can expect the players they lure back home to place them in a better position for winning championships. What's unclear though is whether or not the Knights reciprocate that by placing these new players in a better position of getting selected at the NHL Draft.
NHL Central Scouting Ranks London
http://gty.im/461682718
I've previously discussed the CHL's elite development teams by taking a deeper look at Central Scouting's 2016 NHL Draft prospect final rankings in an effort to better understand what they say about the CHL's top development teams. Now I'm going to take an even closer look at the London Knights specifically. The Knights produced seven players to the CSS rankings (North American skaters) and seven is the most amount of players from the same team who made the list out of all CHL teams. This indicates that they do indeed have a knack for luring quality talent south of the border, within the border and nowhere near the border (Europe). Of these seven players, though, only one made any improvement since the midterm rankings: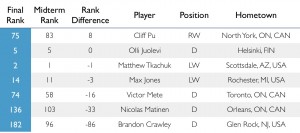 Leave It to the Leafs' Rebuild Plan
Statistically speaking, Juolevi, Tkachuk, and Jones all would have developed better with the Windsor Spitfires… maybe even with the WHL's Moose Jaw Warriors too, but that's another story for another day. For now, we can assume the Leafs will select at least one of these players and "not" let them continue to go in a downhill trajectory.