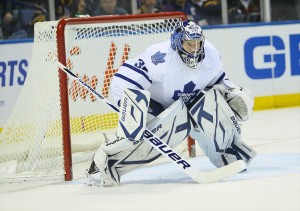 Toronto Maple Leafs general manager Brian Burke made a bold decision during the summer of 2011 by electing to go with two rather inexperienced goaltenders to fill out his duo between the pipes for the 2011-2012 season.
Burke certainly had a good reason to go with James Reimer and Jonas Gustavsson as the season approached.
Reimer, who was coming off a strong rookie campaign in which he posted a 2.60 goals against average and a .921 save percentage, seemed like he was going to be the real deal and perhaps the next great goalie as long as he continued to develop. Gustavsson, Reimer's counterpart, had struggled the season before but had shown that he could be a solid NHL backup.
The decision to put faith in Reimer and Gustavsson was one that was questioned at the time, but no longer is due to its poor results.
Reimer has a goals against average above three and a save percentage lower than .900 this season. Gustavsson has also been disappointing with a 2.93 goals against average and a .904 save percentage in 37 games.
This has understandably put pressure on Burke, especially when it comes to making a choice on his goalies for next season. While that's not one that he will have to make all that soon, he will have to make up his mind within the next few months as the Maple Leafs don't appear to be on their way to the playoffs.
One suggestion that has been thrown out there is for the Maple Leafs to go after a veteran goalie─backup or starter─who could replace one of Reimer or Gustavsson, both of whom could still fetch a relatively good return if moved to another team. Names that have been circling around in rumours include Edmonton's Nikolai Khabibulin, Evgeni Nabokov of the New York Islanders and Colorado netminder and former Leaf Jean-Sebastien Giguere.
Another suggestion includes the name Francois Allaire, who is currently the Maple Leafs' goaltending consultant. In other words, he's the goalie coach.
Some say Allaire has ruined both Reimer and Gustavsson, having changed their styles from what was once very successful and unique ones to styles that involving dropping down quickly and taking up as much room as possible. Allaire's style obviously hasn't worked for either Reimer nor Gustavsson. But if you're of the belief that the Leafs should relieve Allaire of his duties, you might as well give up now.
Allaire has been touted as the best goalie coach in the world, having played a key role in transforming the position into what it has become. As well, Allaire won the Stanley Cup alongside general manager Brian Burke and head coach Randy Carlyle when all three were with the Anaheim Ducks in 2007.
There's another name that you can add to that list of people who won the Cup with the Ducks in 2007 and have a good relationship together. Jean-Sebastien Giguere, mentioned above, was the Ducks' starting goalie at the time. He is a classic example of the "Allaire style" and it has worked extremely well for him. You just have to wonder if Giguere would be the perfect fit for the Maple Leafs next season.
To go along with his solid relationship with the Maple Leafs' staff, Giguere comes with a low cap hit on a contract that expires after next season, he has previously played for the Maple Leafs and he is a veteran, which is something the Leafs appear to be craving between the pipes. If you're wondering about how Giguere has played this season, just check out his statistics; a 15-10-2 record, a 2.23 goals against average and a .920 save percentage.
That all sounds great, but nothing is ever guaranteed to happen and who outside of the organization knows if the team actually has interest in Giguere?
Where the question lays is the relationship between Gustavsson and Reimer and coach Carlyle. Will the coaching change result in more motivated goalies? How will Carlyle treat the situation? Will Gustavsson and Reimer enjoy playing under Carlyle?
The answers to those questions will determine the Maple Leafs' 2012-2013 goaltending situation.
Twitter: @LukasHardonk | Email: lukas.hardonk@gmail.com | Lukas' archive
For every Leafs article on THW, follow @THW_MapleLeafs on Twitter.