When the 2016 offseason began for the Philadelphia Flyers, Ron Hextall and Co. number one priority was to get restricted free agent Brayden Schenn signed to a contract extension. Coming off a career season netting 26 goals and 59 points, it was clear Schenn was going to garner a big raise to his previous $2.75 million cap hit.
Hextall on Brayden Schenn: "We're going to start working on that fairly quickly here."

— Dave Isaac (@davegisaac) July 1, 2016
The big thing regarding Schenn throughout his career to date has been his inconsistencies in his play. It's easy to forget just how young Schenn still is, he's only 24-years of age. The 2016-17 season will mark his sixth season in the league, yet it will only really be his fourth full NHL season.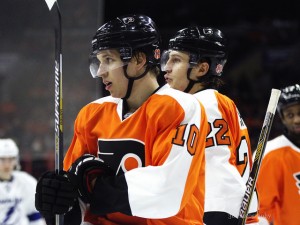 Schenn's Inconsistencies
A shoulder injury in his rookie season in 2011-12 held him to just 58 games. That was followed by the lockout shortened season of 2012-13, which held him to 47 games.
It took Schenn till his third season pro to finally play a full calendar year's worth of games, in which he was still just 22 years old.
Couple this with being bounced around positionally every year, along with constant flux of new  linemates, it's easy to see why it took Schenn a little bit longer to develop into the player we saw from January on last year.
From January 1, 2016, till the end of the season, Schenn played the most consistent hockey of his career. He was one of the NHL's best point producers with 44 points in those 46 games.
The offensive surge brought on by Schenn to end the season would leave Ron Hextall with some tough decisions regarding his young, now potential first-line caliber forward.
So Brayden Schenn had the same amount of goals and assists as Kessel last year in 2 less games. Interesting little tidbit.

— Conrad (@Conrguy) June 23, 2016
Were the 46 games where he played at an elite level offensively enough of a sample size to prove to the general manager that he indeed turned the page in his development and can be that type of forward for a full season?
Schenn's New Deal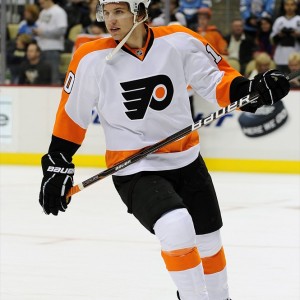 Schenn's new contract, a four-year $20.5 million dollar deal, runs a cap hit of $5.125 million per season and shows that Ron Hextall not only believes Schenn can be who he was from January on last year, but that he can also be better than that.
At first glance the $5.125 million cap hit seem a little high for Schenn, but when looked at with retrospect to what other players that score 50-70 points a season make, Hextall came out with a potential future team friendly cap hit.
However, with that said, Schenn must continue what he built on last year to make this deal worth its while.
Hextall is banking on Schenn, who in each of his first three full seasons (ages 22-24) got better and better, to continue to do so.
He posted 20 goals and 41 points in his first full season (2013-14), 47 points in his 2nd, and the 59 he finished with last year. It's safe to say given his age this trend will continue as he continues to mature more and more as an NHL player.
Can Schenn Become Elite?
The question now is, with Schenn entering his fourth full season, barring injury, make the leap to a 60-70 point player a season, if not more? If he can do that in today's NHL with scoring down, he'll be considered an above average to elite-level forward offensively.
He'll certainly have all the opportunities to do so. With the minutes he's given on a game to game basis along with the offensive zone starts he's granted, he'll have every chance to put up big numbers playing alongside the team's most skilled forwards.
Glen Stricker is a Temple University graduate with a degree in Media & Communication. He is the Lead Writer for the Philadelphia Flyers for The Hockey Writers as well as the social media coordinator and contributor for @PHLFlyersNation