Brendan Gallagher only has three NHL seasons under his belt, but in that time, he has already developed a reputation for being one of the peskiest players in the game today. Getting under opponents' skin, crashing the net with authority and taking a few too many goaltender interference penalties have led many to believe Gallagher is nothing more than the Montreal Canadiens' version of Brad Marchand.
But being pesky is the 23-year-old's bread and butter, and while he may tip toe the fine line between the right and wrong side of the rulebook, his playing style is what makes him so effective.
Now, being a great hockey player in the NHL is one thing, but making Team Canada is a whole different animal. Ever since international hockey competitions started, Canada's rosters have been stacked with All-Stars. Despite the game's growth over the last few decades, the "Great White North" still lays claim to a large chunk of the world's best players.
Not a whole lot of people even have Gallagher on their radar, let alone making the Canadian roster. However, what the Montreal forward brings to the table, night in and night out, could very well push Canada over the edge at the 2016 World Cup.
Team Canada GM, Doug Armstrong told me #canadiens Brendan Gallagher is on a list of players that they are looking at for the world cup…

— Renaud Lavoie (@renlavoietva) November 8, 2015
With reports surfacing that Gallagher is now on Team Canada general manager Doug Armstrong's radar, it begs the question: Does the feisty Canadiens forward deserve a spot on Canada's roster? Well, here's the case for why he does.
Unique Skill Set
What Gallagher brings to the ice isn't flashy or eye-popping. It's not even noteworthy on the highlight-reel most nights — unless, of course, he's involved in a controversial goaltender interference play. But it was never about the "wow" factor for Gallagher. The 23-year-old's skill set isn't defined by Patrick Kane-like dekes or Steven Stamkos-like snipes. It's defined by something very few players can lay claim to, and that is a strong work ethic. When most hockey fans envision a "gritty" player, they see a well-built, physical hockey player who strikes fear in opponents every time they step onto the ice. At 5-foot-9, Gallagher isn't scaring anyone anytime soon — that is, not physically. However, where Gallagher lacks in size, he makes up for in his determination to get to the net and score that all-important goal for his hockey club, regardless of how many beatings he has to take. If that's not gritty, what is? In Gallagher's most recent goal (shown above), he drives the net with speed, shedding the man covering him. Gallagher then sets up shop in front of the net, which might as well be called his second home at this point. He leaves himself enough time to turn around and watch the shot directed at New York Islanders goaltender Jaroslav Halak. With a clever screen and masterful tip, No. 11 slips the puck past Halak to give the Canadiens a 3-1 lead in the third period. On the surface, this goal isn't anything special, but it's the type of goal that wins hockey games. Goals are goals — they don't have to be pretty. While Canada has a wide selection of elite hockey players, there aren't many who do what Gallagher did in the video shown every single game.
Brendan Gallagher leads the entire NHL in high danger scoring chances so far this season (via @war_on_ice). Guy gets to the net. — James Mirtle (@mirtle) November 5, 2015
The great thing about Gallagher is he works hard, no matter where he is on the ice. He's constantly pursuing the puck and looking to create something out of nothing.
Not only does he skate hard, but he successfully recovers loose pucks at a rate higher than almost anyone in the league. Loose-puck recoveries directly link to possession (Corsi), which essentially leads to more scoring chances and goals. Not surprisingly, Gallagher ranks among the league leaders in all of those categories.
Does that really mean he's a better option than some of the other All-Star caliber players Canada has to choose from, though?
How Gallagher Stacks Up
Sidney Crosby, Jonathan Toews, Steven Stamkos, Claude Giroux, Corey Perry, Patrice Bergeron — the list goes on and on for Team Canada. It really is remarkable how much skill GM Armstrong has to pick from, but the fact that he's considering Gallagher says something.
NHL.com put together a list of Canada's projected 2016 World Cup roster in September; a list Gallagher wasn't on. Here's how he stacks up against the writer's list of forwards since the 2012-13 season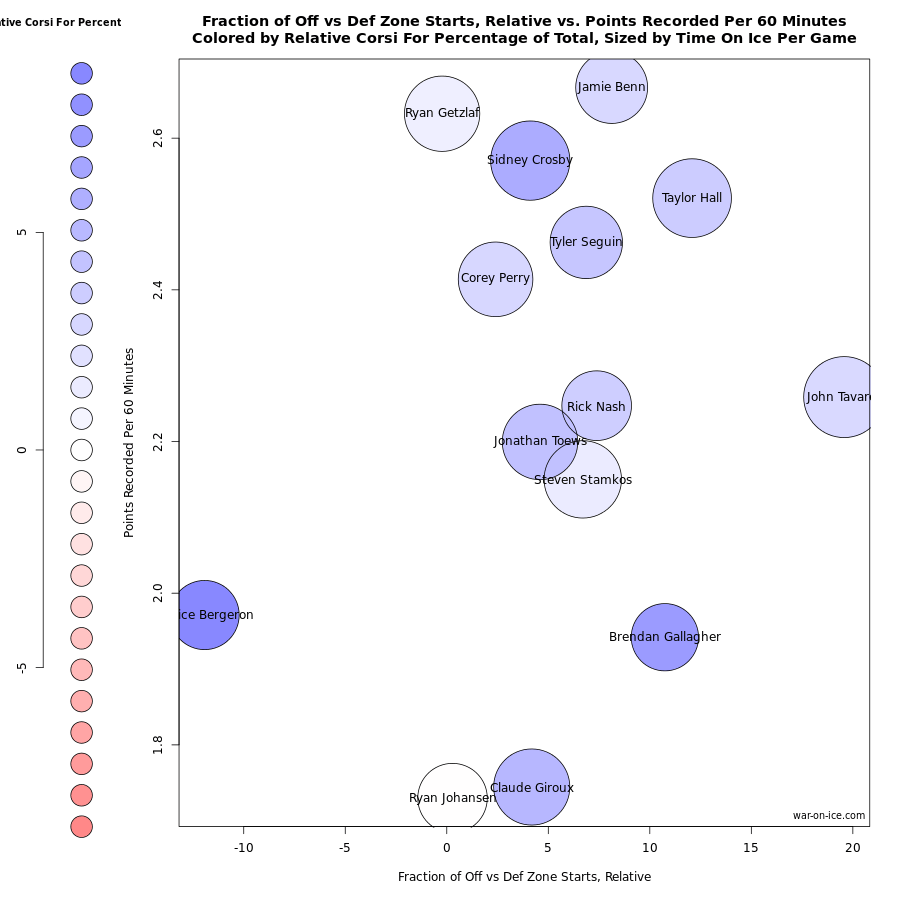 While it's obvious Gallagher doesn't quite match the offensive production (points per 60 minutes at even strength) of the likes of Crosby, Tyler Seguin and Jamie Benn, among others, he's far from the worst point producer on the list.
What's more, Gallagher ranked second on the list in possession (relative to teammates) and scoring chances for/against percentage (relative to teammates) — mind you, in slightly sheltered zone starts. Only Patrice Bergeron, who's won the Frank J. Selke award three of the last four seasons, had better numbers. These statistics only begin to scratch the surface of Gallagher's value and is a testament to his solid two-way game.
Final Thoughts
Canada has a ton of talented players to choose from, and despite Gallagher's exceptional overall game, it would be completely understandable if Armstrong left him off the team's roster.
Having said that, Gallagher truly is a one-of-a-kind player. His team-first, warrior-like mentality would be an asset to any team. The 23-year-old forward certainly won't crack Canada's first line, but it's hard to imagine he wouldn't be useful in a third- or fourth-line role.