Last night, the Buffalo Sabres beat the Toronto Maple Leafs by a score of 5-2 – again. Over the last three games the two teams have played, the Sabres have scored 15 goals and the Maple Leafs have scored five. Lucky for Toronto the two teams don't play in the postseason. It would likely be another one-and-out for the Blue and White.
---
---
Auston Matthews' point-scoring streak is over. Mitch Marner's point-scoring streak is over. The Maple Leafs' streak of playing strong games is over. Time to start another one!
Related: Maple Leafs: Celebrating the "Worst" Team in Franchise History
For some reason, the Maple Leafs simply don't show up against the Sabres. None of the last three games the teams have played each other have been close. Last night's game wasn't close.
In this edition of Maple Leafs' News & Rumors, I'll look at some of the events of the game. I'll also comment on what these events might mean as the team enters the last nine games of the regular season.
Item One: Head Coach Sheldon Keefe Must Be Frustrated
Maple Leafs' head coach Sheldon Keefe was very clear about how he felt during the media scrum after the game. His assessment of the team was simple "We showed that we were not interested in competing, playing, and winning."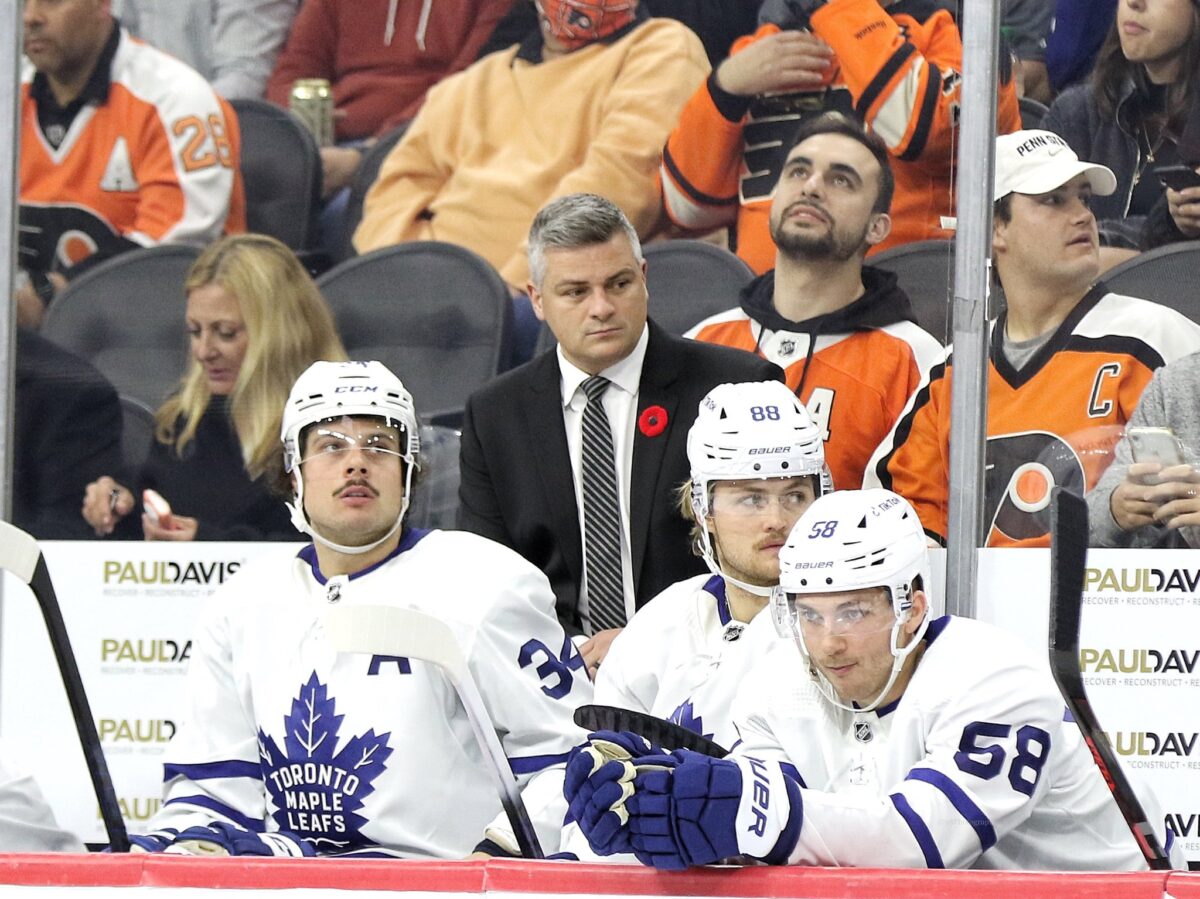 One of the regular critiques about the Maple Leafs is that they have "an AHL coach." I don't disagree that there are things I'd rather coach Keefe do than what he does – on-ice load management is one of them. However, although I do think he's young and to date lacks experience, I think he learns from mistakes and puts good people around him on the coaching staff.
Last night's game doesn't give me pause in my assessment that this is the best team the organization has put together in many seasons. Give credit to general manager Kyle Dubas and his staff for building the roster. But Keefe and his staff make it happen on the ice.
Related: 12 of the Fastest Skaters Ever in the NHL
The team is playing vastly improved defense. The team usually can fill holes from injuries. The team's systems are solid and the special teams are just that – special. They are usually playing well against all competition.
Last night wasn't any of that. The Sabres went two-for-four on their power play; the Maple Leafs went zero-for-five. The Sabres hustled; the Maple Leafs didn't. The team's defense fell apart in front of rookie goalie Erik Kallgren. To my mind, that impacted the quality of his play. He was left alone and resorted to guessing.
In short, the team was flat. The Sabres are the only NHL team that has won three of four against the Maple Leafs during the 2021-22 regular season.
Coach Keefe was rightfully frustrated. "That's four games against this team, and we have been no-shows in all four," he said. (from "Lowly Sabres lay one last beating on Maple Leafs to take season series," Terry Koshan, Toronto Sun, 12/04/22).
Item Two: Morgan Rielly Sets Career Best in Assists
Focusing on players who contributed positively to the game from the Maple Leafs' perspective, defenseman Morgan Rielly hit his career-best mark in assists last night during the loss. He registered assists on both Maple Leafs' goals.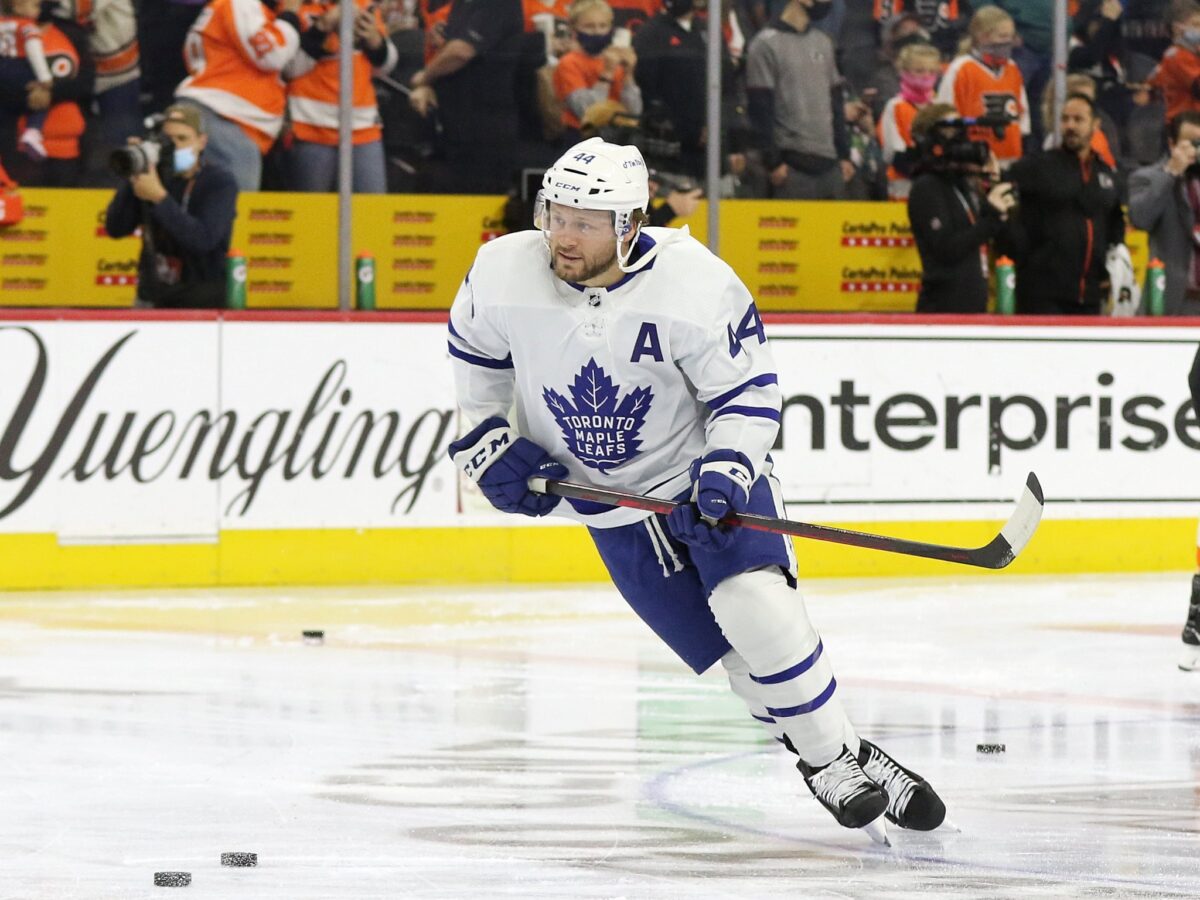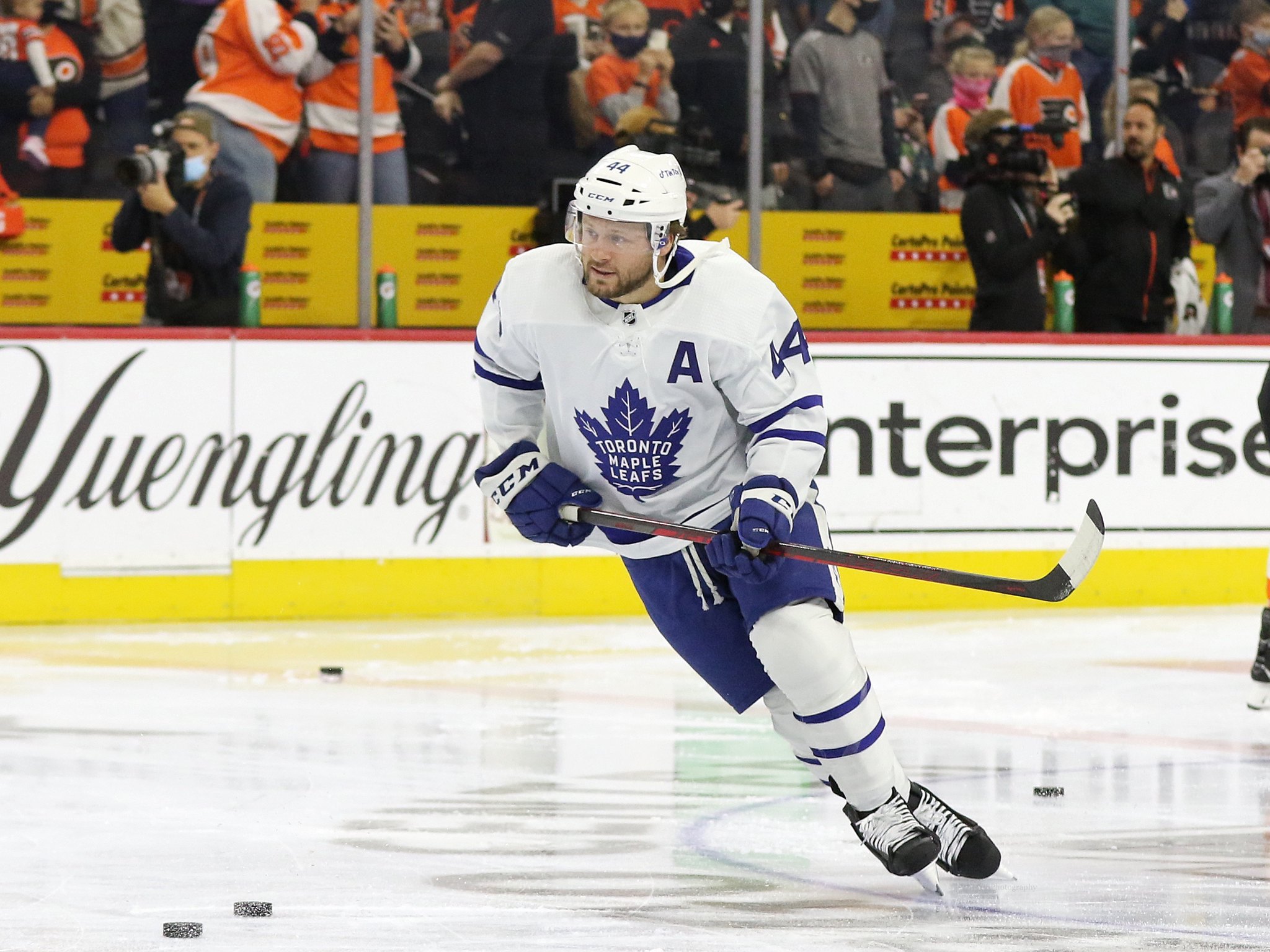 For Rielly, those two assists set a career-best mark for him for a single season with 53. His previous high came during the 2018-19 season, when he scored 20 goals and added 52 assists (for 72 points) in 82 games. Currently, he has 10 goals and 53 assists (for 63 points) in 73 games. Although he might not be able to set a career best in points, he could surpass Tomas Kaberle's franchise record for assists for defensemen that stands at 58 assists. That record was set in 2005-06.
Item Three: Alex Kerfoot Scored and Is Heading Toward 50 Points
Although none of the Maple Leafs' big guns could score, Alex Kerfoot scored a goal in last night's 5-2 loss. The goal offered a tiny bit of hope for a Maple Leafs' comeback, but it wasn't to be. The home team didn't score again.
Related: Do You Know Your NHL Goalie Trivia?
On the season, Kerfoot has scored 13 goals and added 36 assists (for 49 points) in 73 games. His previous high was his rookie season of 2017-18 when he scored 19 goals and added 24 assists (for 43 points). Kerfoot's next point will give him 50 points for an NHL season, something he's not done before.
Item Four: The Sabres Shut Down Mitch Marner and Auston Matthews
The Sabres once again shut down Auston Matthews. It was only the third time in 17 games he hadn't scored. In the four games he's played against the Sabres this season, Matthews has a goal and an assist.
Marner's point steak ended. The last game in which Marner didn't have a point was against Buffalo on March 13.
Takeaway Five: Erik Kallgren Couldn't Stem the Sabres' Tide
In my mind, Erik Kallgren was the victim of poor play last night. His team came out like they just got up from a nap. He gave up four goals and made 23 stops, and he looked out of place and guessing on a couple of plays. Perhaps that's his fault. Perhaps it isn't.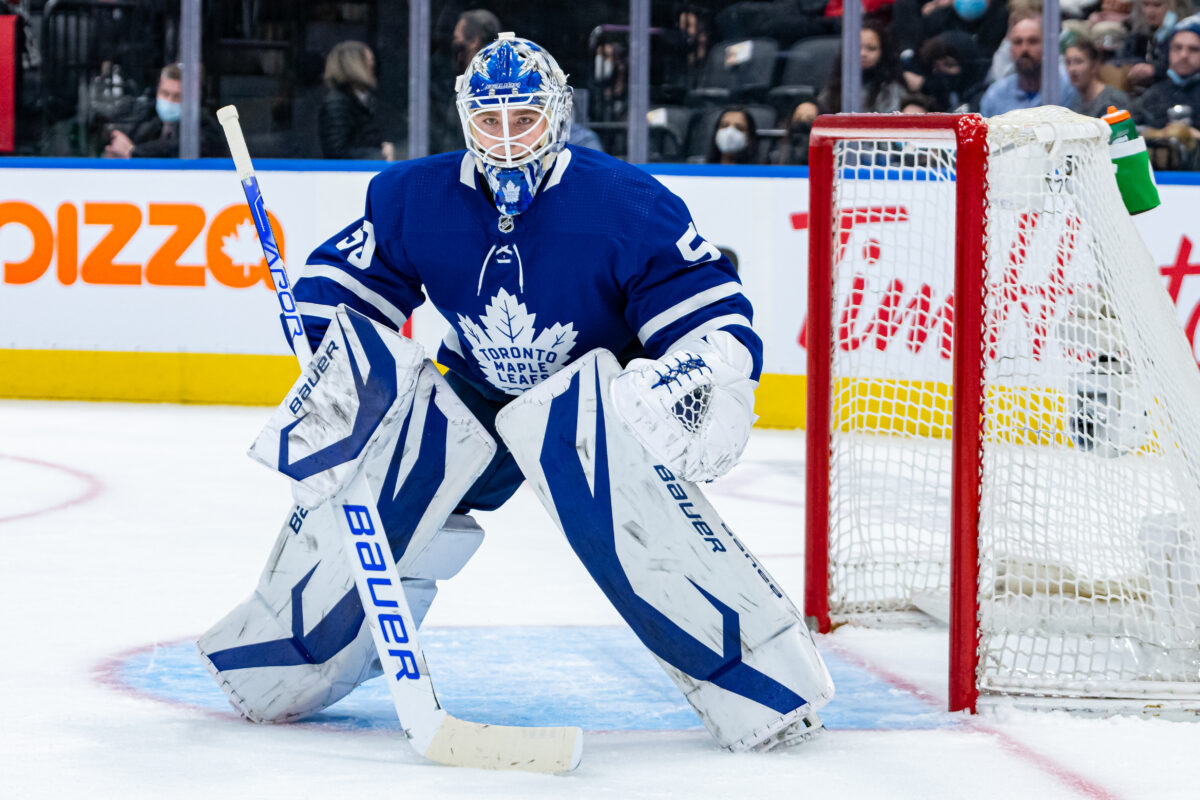 The team in front of Kallgren didn't play well. They were flat,  listless, and didn't clear the zone. In reading game reviews by other Maple Leafs' writers, one review reported that Kallgren been "unimpressive." That might be, but I don't think he had much of a chance last night.
What's Next for the Maple Leafs?
Maybe meeting the Washington Capitals on Thursday will energize the team. The Capitals beat the Philadelphia Flyers last night by a score of 9-2, and Alex Ovechkin scored a goal and added an assist. Ovechkin is an elite score who's chasing Wayne Gretzky for the NHL's all-time lead. Ovechkin now has 776 goals and and 1405 points in 17 NHL seasons. Gretzky scored 894 goals during his 21-season NHL career.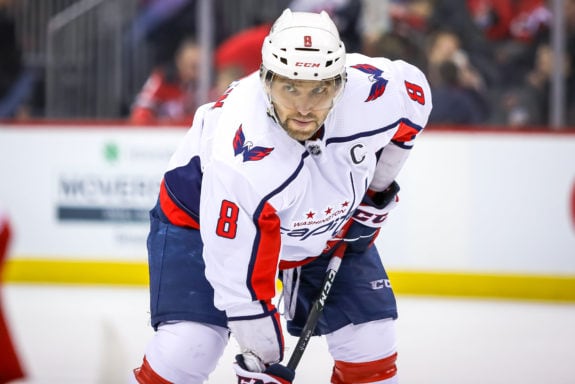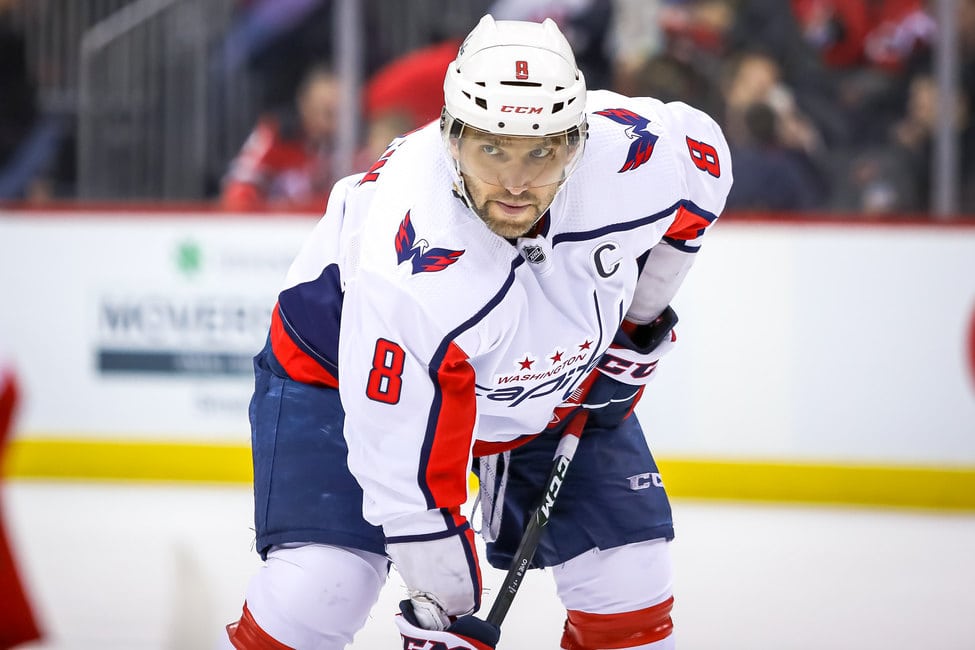 Playing against Ovechkin should motivate Matthews, who's now only two goals shy of 60 on the season. One thing the two great stars have in common is that they can absolutely control a game. Sometimes watching Ovechkin on the ice, he looks like a great NBA point guard. You just know he's decided to score, and he usually does.
Related: Maple Leafs' Dubas Pulls Bear Out of His Hat
About the Maple Leafs, just when this team plays a stinker, they seem to come out like world beaters the next few games. Can they do it again? Thursday could be a great game. Then again …
You may also like:
---
Latest News & Highlights
---