In this edition of Toronto Maple Leafs News & Rumors, I'll share the sad news that former Maple Leafs player and announcer Howie Meeker died. I'll then take a look at an announcement that defenseman Morgan Rielly was named in the Top 20 of NHL defensemen.
Related: The Best NHL Forwards Ever: A Lineup For the Ages
Finally, I'll speculate about Frederik Andersen's situation with the team and suggest why backup goalies might be hugely prized as the 2020-21 season unfolds.
Item One: Maple Leafs Icon Howie Meeker Dies at 97 Years Old
Maple Leafs icon Howie Meeker died yesterday at 97 years of age. If you're a senior hockey fan, you'll remember some of Howie Meeker's famous phrases such as "Golly Gee Willikers" or "Jiminy Cricket."  I remember so clearly from my days watching Hockey Night in Canada, as I do his gushing enthusiasm for all aspects of the game of hockey. He had a great way of seeing and breaking plays down.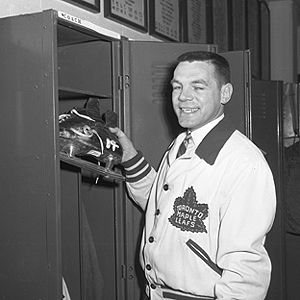 Meeker was a member of the NHL community for decades. He played with the Maple Leafs for eight seasons. His work on Hockey Night in Canada entertained millions. And, his effervescent style and wonderfully-phrased vocabulary were all his own and so – from my experience – expressive of Eastern Canada. There was no one else like him.
But, before he was all this, he was also a member of four Stanley Cup-winning Maple Leafs' teams and was named to The One Hundred Greatest Maple Leafs of all-time. He was out of NHL by the age of 30, but he continued to play professional hockey until his mid-40s back home in Newfoundland.  
Related: Bill Barilko, the Tragically Hip & the Most Famous Goal in Maple Leafs History
He had great seasons with the Maple Leafs and still holds the NHL record of five goals in a game by a rookie. He won the Calder Memorial Trophy as the NHL's best rookie after the 1946-47 season. During the 1951 Stanley Cup Finals, Meeker set up perhaps the most storied goal in Maple Leafs' hockey history when he sent a behind-the-net pass to Bill Barilko who scored in overtime to lift the Maple Leafs over arch-rival Montreal Canadiens for a Stanley Cup victory. 
For those who might not know, Gord Downie and the Tragically Hip put out a song about the Bill Birilko story in their album "Fully Completely." You can listen below.
That Meeker even played NHL hockey was a miracle. During World War II he served in Europe and was wounded by an exploding grenade, which broke both his legs and left him with almost 50 shrapnel wounds. Ever the team-guy, from his hospital bed in England, Meeker's concern for his team made him write a letter asking the Maple Leafs asking to take him off the team's player list.
At that point, he had to believe he'd never skate again; but, he obviously did. When Meeker quit playing, he moved into coaching, announcing, and running hockey camps, which he did for more than 30 years. Meeker's hockey analysis on Hockey Night in Canada and later TSN showed a unique ability to explain the game to passionate Canadian fans in ways few others could match.
For his life and contribution to hockey, he was honored with both the Foster Hewitt Memorial Award and the Order of Canada. My sympathies extend to the Meeker family today.
Item Two: Morgan Rielly Named One of the Top Twenty Defensemen in the NHL
Last week, the Maple Leafs Morgan Rielly was named one of the top twenty NHL defensemen by the NHL. Although he had a down 2019-20 season, obviously his status hasn't waivered within the league.
During the 2018-19 season, Rielly led NHL defensemen with 20 goals, finished third with 72 points, and logging a plus-24 rating. Last season, because he missed so many games with a broken foot, his numbers dropped to 27 points (three goals and 24 assists) and a plus-6 rating in 47 games. Still, Rielly led the Maple Leafs in ice time per game (24:12).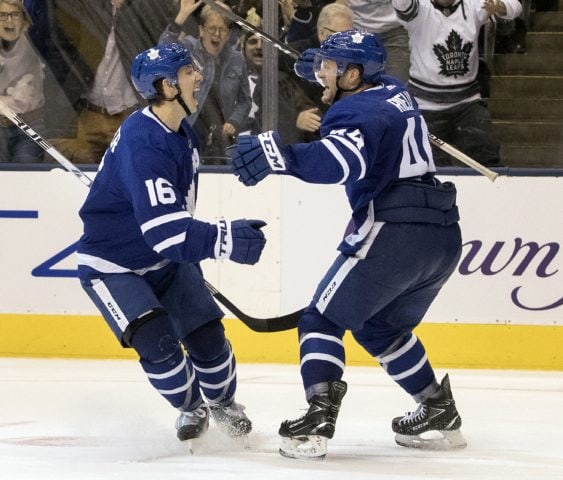 For those interested, Victor Hedman of the the Tampa Bay Lightning was named the best NHL defenseman; Roman Josi of the Nashville Predators was number two; John Carlson of the Washington Capitals was number three; and, Alex Pietrangelo now of the Vegas Golden Knights was named the fourth.
Item Three: The Maple Leafs Were Rumored to Be Interested in Robin Lehner
Speaking of the Golden Knights, in a recent mailbag article in The Athletic, James Mirtle was writing about the Maple Leafs goalie situation. He believes the organization looked into Vegas goalie Robin Lehner in case the Golden Knights decided to move him.
Mitrle believes the Maple Leafs goalie situation might be an issue because of starter Frederik Andersen's difficult 2019-20 season and the fact that he's on an expiring contract. He believes Andersen's play will be watched closely and scrutinized heavily from all angles.
His take was that the Maple Leafs tried to find a replacement and noted, "My sense is they at least liked Robin Lehner, but Vegas wasn't going to let him go." (from "Mirtle mailbag: Should the Leafs play at BMO? Plus Eric Joyce, line combos, more," James Mirtle, The Athletic, o8/11/2020).
Item Four: Backup Goalie Jack Campbell Might Be A Key to Next Season
Although I don't agree with everything Mirtle writes about the Maple Leafs, I do believe Andersen's upcoming contract season is a key organizational story for next season. He's been the team's undisputed starting goalie for five years; and, if I'm assessing the situation correctly, general manager Kyle Dubas likely let other NHL general managers know Andersen was available. When nothing materialized, the organization decided to keep Andersen as its starter for 2020-21.
My assessment is that, although Andersen had a down season in 2019-20, the team trusts his play. What Dubas doesn't like is to have an asset walk without compensation – that Tyson Barrie and Cody Ceci left is one thing, but losing a starting goalie with Andersen's pedigree for no compensation is another.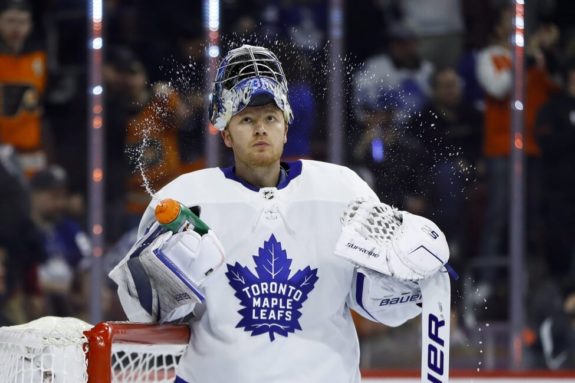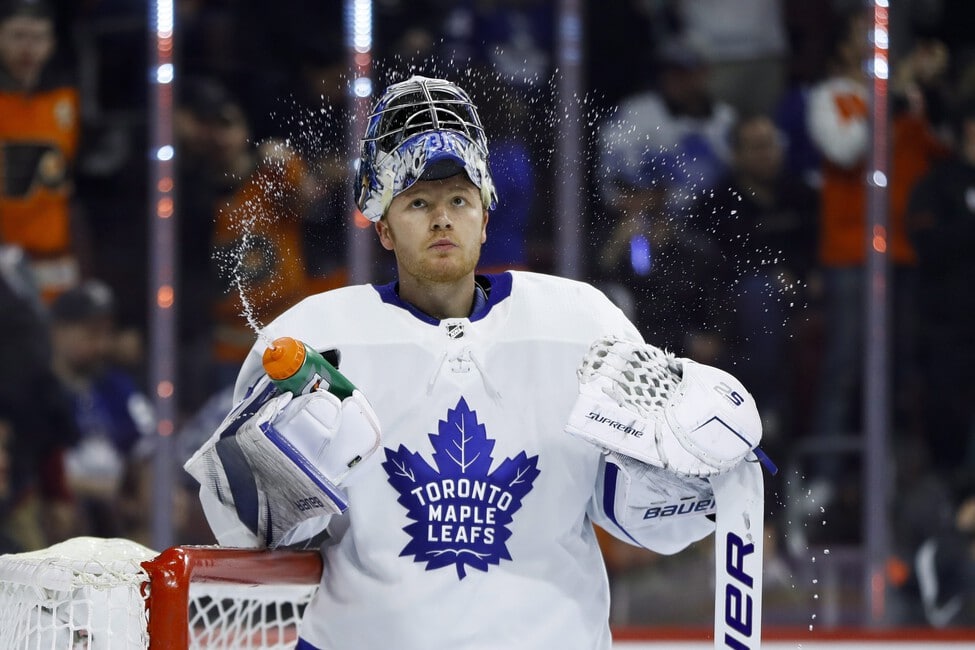 Like Dubas or not, he's strategic. He knows that any 2020-21 NHL regular season will not be a "regular" season. Given the COVID-19 pandemic and the United States' lack of response to the crisis, I'm already on record that the only way I can see NHL games played is both within Canada and within the United States. There will be no non-essential border crossing any time in the near future.
I also believe there's a chance the NHL will adopt a model similar to Canadian university sports or Major League Baseball. One team will travel into another team's city and play a series of games over a short time period. I believe there'll be plenty of back-to-back games during these series as the NHL tries to squeeze an expansive schedule into a shorter amount of time.
Related: Prospects News & Rumors: Hayton, Neighbours, Wiesblatt & More
That logically means a higher number of back-to-back games. Here's where signing four goalies comes into play. If I'm correct, and I can't imagine it otherwise, it means the 28-year-old Campbell will get plenty of chances to play. He won't split the net with Andersen evenly, but Andersen might play four of six games with Campbell playing the other two.
The upside for Dubas is that the organization should be clear by the end of the 2020-21 season where Campbell fits on the organization's depth chart. Can he take over Andersen's role as the team's starting goalie?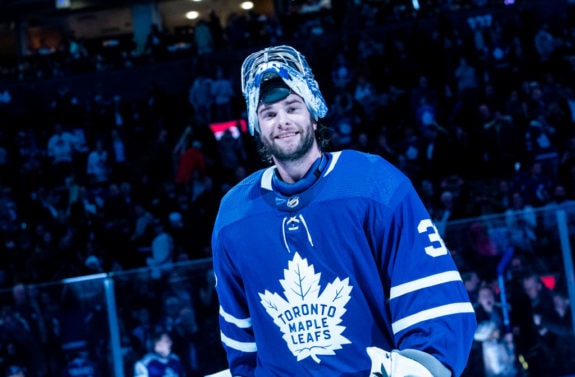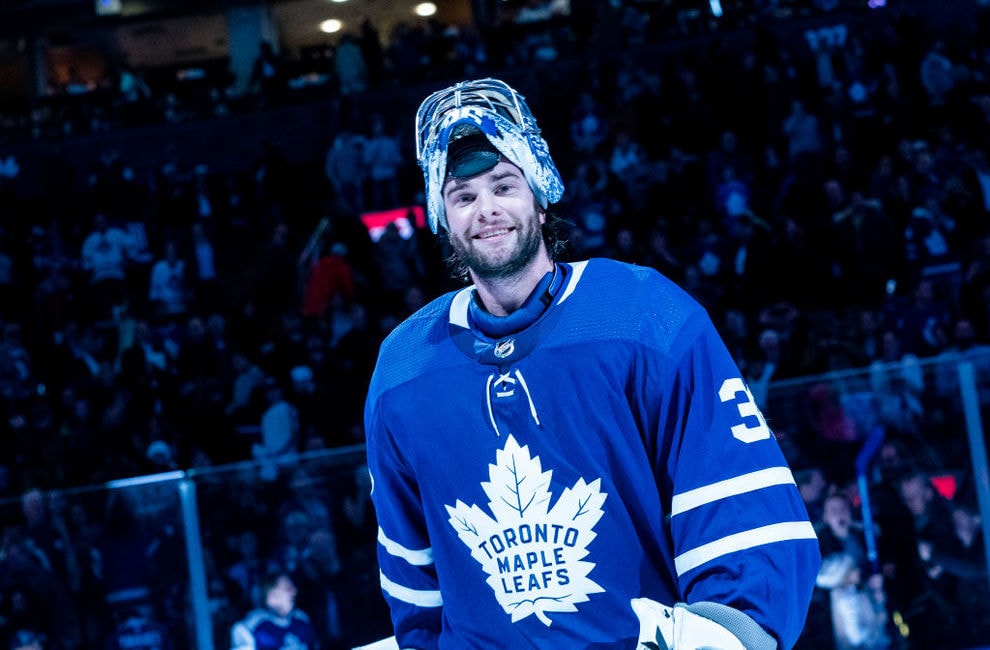 In fact, Dubas' actions to also pick up Aaron Dell (who's played over 100 NHL games) and Michael Hutchinson (who Maple Leafs fans know well) might prove sagacious for two reasons. First, if there are injuries, the team has experienced backups. Second, the same is true if either Andersen's or Campbell's play falters?
Right now, as it stands, the Maple Leafs roster has its strongest depth at goal in many seasons. Given what I see as the likely shape of a 2020-21 season, that seems wise.
What's Next for the Maple Leafs?
Today in the Toronto Star, sportswriter Dave Feschuk wrote an interesting article about the possibility the Maple Leafs could go to a two forward/three defensemen lineup at times during the season. Without going into specifics here about what that looks like, let me state the obvious: given the team's strength at the forward position, the Maple Leafs defense must be seen as improved for anyone to consider that possibility. (from "What if the Maple Leafs experimented with three defencemen and two forwards? It's worth a shot," Dave Feschuk, Toronto Star, 07/11/20).
Related: Maple Leafs Radical Trade Rumors: Nylander, Ekblad, Nurse & Subban
I find it especially interesting how quickly perception has changed. To review my notes in this post, (a) the goalie situation is improved; and, (b) actions seem to support that the defense is also improved. That bodes well for the 2020-21 season.  
---
---