On Saturday night, it was back to hockey as it was played in the 1980s. There were lots of goals and huge swings in momentum. The final score favored the Toronto Maple Leafs over the Edmonton Oilers by a score of 7-4. 
It turned out to be an exciting and entertaining night watching the game between two great teams; however, it was much more fun if you were rooting for the Blue and White. A lot of fans tuned into the game to get a chance to watch two of the best players in the NHL face off against each other – Auston Matthews and Connor McDavid. 
And they got to see just that. However, the two best players on the night were not Matthews and McDavid. They were Mitch Marner and McDavid. Not that Matthews disappointed, but Marner was the Maple Leafs' star of the game – and by a country mile.
Related: 2014 NHL Draft Top 10: Where Are They Now?
In this edition of Maple Leafs News & Rumors, I'll take a look at some of the player news emerging from the game. I'll also share some other news emerging from the organization.
Item One: Mitch Marner Was Nothing Short of Amazing
Marner had an absolutely outstanding performance against the Oilers. He scored a goal and added three assists and was, as I noted, the key to the Maple Leafs' win.
His goal was one of the prettiest and most skillful I've seen in a long time. Everything about it – from the anticipation of where Ryan McLeod would pass the puck, to his spin-o-rama move to face Stuart Skinner, to his beautiful backhand-to-forehand deke, to his perfectly placed shot. It was so quick and so skillful.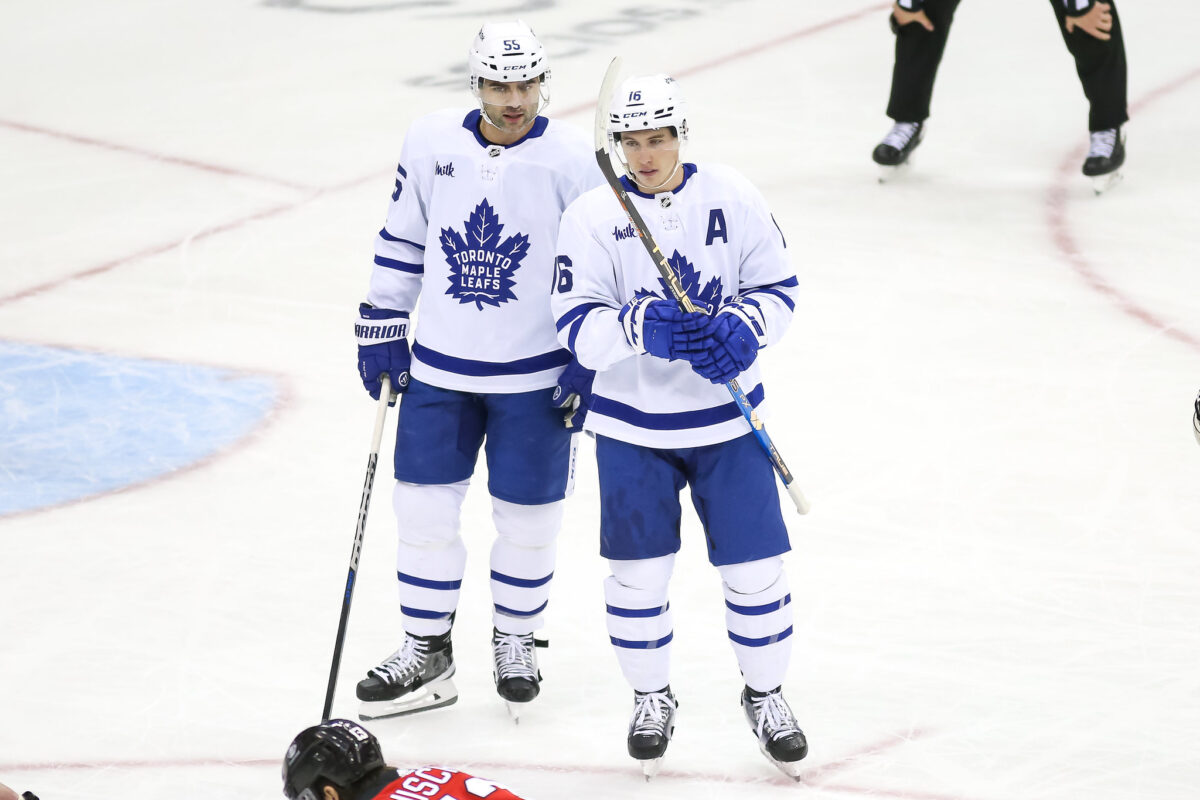 But Marner wasn't close to being finished. He also assisted on goals from William Nylander, John Tavares, and Matthews. His impressive performance marks back-to-back multi-point games and brings his total to nine points in his last five games. He now has totaled 24 goals and 83 points in 65 games. He has been a consistent offensive force for the Maple Leafs throughout the season; and, if anything, he's getting better as the season goes on.
Item Two: Matt Murray Struggled Early, But Finds His Game
Matt Murray struggled early in the game, allowing three goals on the first nine shots he faced. The first two were shots that a good NHL goalie should have stopped (an unscreened slapshot by Mattias Ekholm from the top of the right faceoff circle and a wrap-around by Evander Kane that bounced off of Murray's shinpad and into the goal).
Related: Grading the Maple Leafs' Matthews, Marner & Murray
---
Latest News & Highlights
---
Fortunately, Murray settled in and only allowed one more goal for the rest of the game. My guess is that Maple Leafs' head coach Sheldon Keefe will continue to split starts between Murray and Ilya Samsonov as the team seeks to get both goalies ready for a postseason run. 
Right now, Samsonov looks more reliable in the net, but it's hard to deny Murray's Stanley Cup resume. Murray has now allowed four goals in each of his last four games; however, he was able to pull his game together to come away with the win in this game. Ultimately it's the final score that matters most. 
Item Three: Auston Matthews Hit 30 Goals on the Season
Matthews had a solid game, scoring a goal and adding an assist in the Maple Leafs' win. His goal came on a third-period power play to put the game out of reach at 6-3. He now has goals in back-to-back games and three points in those games. On the season, he's scored 30 goals and added 34 assists (for 64 points) in 58 games.
---
---
Matthews' goal-scoring consistency puts him in rare company among NHL players. Should he score 30 goals next season, he'll tie Pat LaFontaine's record of eight consecutive 30-goal seasons by a United States-born player. He'd also tie Darryl Sittler's Maple Leafs' record for the most seasons in a row with 30 goals. 
Item Four: Noel Acciari Has Been Huge Value for Maple Leafs
Since joining the Maple Leafs, Noel Acciari has exceeded expectations. He was known for his physicality and desire to win, but who knew he could contribute so impressively to the offense? For a depth forward, he has solid scoring and playmaking abilities. 
Acciari scored two goals on Saturday night. He now has three goals in 10 games with the Maple Leafs and 13 goals and 21 points in 64 games this season.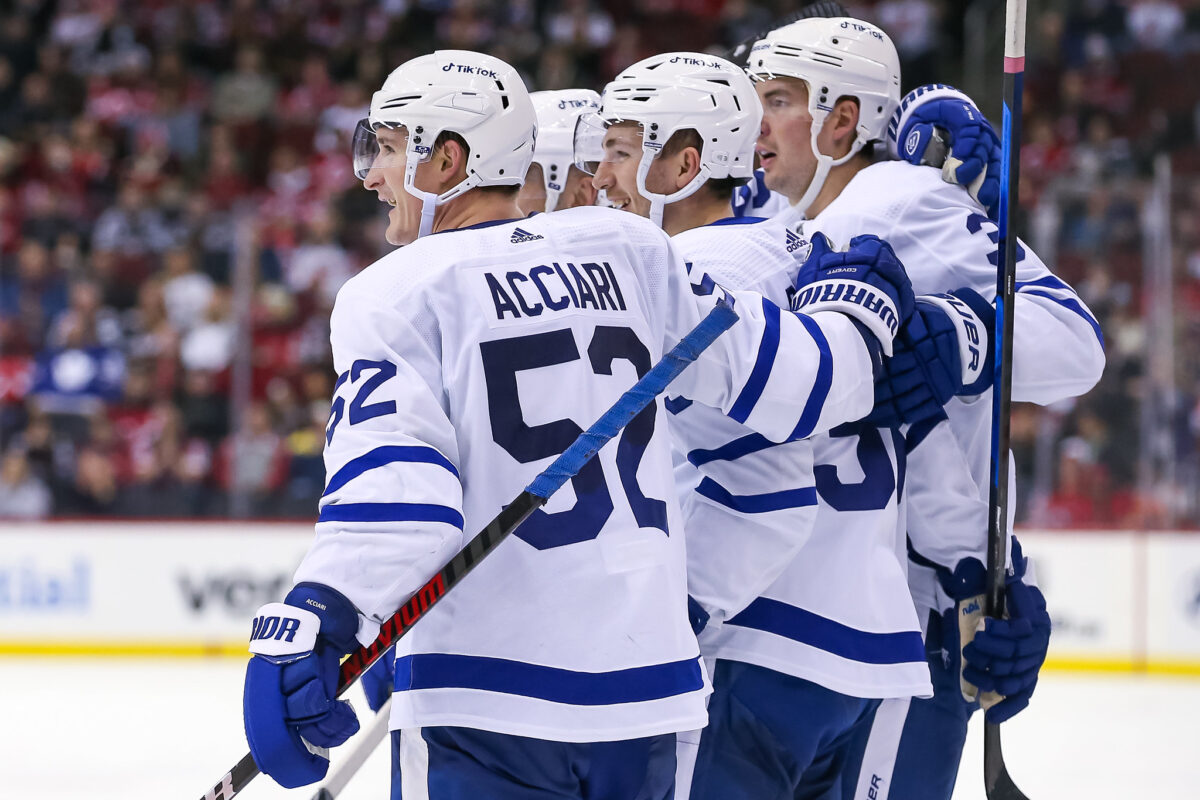 After the game, Maple Leafs' head coach said of Acciari: "He has made plays. He has generated shots. He is getting in behind defenders. He is taking the puck to the net. He is doing the little things there that show some great capacity for us lower in the lineup to be able to play against anybody, be a guy who is no fun to compete against, and chip in for us offensively. He is a very important player."
What's Next for the Maple Leafs?
The Maple Leafs have a tough schedule ahead of them with games against the Colorado Avalanche and the Carolina Hurricanes. Both are strong teams. They then meet the Ottawa Senators and the Buffalo Sabres. 
Both the Senators and Sabres are on the outside looking into the postseason. They will be fighting to keep their playoff hopes alive. However, both are teams of the future and can't be taken lightly this season. 
Related: Jake Gardiner Leaves the Maple Leafs: Why I'm Glad He's Gone
It's impressive that the Maple Leafs had multiple players contributing to the scoresheet on Saturday. The team had two goals from Acciari and Tavares, and Marner, Matthews, and Nylander each scored one. Perhaps this team is becoming well-rounded and not overly reliant on just the top four scorers.
---
---