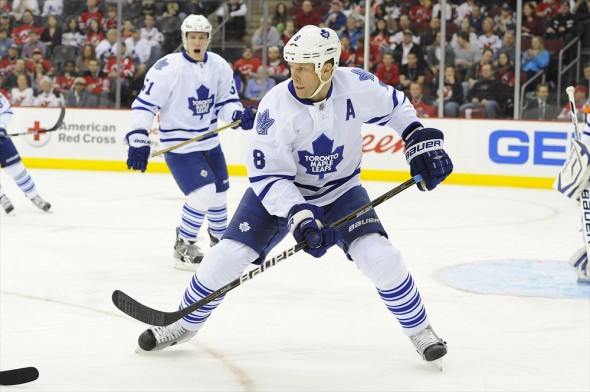 Maple Leafs Panel is a weekly feature that is published every Monday throughout the season here at The Hockey Writers. It's a feature where THW Editor Lukas Hardonk as well as THW Toronto Maple Leafs correspondents Mark Ascione and Stephen Stoneman answer three questions that concern the Maple Leafs each week. To catch up on previous editions, click here.
Question: Based on performance, ignoring current injuries and solely on the current Maple Leafs and Marlies rosters, what would be the perfect lineup for the Leafs on the back-end?
Lukas Hardonk: Injuries always make things difficult for every NHL team and the Maple Leafs are no different. Although it hasn't been hit quite as bad as other positions, the Leafs' back-end has had to deal with injury issues this season. Most notably is Jake Gardiner, who undoubtedly deserves a spot on the Leafs' roster. One of the big questions that comes of that is who takes the fall?
John-Michael Liles has been on and off this season but his inability to do a nice job of adjusting to Randy Carlyle's system may have him on the out in Toronto. Korbinian Holzer has scored a pair of goals but hasn't stuck out enough to remain with the team for an extended period of time while Mike Kostka seems to be somewhat overrated as well but not quite enough to knock him out of the top seven.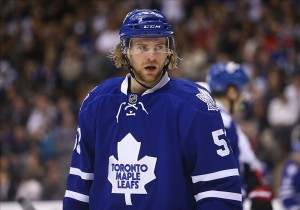 On the other hand, Mike Komisarek has played well enough to impress in the four games he has appeared in, giving him a spot alongside Dion Phaneuf, Carl Gunnarsson, Cody Franson, Mark Fraser, Gardiner and Kostka in what would be the perfect situation for the Leafs on defence.
Mark Ascione: The Maple Leafs' defence corps is something of an incomplete puzzle. Granted the overall defence has been better, but things still seem to be missing. Generally things are as they should be with Dion Phaneuf, Mike Kostka, Cody Franson and Mark Fraser. Each of these four have brought fairly consistent play to the blueline.
At various times, it seems John-Michael Liles, Korbinian Holzer and Carl Gunnarsson have been lackluster, even mistake-prone. Mike Komisarek played fairly well in the four games he has been in; he should get a better opportunity to establish himself. It seems Jake Gardiner isn't quite ready to come back to the NHL yet. Ideally, we should see Phaneuf, Kostka, Franson, Fraser, Komisarek, Gunnarsson and Holzer as the seven regular guys right now.
Stephen Stoneman: The perfect lineup on defence for the Toronto Maple Leafs is not that far from how it currently sits.  The only missing piece is the speedy and evasive Jake Gardiner.  I would stick Holzer and Phaneuf as the top shutdown pair.  Mike Kostka and Jake Gardiner grew together in the Toronto Marlies' lineup prior to Gardiner going down to injury.
Cody Franson is in the top five in scoring among defenceman and would merit top power play duty alongside Phaneuf.  His linemate should stay as Mark Fraser, who has emerged as a tough stay-at home defenceman, is the plus/minus leader on the team and one of the best in the league.
Question: The Maple Leafs could find themselves in a unique situation this season; they could very well be considered "buyers" at the NHL trade deadline. If so, who/what are their early options for trade bait?
Lukas Hardonk: The Maple Leafs have a lot of extra players at each position. There is strong depth up front, an abundance of defencemen and Jussi Rynnas is still waiting for his chance in the NHL. Depth is never something you want to sacrifice as a general manager but it could allow for more trade opportunities. If the Maple Leafs find themselves as buyers come April 3 (this year's trade deadline) then that would mean they are in playoff position with a chance of going relatively far.
If that becomes the case, there would be no sense in using any of their regular NHL players as trade bait but rather throwing a hook in the water by utilizing draft picks and prospects that are currently with the Toronto Marlies such as Joe Colborne and maybe even Rynnas. This way, the Leafs could add to their roster while not giving up any of their key assets.
Mark Ascione: The thing about this team is there's a lot of bodies hanging around, so to speak. There will be a glut at forward when Joffrey Lupul and Matt Frattin return from injury and there's already some crowding on the blueline. If I had to pick one forward, I'd say Clarke MacArthur is the likely candidate to be traded.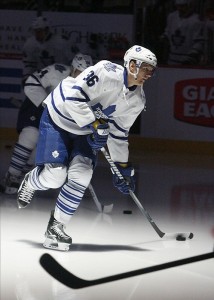 MacArthur be a free agent, plus his abilities as a decent defensive forward with some offensive ability would make him the most attractive of the guys the Leafs could give up. On defense, I think any of Liles, Gunnarsson or Komisarek would be guys who could be traded, though really only Gunnarsson would be attractive to most other teams. Liles' and Komisarek's contracts tend to make them unattractive.
Stephen Stoneman: Carl Gunnarson had his spot stolen by Mike Kostka this year and, although he has still played fairly well, is the best candidate to be shipped via trade.  My guess is that he'll be part of the package that sees the Leafs acquire a number one goaltender.
This need has obviously diminished of late due to the great play of James Reimer and to a lesser extent, Ben Scrivens.  I also think Gunnarsson could be packaged to Anaheim or Colorado for a number one center. Clarke MacArthur is a tweener and with Lupul and Frattin back in the lineup, you have to think that MacArthur is going to be gone by the trade deadline.
Question: The Maple Leafs will have the option to buy out up to two contracts this summer without taking a major cap hit. If any, which player contracts should the Leafs terminate after this season?
Lukas Hardonk: The obvious one is Mike Komisarek. Although he has played well enough to somewhat impress in the four games he has appeared in, his cap hit is just too much to take on for another season. At $4.5 million, there is no sense in keeping him on board when he is unable to remain in the lineup for whatever the reason may be. Further strengthening the case for a Komisarek buyout is his modified no-trade clause, making a potential trade to ship him out of town even more difficult to facilitate.
The not-so-obvious is John-Michael Liles, who had a strong first season offensively for the Leafs but has since seen his production, both offensively and defensively, decline. He doesn't quite seem to fit into Randy Carlyle's system and at $3.875 million also with a modified no-trade clause, holding onto Liles despite being granted the chance to buy him out would be difficult for GM Dave Nonis and company to justify.
Between Komisarek and Liles, the space the Maple Leafs would save under the salary cap as we approach the opening of a potentially juicy free agent period would be tremendous.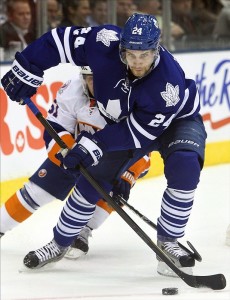 Mark Ascione: Not to repeat myself but I'd name Liles and Komisarek; neither of these players seem to fit into Randy Carlyle's plans. Liles has played but he's been a health scratch lately and he does not play a very physical game. He contributes some offense but between Phaneuf, Kostka, Franson and eventually Gardiner and maybe Morgan Rielly, Liles does not stand out.
Komisarek has been limited to only four games, which suggests Carlyle has little interest in playing him, though I still think Komisarek could be a decent player again. Between the two of them, these guys make $8.375 million next season, money that could well be spent elsewhere. The team could finally rid themselves of two of Brian Burke's larger mistakes: signing Komisarek and extending Liles.
Stephen Stoneman: Point blank, I would buy out the contracts to Mike Komisarek and John-Michael Liles. The total savings would be $3.875 million per season and would allow the Leafs to pay some of the younger guys coming into their own.
Liles has played well for the Leafs at times but since suffering a concussion last season, he hasn't quite been the same. You have to also consider that Morgan Rielly will likely be on the Leafs' roster next year. Liles will have suitors but I'm afraid to say that Komisarek will have a hard time finding a new home.
If you have a question you'd like to see answered on a future edition of Maple Leafs Panel, let us know by sending it to thwleafs@yahoo.ca.
Follow the panel on Twitter: Lukas Hardonk, Mark Ascione and Stephen Stoneman.