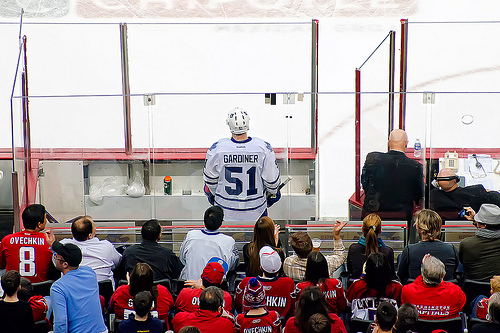 Maple Leafs Panel is a weekly feature that is published every Monday throughout the season here at The Hockey Writers. It's a feature where THW Editor Lukas Hardonk as well as THW Toronto Maple Leafs correspondents Mark Ascione and Stephen Stoneman answer three questions that concern the Maple Leafs each week. To catch up on previous editions, click here.
This week we have a special edition of Maple Leafs Panel dedicated entirely to the NHL lockout.
Question: Which Maple Leafs player has benefited the most from the lockout?
Lukas Hardonk: The fortunate thing about the lockout is that every player still has the option to play in a different hockey league or at an entirely different level. Many Leafs players have taken advantage of this in order to remain in shape as they continue to train for a potential NHL season before it's too late. Nazem Kadri and Nikolai Kulemin have taken advantage of that, which is part of the reason why my answer to this question is a toss-up between the two.
Kadri is finally getting the opportunity to play at one level of hockey for an extended period of time. Rather than suffering from going up and down between leagues, coaches, teammates and systems, Kadri has the opportunity to take advantage of some solid development time.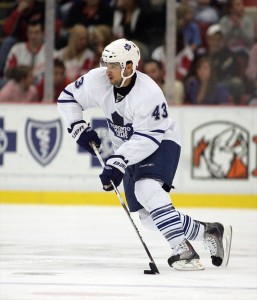 Kulemin is in a similar situation after struggling mightily last season. It was a rough seven-goal, 28-point campaign for Kulemin in 2011-2012 but he now finds himself with 12 points through 19 games with Magnitogorsk Metallurg of the KHL. Hockey away from the rigours of the Toronto market could work wonders for Kulemin's confidence.
Mark Ascione: I'd have to say it's Jake Gardiner. He showed he was an NHL-ready player last season. I have no doubt he would have made the Leafs out of camp and he may have done very well in that situation. But being with the Leafs he most certainly would have faced added pressures; Luke Schenn has been traded, the team needed to improve defensively, etc. It generally takes defencemen a long time to mature into the position.
Because of the lockout, Gardiner gets to play additional games at the AHL level, which can only help him to learn more and mature further without quite the same scrutiny he'd face being with the NHL club. After 14 games, Gardiner has five goals, 11 points, is minus-three and has made some very important plays for the Marlies. He will eventually need to be in the NHL to develop properly, but he seems to be feeling quite comfortable in the AHL for now.
Stephen Stoneman: Nazem Kadri has been a great player for the Toronto Marlies and is once again enjoying a point a game pace to start the season. Had the NHL been ready to go this October, Kadri would have been in the discussion for first or second line forward.  As they currently stand, hockey people have predicted that the Leafs wouldn't have made the top ten in the Eastern Conference.
Moreover a failure like this would come with a lot of pressure and although perhaps unfairly, Kadri, even with Don Cherry in his corner, would be a scapegoat for the team and its fans. Alas, because of the lockout, Kadri is allowed to go and be a winner for a very good Marlies team where he is just another one of the guys.  This additional time can only benefit the young Ontario native.
Question: How have the Maple Leafs been affected by the lockout?
Lukas Hardonk: It's not like the Leafs had any momentum going into 2012-2013 after their epic collapse last season that saw them slide all the way down to 13th in the Eastern Conference last season, so the impact shouldn't be too negative. The area where it might be doing its worst damage is that of player development. While Kadri may be benefiting from it, some others aren't.
Jussi Rynnas, Ben Scrivens and Mark Owuya continue to battle for playing time. It was only supposed to be Rynnas and Owuya in net for the Toronto Marlies this season, but the lockout has forced Scrivens to play one level lower. A three-goalie system simply doesn't work in this case as it takes development time away from Rynnas and Owuya.
As well, various players are playing a line or two lower as the likes of Kadri, Korbinian Holzer, Jake Gardiner and now Matt Frattin hold down spots with the Marlies.
Mark Ascione: I think the biggest blow to the franchise is the cancellation of the Winter Classic. The franchise itself loses out on the revenues and exposure and the fan base is denied seeing their team participate in what has become a headline event. The Leafs will remain the only original six team to not play in a Winter or Heritage Classic.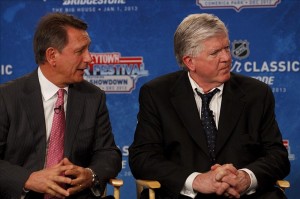 If the lockout cancels a complete season and the information is correct, the team will see some positives and negatives where contracts are concerned. They will be free of Tim Connolly, Dave Steckel and Matthew Lombardi, but will also no longer have a deal with Clarke MacArthur or Joffrey Lupul, as all of those players will be unrestricted free agents. They will have some restricted free agents in Carl Gunnarsson and Nazem Kadri as well.
Of course, all teams will be in the same situation. Depending on what the new CBA looks like, it will be interesting to see how Brian Burke is able to improve his team. He will need to be pretty shrewd when it comes to signing free agents, some of whom will not have played professional competitive hockey in a year at that point.
Stephen Stoneman: Most of the lockout news is bad but I think the worst news for the Leafs is that they could end up losing out on Joffrey Lupul's last season in Toronto. Yes, he was just a throw in for the Leafs' acquisition of Jake Gardiner but since Lupul arrived in TO, he has been nothing short of great.
Admittedly, he had a breakout season and it could have just been a flash in the pan but he did score 25 goals and 67 points in 66 games.  And sure, much of that was because of how Phil Kessel emerged as a sure-fire goal scorer but couldn't it have been the other way around? Couldn't a lot of Phil's success have been because of how well Joffrey Lupul played?
Extending Lupul was probably a top priority for the Leafs depending on how the first few months of the season had gone.  This option is no longer.  Trade would have been the other option if the Leafs didn't see Joffrey in their plans. At the very least seeing him play on the top line with Kessel and the summer acquisition of van Riemsdyk had Leafs fans excited.
Question: How does the lockout impact Randy Carlyle's prep of his team?
Lukas Hardonk: Although it may not seem like it at first, this question ties in the with previous one. In my opinion, the biggest challenge Carlyle may face is getting the younger guys ready for hockey in a matter of a few days if there is an NHL season. So the real question for me here is how will Carlyle get his guys going?
Fortunately for the Leafs, they have six players on their current roster who were NHL'ers at the time of the last lockout in 2004-2005. These are six guys who Carlyle may need to rely on heavily in order to motivate those who haven't experienced a lockout before. In short, Carlyle may have to run his team more by committee in the early going.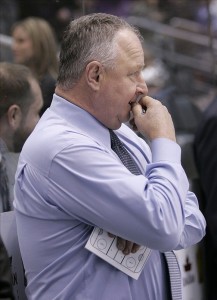 Mark Ascione: Carlyle had 18 games last season plus whatever scouting he has done during the lockout to evaluate the players currently under contract with the Leafs. Due to the lockout, the players are now all doing different things. Youngsters like Kadri, Gardiner, Scrivens, Holzer and Colborne are playing AHL level hockey and there are six others (Lupul, Grabovski, Kulemin, MacArthur, Gunnarsson and Franson) playing in Europe. The rest are likely doing their best to stay in shape.
If the 2012-13 season manages to be saved, Carlyle will have a short pre-season to try to bring together a group where maybe half his players have been playing and the other half are essentially coming off their summer regime. Every team will have that, but in Carlyle's case, he is trying to instill a new system and turn around a team that has missed the playoffs repeatedly. It could be very difficult to see any improvement in what is sure to be a short regular season.
If the season is cancelled and there is no NHL until 2013-14, it will be even more difficult. Some of the players under contract will have been off competitive teams for more than one calendar year, other players will be brought in as free agents, etc. Again, all teams will have experienced the same thing, but in Carlyle's case he will be trying to develop a winning formula and teach it to a team he likely won't be very familiar with. Either way, the lockout does not make Carlyle's task impossible, but certainly more difficult to accomplish.
Stephen Stoneman: Players, management, agents, coaches and fans have all been dealt a losing hand by the lockout but perhaps the lockout has been a good thing for Leafs coach Randy Carlyle.
Defensive systems take time to disseminate and don't all happen on the ice. You don't have to have hockey in order to be spreading the gospel of hockey that you prefer. The time off will give Carlyle a chance to get more accustomed to the world wind tour that his hockey in Toronto.  It also buys him a bit of time to learn more about the players which save for Lupul and Gardiner, he couldn't have known much about before joining in March of last year.
Obviously Randy, being an Ontario boy, knows what it's like to be in the hot stove but a losing couple of months in Toronto would have most talking about the coach's head.  Just ask Ron Wilson.
Follow the panel on Twitter: Lukas Hardonk, Mark Ascione and Stephen Stoneman.