With the lockout, the Hershey Bears knew there would be some struggles on both sides of the ice due to the heightened competition around the AHL. Hershey's revamped squad has had to adjust to new Washington Capitals' head coach and Bears' co-coach, Adam Oates along with his implementation of new systems and a different team philosophy from years past. You can view my article on Oates's new system, here.
Hershey's offensive production has been lacking to this point in the regular season, only pulling the Bears to a 5-7-1-0 record through 13 games. The Bears have managed only 32 goals on the season, an average of 2.46 goals per game, inflated because of Hershey's 8-7 home opening loss against the Rochester Americans. These stats are recorded through Friday night's games.
The team has struggled to get shots on net, but the coaching staff doesn't see it to be a problem. The Bears compete level is a cause for concern however.
"There's got to be a level of execution," said Bears coach, Mark French following Hershey's loss to Portland last weekend. "You got to put two passes together to be able to get out of your zone and effectively through the neutral zone to attack the offensive zone with any type of speed. There was very few times we were able to do that."
There's been a lack of scoring beyond the top players, with Jon DiSalvatore and Jeff Taffe as the only forwards with eight points or more through November 17th.
"There's some guys in room that have got to take ownership and be a little bit better," said French.
"There are some problems," said offensively skilled defenseman, Tomas Kundratek. "We have to get better and we just have to get better passes tape to tape and get out of the zone."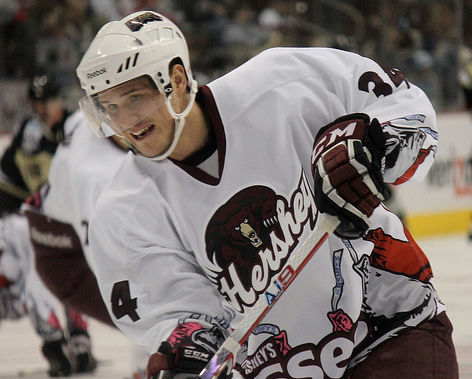 Ryan Potulny returning from injury will certainly provide a good lift to the dormant Hershey offense. Potulny was a key force for the Bears offensively last season, surpassing sixty points on the season. He also earned a role on the power play, providing last year's team with another point producer on a team that didn't quite reach expectations.
However, the Hershey Bears are a completely different team this season. AHL offensive specialists and former Hershey Bears' Keith Aucoin, Chris Bourque and Graham Mink all left the team during the offseason, signaling a new team direction in Hershey's 75th season. This year's team has more balance offensively, with more depth throughout all four lines.
Forward, Zach Hamill joined the team following a trade from the Boston Bruins in exchange for Chris Bourque. Bourque was slated to become an unrestricted free agent and planned to search for an NHL job. He ended up signing a two year contract with the Bruins.
The Bears will have Mattias Sjogren for the full season this year along with rookie forward and Capitals prospect', Stanislav Gailev joining the forwards unit. Sjogren began last year in Chocolate town, but headed back overseas later in the season.
Hamill has been a strong presence on the Bears third line through the beginning part of the year, centering a number of players to this point including Gailev, Ryan Stoa, Mathieu Beaudoin and T.J. Syner. He's also earned a role on Hershey's second penalty killing unit to go with his four points on the season.
Gailev has been somewhat of a disappointment to this point, only managing one assist through nine games. Recently, the rookie forward has been scratched, not appearing in any of this weekend's games.
Sjogren, like Gailev, is viewed as a forward who can provide some offense on the third line and also contribute on the power play. He has yet to do so this season, only posting one goal and one assist through nine games. Sjogren is returning from injury and has been centering the fourth line as he looks to regain his energy and conditioning level that he had prior to the injury.
Hershey rebounded Saturday night in one their most complete offensive performances of the year, defeating the Wilkes-Barre Scranton Penguins 4-1. Forward, Garrett Mitchell posted two goals to go with a power play goal from defenseman, Tomas Kundratek. Bears Captain', Boyd Kane added an empty net goal to cap Hershey's third victory of the season over the Penguins.
Mitchell has been perhaps Hershey's most consistent forward, playing primarily on the second line with Mike Carman and Boyd Kane. With two goals on Saturday night, Mitchell is third in forward point product for Hershey, with seven points. Mitchell is tied for the team lead in goals scored as well.
Along with his offensive capabilities Mitchell has provided some key leadership to the Bears up front, often dropping the gloves to swing momentum.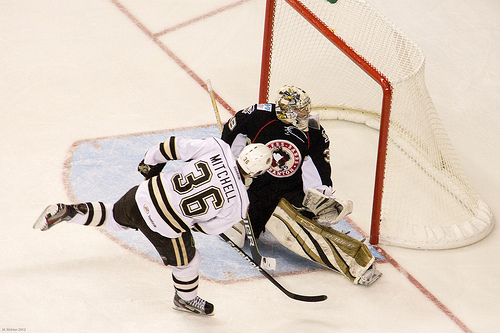 "Coming into this morning I didn't know if Garrett [Mitchell] would play," said French. "He got into a fight last night and stuck his nose in a game that we weren't playing well, but Garrett seizes those opportunities. There's no question he played and played well. He's a leader on this team and those types of guys are a catalyst. He was a real nice spark for us tonight in more ways than one."
You can follow Matthew on twitter @m_speck and email him at mspeck21@yahoo.com with any questions or comments.
Matthew Speck covers the Washington Capitals organization for The Hockey Writers. He provides coverage of both Washington at the NHL level and prospect related content. Matthew also covers local sports for the Lebanon Daily News in Central Pennsylvania. You can email him at mspeck21@yahoo.com with any questions or comments.