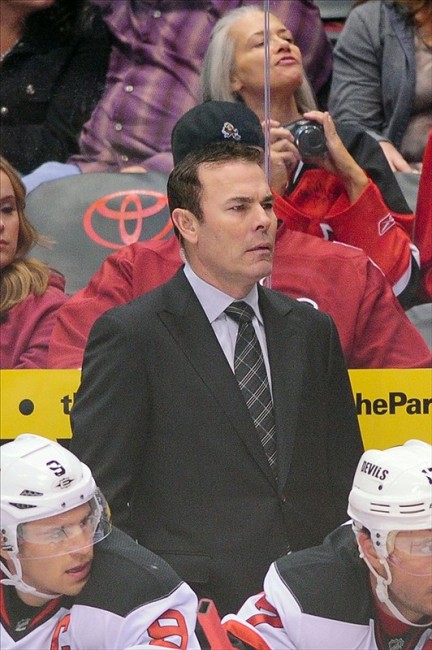 With the hiring of new Capitals' head coach, Adam Oates, players around the organization knew there would be change in the system, team philosophy and game plan not only at the NHL level, but in the minor leagues. Oates was hopeful to start the season at the NHL, but has resorted to co-coaching Washington's AHL affiliate, the Hershey Bears due to the NHL lockout. Since training camp started in chocolate town, Oates has helped Bears' co-coach, Mark French prepare the Bears for this AHL season, Hershey's 75th season in team history.
Along with personnel changes, players and coaches are learning to adjust a new system that Oates will implement with the Capitals when the lockout concludes. There's been a different power play setup in Hershey this year, along with a different type of even strength play. The Bears' training camp was as short as it usually is in the AHL, but the coaches were happy with how the players adjusted through training camp and the preseason.
"I got to hand it to the guys, because we gave them a lot of information," Oates said. "Changing a lot of systems and them being willing to play what we're going to play up in Washington and I thought they did a great job at it."
The power play has been very efficient thus far, converting on five of 20 chances with the man advantage, a 20% clip. The power play has featured many skilled forwards comprised of Jeff Taffe, Ryan Stoa and power play goals leader Jon DiSalvatore. The power play often leads to a 1-3-1 when set up with defenseman Garrett Stafford manning the point and Tomas Kundratek on the left wing, who eventually slides deeper in the offensive zone for opportunities near the net.  If the puck is turned over near the blue line, Hershey will face many odd man rush situations during the man advantage. Although dangerous, the Bears will allow an odd man rush every once in a while if they maintain their current success rate.
"We got one guy that is kind of a backdoor role," Bears' co-coach Adam Oates said during the preseason. "Strong side defense is more on the blue line. We end up in a 1-3-1 look."
This season his first with the Capitals organization and Oates is still learning the tendencies of the players. He's also been surprised by how ready they are ready to play at this level.
"All the young kids, they're all being well coached at early ages," Oates said. "They all know how to play defense now, they all know how to play systems and I think we're looking for that. I thought the guys did a good job of it."
Through four games, Oates has brought his knowledge to the Hershey bench, helping out with Bears' coach Mark French. His hockey knowledge and NHL experience has had a big impact on French.
"He's a very intelligent man," French said. "He's got a lot of great instincts from his playing career and obviously he earns a lot of respect from the players from his playing career, but I think everybody's been really impressed with his hockey knowledge."
The Hershey Bears begin another three games in three nights stretch, beginning with a road game in Connecticut when the Bears face the Whale, followed by two home games against the Albany Devils and Wilkes-Barre Scranton Penguins.
You can follow Matthew on twitter @m_speck and email him at mspeck21@yahoo.com with any questions or comments.