written by Ian C McLaren
With another section of the 2012-13 NHL schedule facing imminent cancellation, and the league as a whole possibly looking at irreparable damage as a result, one has to wonder what some owners are thinking in terms of potential lost revenue and their respective bottom lines, especially those in small or struggling markets.
Recently, there has even been speculation – namely from Doug MacLean, Nick Kypreos & Darren Millard, hosts of the FAN 590's Hockey Central – that Eugene Melnyk may indeed have the Senators currently on the block, and that prospective buyers are in the process of crunching the pertinent numbers in relation to an upcoming purchase.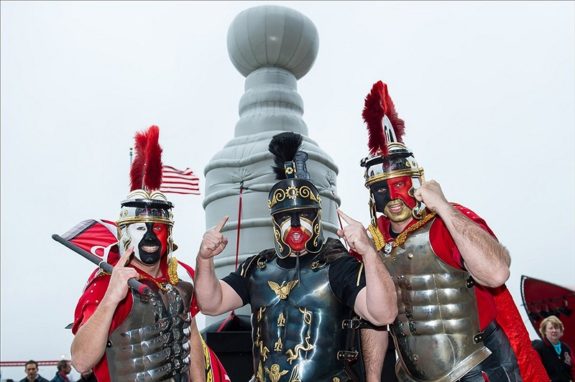 On Wednesday, Graeme Nichols of the 6th Sens Blog helpfully posted the transcript of their on-air conversation that took place earlier this week:
MacLean: I heard last night that there is a couple of teams that I said last year that were on the market for sale and I've heard this week that there's people in actually looking at peoples' books right now.

Kypreos: Can you tell us which teams?

MacLean: I can't divulge that. As an insider, I have to protect my sources.

Millard: Would one be in Ontario?

MacLean: One could be in Ontario…

Kypreos: Hmmmmmmm….

MacLean: And it's not the Markham franchise…
With the Maple Leafs recently being purchased by Rogers / Bell, and with no team to speak of in Hamilton, this lame attempt at coyness is easily revealed to be clear and certain speculation that there is a 'For Sale' sign hanging off Spartacat's neck. To support that claim, one could easily point to the fact that the Senators were one of the first clubs to make significant post-lockout layoffs – along with Melnyk's recent sale of the Mississauga OHL franchise – to argue that the saying "where there's smoke, there's fire" may ring true in this situation.
Having said that, there's also every indication that this story is more a case of  blown smoke than anything else.
For one thing, the Senators achieved great success last year for a club with a payroll near the bottom of the league, and, as Melnyk himself noted as late as this past March, the franchise is indeed poised for a financial turnaround moving forward.
But for those looking for a definitive statement on the matter straight from the owner himself, you're in luck. While Taylor Swift is doing quite well belting out songs like this, Sens fans should rest assured that Melnyk is not prepared to give up so easily on one of his loves.
In an email to the Ottawa Citizen yesterday, Melnyk declared the following (via James Gordon, @SensReporter):
 I will never sell the Senators. Not a chance.
For the time being. this statement should (but probably won't) put an end to any and all speculation. It should be noted, of course, that any sort of turnaround in Ottawa (or in any other market, for that matter) is predicated on continued growth for the business of hockey, and a prolonged lockout will only serve to throw all hockey-related business into some state of uncertainty.
One has to think that Melnyk isn't making this statement outside of the realities of the current situation, however, and that he is indeed prepared to commit for the long haul.
In other words, Melnyk's message to the Senators and their fans is clear: they will never, ever, not be together.