The Toronto Maple Leafs' training camp has started. And, honestly, I never would have suspected there would be a surprise of this magnitude right off the bat. Specifically, I'm speaking of the news that Joe Thornton, who many hockey insiders had pegged to be on the outside looking in, certainly is closer to the main action than almost anyone suspected.
Related: Maple Leafs News & Rumors: Dermott, Amirov & Abramov
Thornton's Not on the Third Line Anymore, Was He Ever?
Instead of fighting for third-line center position, head coach Sheldon Keefe announced that he has thrust Jumbo Joe fully in the center of the action. According to the first announcements from the Maple Leafs training camp (and obviously things can change), if Thornton wanted to be in the middle of the action, he certainly got his wish. Keefe announced that he would partner Thornton with two of the Maple Leafs biggest guns – Auston Matthews and Mitch Marner.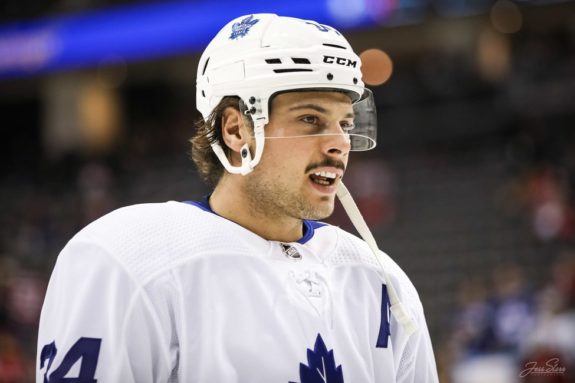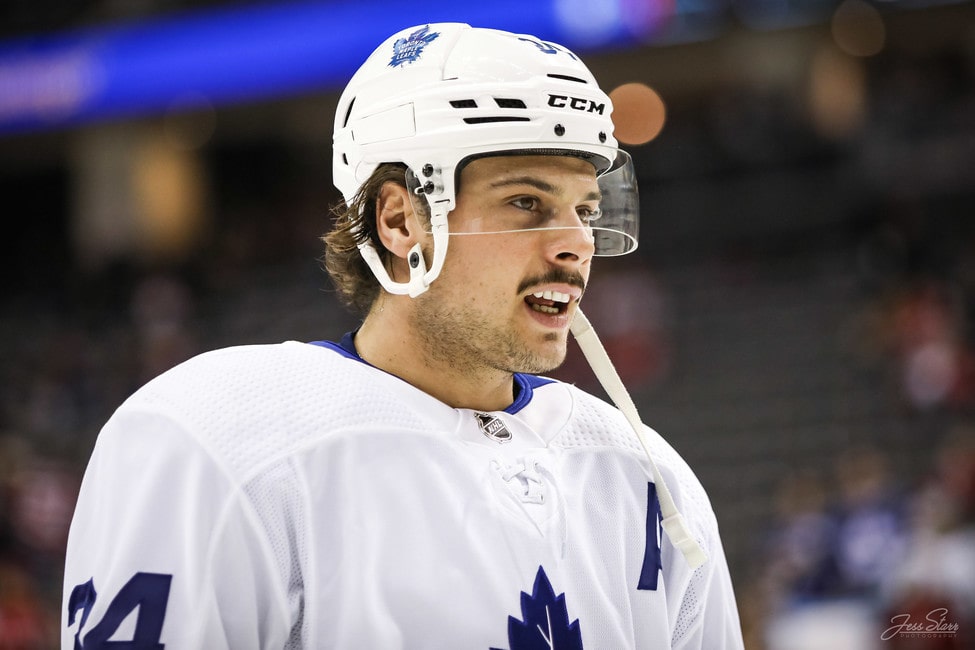 I'm pleasantly surprised, and I see the logic in it. I understand that critics everywhere – including many of those who read my posts – have been saying that Thornton isn't quick enough to keep up with his line mates because age has slowed him down. Although I didn't play hockey in any organized way at any level, I've watched a game or two in my time. It always struck me that skating with speed has a huge positive impact on the game; however, as my own father used to tell me, the puck moves faster than anyone can skate – so make good passes.
My First Thought Was Putting Thornton with Nick Robertson
When I first heard that Thornton was coming to the team, it never concerned me too much that Thornton might have lost a step. That said, I hadn't anticipated Keefe's move to put Thornton on the top line. What I did see was that Thornton could work well playing with and mentoring Nick Robertson.
Related: Beauts' Jordan Juron's Epic Journey Isn't Over Yet
I had believed that when you partner the NHL's best passer with a player who could become a goal-scoring machine (I believe Robertson has that potential), Thornton's job would be to become a great offensive quarterback, who'd hit his "wide receiver" Robertson streaking down the ice on a fly pattern. [I know that's mixing sports metaphors, but I think readers will understand my point.] If Robertson has the speed, and Thornton has the eyes and passing ability, watch out.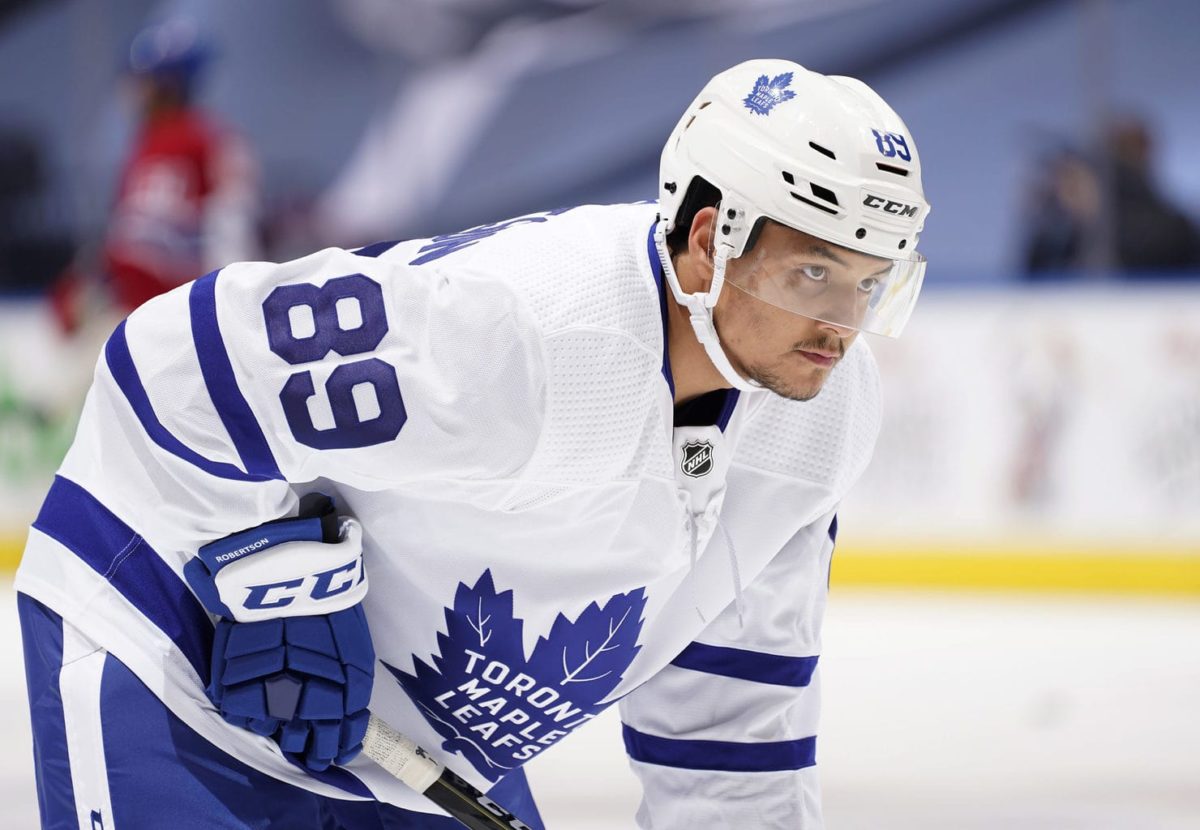 It just struck me that Thornton's ability to see the ice could match well with Robertson's speed and goal-scoring propensities to become a winning combination for the Maple Leafs. That still might happen; but, even better than that Robertson's been replaced by Matthews.
Thornton: One of the Best Passers in NHL History
Thornton got his 1000th NHL assist in 2017. He's currently seventh in NHL history with 1089 assists. No surprise, the great Wayne Gretzky holds the NHL all-time assist leadership with 1963 assists. In short, Thornton is one of the best passers in NHL history.
Last January, my THW colleague Matthew Zator named Thornton the best passer of the past decade of NHL history. As Zator reported, the man they call "Jumbo Joe" has been in the league for 23 seasons and, during that time, he's only played for two teams, the Boston Bruins and the San Jose Sharks. "Like Henrik Sedin, he has always been known for his ability to distribute the puck."
Related: One for the Ages: Dave Keon's 1979-80 NHL Season
As Zator describes, even at his age, he "can still make a pass that will make your eyes pop out of your head." According to Thornton's childhood friend and former Sharks teammate defenseman Brian Campbell, his passing skills are second to none. "If there's a hole the size of a puck in between your skates, he'll find it and thread it through. You know what he's going to do and you still can't find a way to defend it."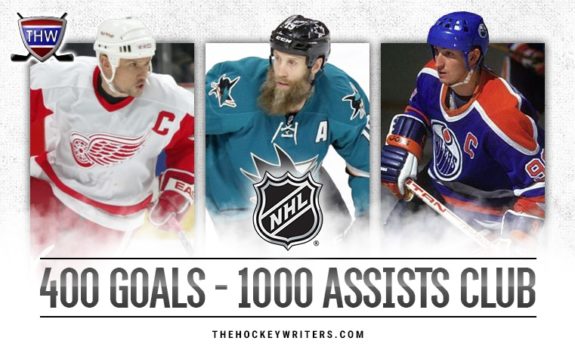 Perhaps Thornton's biggest skill is to create goal scorers. Specifically, Thornton's impact on Sharks' teammate Jonathan Cheechoo was astounding. Cheechoo only played seven NHL seasons, scoring 170 goals during his NHL career. Incredibly, in 2005–06 and in 2006-07, Cheechoo scored 56 goals (winning the Rocket Richard Trophy) one season and 37 goals next. That's more than half of his NHL totals during the two seasons that he played with Thornton. Sadly, for the Cree winger from Moose Factory, Ontario, when Cheechoo was separated from Thornton, his career tumbled and he was quickly out of the NHL.
Sheldon Keefe Goes One Better: Joe Thornton Is on the Top Line
By moving Thornton who, after he finally retires, will be remembered as one of the best passers the NHL has ever seen to a top line with Matthews and Marner, head coach Keefe has done Thornton and Maple Leafs fans a huge favor. He's put Thornton with Matthews, who's arguably the best goal scorer currently playing NHL hockey.
Related: Was Lou Lamoriello as Good as Toronto Maple Leafs Fans Remember?
Given what Maple Leafs fans expected before Keefe's shocking announcement about the Maple Leafs top line, few NHL fans would have been surprised if Matthews hadn't made a run for the Rocket Richard Trophy himself. Can Thornton's presence with the team create another NHL goal-scoring leader?
No offense to Cheechoo, but I believe Matthews comes to the quest with a bigger skillset. This season, when it gets started – nine more days – promises to be fun.