The Toronto Maple Leafs have a problem, a good problem, but a problem non the less. There are two gaping holes in the lineup and no shortage of players to fill the spots. The left wing is open on the first and the second line. Sheldon Keefe said he is still considering options, but the head coach admits there may not be a player in those roles consistently.
Keefe said, "we've got competition and got different options. That's what we tried to do here is give guys different looks."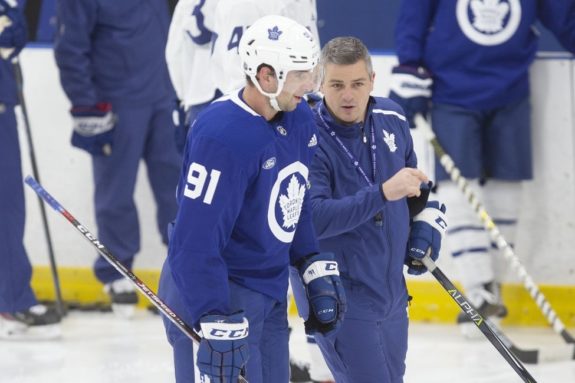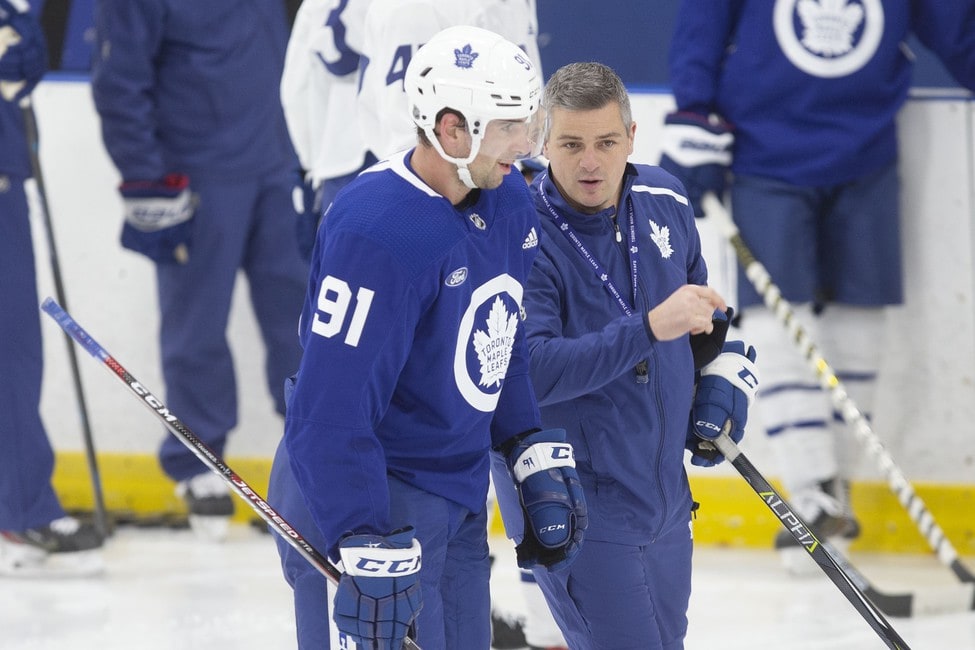 The Leafs invited 26 forwards to camp, and 22 of those guys had or still have the opportunity to grab a spot in the top six. Keefe listed off a few players he has moved around in camp and added, "I think we're going to see some competition there. It's obviously a very important position for us, and the player that gets that opportunity, to begin with, is going to be held to a high standard to compete and stay there."
Contenders for Maple Leafs Top Six
It is difficult to project the lineup because Keefe himself doesn't know who will be in the top six yet. Nevertheless, the unofficial odds (created by me) looking at the contenders who could join the core four and skate in the top six on opening night. We'll get into the pros and cons of the players later.
| | |
| --- | --- |
| Michael Bunting | +100 |
| Nick Ritchie | +100 |
| Ilya Mikheyev | +250 |
| Alex Kerfoot | +450 |
| Nikita Gusev | +1250 |
| Pierre Engvall | +1500 |
| Adam Brooks | +1750 |
| Josh Ho-Sang | +2000 |
Unofficial Odds of which players will be in the top six.
With 22 players fighting for two of the most coveted spots on the team, the competition has been fierce. Keefe said it is common to wait for players to establish themselves, but that is not the case with this group. "The salary cap created us signing a bunch of guys that are in a similar type of situations, but they've got different skill sets that offer a little bit different for each of them."
How Keefe Built Last Season's Maple Leafs Lines
Keefe rarely kept his lines the same from game to game last season. That said, by the end of the regular season, he kept Zach Hyman with Auston Matthews and Mitch Marner. Hyman is gone, but we know the prototype of the player who can work best with the dynamic duo. Keefe also started last season with Joe Thornton on that line. Thornton is gone too, but Keefe did like the big body, playmaking abilities that Thorton added.
Related: Toronto Maple Leafs Season Preview Articles
The second line was a rotating left winger for a lot of the 2020-21 season. Alex Galchenyuk eventually established himself on that line. He was a rebuilding project that was moulded to fit with John Tavares and William Nylander. But Keefe started the season with another rebuilding project on that line, Jimmy Vesey.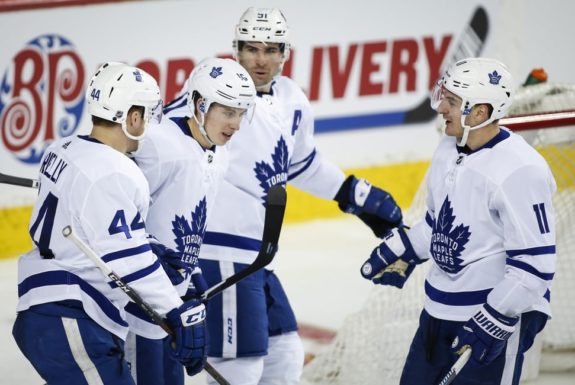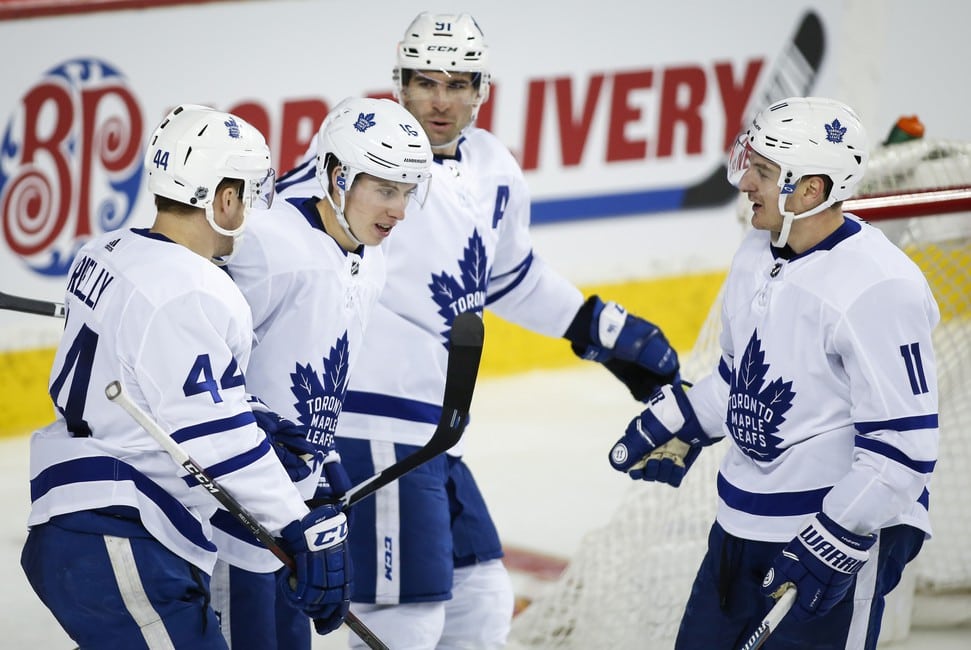 There is another element you must understand with Keefe's approach to the roster. Last season he allowed his first two lines to be more creative and gave them the freedom to use their skills. It's the opposite for the third and fourth lines. He expects those forwards to be positionally sounds and work his system to perfection. They cannot waver from the game plan. Those who did were usually spotted on the bench a lot more.
Filling the First Two Maple Leafs Lines is Complicated
While determining the top lines is a priority, Keefe also has to consider what players can add to other areas, such as the powerplay and the penalty kill. Let's take a look at the options.
Michael Bunting
Michael Bunting has been the best player during the preseason games. There is no doubt he is a front runner for a spot in the top six group. He started camp working with Tavares but has seen a lot of different linemates. He certainly fits the prototype that Keefe may be looking for on either the first or second line. He is tenacious like Hyman was, and he is somewhat rebuilding his career. He was drafted way back in 2014 and is just now starting to show what he can do.
Nick Ritchie
Nick Ritchie certainly has the size that matches the Thornton frame and the solid forechecking that Hyman and Galchenyuk used when they were in the top six. He would be a presence in front of the net, and a force in the corners. The biggest criticism of Ritchie has been his speed, and the core four are fast. Even a good skater can look slow on those lines. However, his two-goal performance against Montreal cemented his spot in the top six for the start of the season.
Ilya Mikheyev
Ilya Mikheyev reportedly asked to be traded during the offseason. The Maple Leafs rejected the request stating he was going to be a big part of the team. He has the speed to stay with any of the top four players, but he lacks the physical game, and his finishing touch has been non-existent. During his last preseason game, he finally got a goal and took a cross-checking penalty. The one they call "Souperman" is working on the areas that need to progress. He was also lined up with Tavares and Nylander during the preseason game against Montreal.
Alex Kerfoot
Alex Kerfoot was one of the best players in last season's playoff appearance. When Tavares went down, Kerfoot and Nylander stepped up more than any other players. Toronto also made a move in the offseason to protect Kerfoot, signalling his importance to the team. That said, he is a very cerebral player that fits the bottom six structure Keefe preaches. He seems destined to play the wing on the third line or centre the fourth line.
Josh Ho-Sang
Josh Ho-Sang could be the feel-good story of the season. However, to get into the top six, he would have to be playing on his off-wing. It hasn't seemed to matter where he plays; he is having an impact. Invited on a PTO he has earned a minor league contract, but he may need more work to get into the top six.
Nikita Gusev
Nikita Gusev scored two powerplay goals during the Maple Leafs Blue and White scrimmage; other than that, he hasn't done much. However, Keefe is still giving him a good look as he may have done enough to earn an NHL contract with another team. Keefe has to be sure before cutting this one.
Pierre Engvall
Pierre Engvall missed the beginning of camp but scored twice (one empty netter) in his first preseason game. Keefe has always liked Engvall's size, 6-foot-5 and 214 pounds, but has been critical of his consistency. Engvall's absence early on may be the reason it will take him much longer to get a look in the top six spots.
Adam Brooks
Adam Brooks has been consistent. He has no problem playing in the corners and digging the puck out. He made significant progression last season being on the taxi squad and centring the fourth line with Jason Spezza on his wing. Brooks plays a sound positional game and Keefe may use him in the bottom six throughout the season.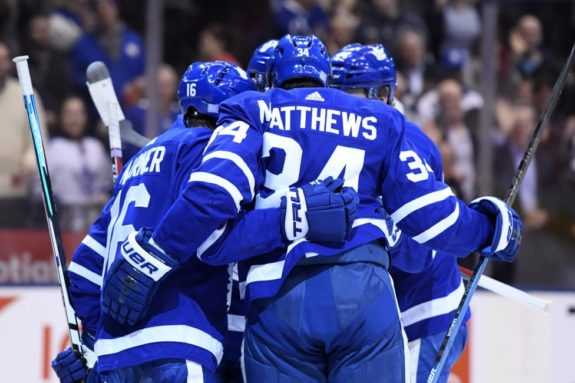 This is Keefe's first season with a full, regular training camp and preseason schedule. But it sounds like he could use some more time, "reality is the preseason, as much as it feels like it's been a long time … we haven't played a great number of games. So it's not like something is going to happen in one game, and it's going to be like, yes, that's it, let's go with that. We gotta let this play out a little bit." Watch the full interview below.
Keefe used a lot of last season's shortened 56 game schedule to prepare for the playoffs, by tinkering with line combinations. He will benefit by having a full 82-game schedule in 2021-22. While it may not be ideal to relegate good players to lesser roles or send them to the minors, the Leafs have a lot of depth and several options throughout the roster if a player underperforms or the inevitable injuries occur.
---
---
---
---