It sounds crazy, but Marian Hossa could be one of two Chicago Blackhawks amnesty buyouts before the 2014-2015 season. It's easy to argue against it: Hossa is clearly a fan favorite when it comes to Chicago hockey, he is still playing at an elite level, and his cap hit is fairly friendly thanks to the work of Stan Bowman and company. However, after the NHL and NHLPA came to an agreement Sunday morning regarding a new CBA, more information has surfaced, particularly information that effects the Blackhawks directly.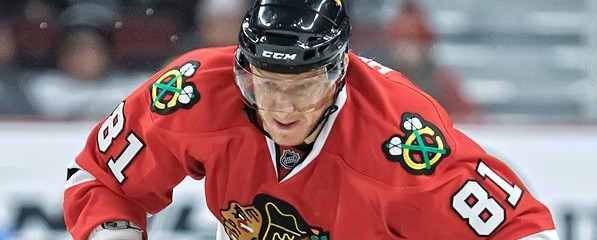 The NHL will allow every team to use two amnesty buyouts over the next two summers under the new CBA. Basically, this means that the Blackhawks will be able to buyout two players without it counting against their salary cap. There are a few obvious choices for Chicago to consider: For one, they could take a look at axing Rostislav Olesz's contract at the end of this season, but he is only signed through next season and realistically there isn't much of a cap crunch to deal with. Same with Michael Frolik. With that in mind, Steve Montador or Johnny Oduya might be better to pawn off than a Rostislav Olesz.
Why Marian Hossa is a buyout candidate
Taking a look at the talents mentioned, with all due respect, none of them come close to making an impact on the ice like Marian Hossa, so why is he even being discussed? The big issue with Hossa has nothing to do with his playing ability, it's determining whether or not he will retire before his contract ends. This is a particular problem due to the newly installed cap benefit recapture formula (CBRF), confirmed by James Mirtle. Here is the definition of CBRF as of December 12th:
"All years of existing long-term contracts in excess of five (5) years be counted against a Club's Cap regardless of whether or where a Player is playing. While such contracts (and Cap charges) can be traded during their terms, in the event a Player subsequently retires or ceases to play, the effective Cap charge would revert to the Club that originally entered into the contract."
Although the definition in the new CBA was slightly tweaked (instead of five years it will be six and the cap charge would be spread among all teams that owned the contract — via Mirtle) the definition above certainly highlights the overall point. The table below represents the penalties the Blackhawks would pay each year until his contract ends if they decided to keep Hossa and he did retire early.
[table id=81 /]
So, for example, lets say Hossa decided to retire after the 2018 season when he is 39 years old — the Blackhawks would incur a cap hit of $4,275,000 over the next three years.
This is a dangerous situation they put themselves in, but with every stern penalty, the NHL always finds a way to let teams off the hook. Dig a little deeper and you can see for all intents and purposes, the amnesty buyout was created to opt out of larger, longer term contracts… take Scott Gomez in Montreal for example, or perhaps Rick DiPietro on Long Island. Ultimately, the Blackhawks have signed two particular players that exceed six years remaining on their contracts: Marian Hossa and Duncan Keith. Both of which are signed to retirement.
As far as Duncan Keith is concerned, he should have no issues playing out his days in Chicago. He will be 37 when his contract expires and may even want to stick around for a couple more years. Hossa will be 42 by the time his contract ends, and while the intent could have been there when he signed that contract it's very rare that a player not named Chris Chelios or Gordie Howe maintain their passion for the game after 40 years old.
Is buying out Hossa really the only option to avoid the inevitable? The answer, unfortunately, is yes. If the Blackhawks did decide to buy out Hossa, they could not acquire him for one year. This means they could not sign him, pick him up on waivers, or trade for him over the course of that year… so unless Marian is planning on taking a year off from 2014-15, the Blackhawks either have to say goodbye completely or take the risk and hope that he honors his contract instead of retiring early.
The bottom line
Stan Bowman has a big decision to make that can really effect the future of the team. The best case scenario would be if the Blackhawks decide to keep Hossa (or trade him) and he finishes his contract. Neutral case scenario, the Blackhawks trade Hossa, he retires, and the Blackhawks share the retirement penalty with another team. Worst case scenario, Hossa retires in 2017 or 2018 as a Blackhawk.
***
Thanks to James Mirtle and Elliotte Friedman for their extensive knowledge and help on the details of the CBA's amnesty buyout along with the cap benefit recapture formula. James Mirtle is an editor and reporter for The Globe and Mail, covering details of the lockout extensively. Elliotte Friedman is a sports journalist and commentator for Hockey Night in Canada on CBC Sports.