Martin Frk THW Close-Up:
Date of birth: October 5th, 1993
Place of birth: Karlov Vary, Czech Republic
Ht: 6-0 Wt: 200
Shoots: Right
Position: Right wing
NHL Draft Eligibility: 2012
***
Click here for the live updated NHL 2012 Draft Preview Guide – The Next Ones – your quintessential draft resource.
***
After a great rookie season during which he recorded 22 goals and 28 assists for 50 points in 62 games with the Halifax Mooseheads as a 17 year-old, Frk battled concussion-like symptoms for most of the 2011-12 campaign. He sustained the concussion during a September 2 pre-season game in Moncton, playing only 34 games with Halifax this season, notching 16 goals and 13 assists for 29 points.
The fact that Frk missed most of the season, skipping the World Junior U20 Championship in the process, certainly hurt his draft value and pushed him out the top-15.  However, a good post-season run with the Mooseheads during which he recorded 5 goals and 6 assists for 11 points in 17 contests, certainly improved his chances of being drafted late in the first round.
A very inconsistent player, Frk needs to work on his conditioning and endurance to have success at a higher level, conditioning that certainly didn't improve this season because of his concussion. The young Czech will need to work hard this summer on a strength conditioning program to improve his physical abilities and his stamina as he tends to tire at the end of his shifts and late in games.
Boasting a very good and accurate shot, Frk has a high offensive IQ and is not afraid to drive the net and battle for the puck along the boards. The gritty winger plays with an edge and can easily get under the skin of his opponents, drawing penalties and changing the tempo. However, this physical edge can also lead to bad and lazy penalties and Frk is also prone to turnovers because he sometimes tend to hold on the puck for too long.
A typical high-risk, high reward prospect, Frk could turn out to be an early second-round steal if he is developed properly by the team that drafts him. Yet, I would not be surprised if a team like the Detroit Red Wings or the Pittsburgh Penguins draft him late in the first round and take the time to develop him correctly to leverage Frk's potential as a great second-line winger that can produce 50 points per season in the NHL.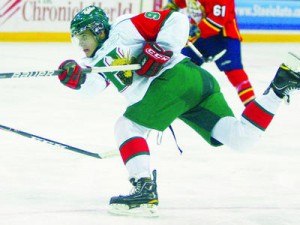 Scout's Honour:
 […] Frk is a very skilled player who has the ability that if he pans out, to make a lot of highlight reels. He has excellent puck skills with a lot of flash to his game and looks very coordinated while handling the puck. Frk is also good at handling the puck while getting checked, driving the net or getting his stick on loose pucks. He has one of if not the best shot in the draft with a one-timer that rockets off his tape that is equivalent to the shots of elite finishers. Frk certainly has the ability to scare many defensemen and goalies during his career and he will be the kind of forward who will be a fixture on the left point on a power play because of his trigger abilities. Despite being about 6'0, Frk is pretty strong and shows good muscle during his 1 on 1 battles, has a gritty side to his game and even with slight below-average size he'll be fine in the physical game due to a big lower body. […] – Hockey Prospectus' Corey Pronman Twitter account: @coreypronman
***
"First and foremost, there's the injury. Sitting out the first half of the season with a concussion obviously didn't do him any favours. But overall, I think he's a pretty raw prospect. He's going to be a bit of a project and he'll need some development time before he pays off to the team that drafts him. He's got that big shot, but his other offensive abilities still need to be refined. I felt his one-on-one skills and his puckhandling were improved this season compared to his rookie year, but he still needs some work on his decision making in the offensive zone, when to shoot, when to pass, things like that. The main knock you always hear about him is his skating, but I really think that major area that he needs work on is his conditioning. Sitting in the press box and being unable to work out for a few months only made it worse, but you could see both late in games, near the end of his shifts that he was worn out by the time he got back to the bench. I think that was also a factor as Halifax's playoff run stretched long. If he gets a full summer of training and his NHL club puts him on a program, I think you'll see a lot of improvement in his game, not just his skating, but his ability to protect the puck, his hustle on the ice. One of the things I like about Frk is that he plays with a bit of an edge, he's not afraid to mix it up and I think that's just another aspect of his game that will improve as his conditioning improves. I think he's a prospect that could pay off rather nicely for whatever NHL team ends up drafting him, with a little bit of patience and a little bit of work." – Hockey's Future's Kevin Forbes Twitter account: @kforbesy
***
"After putting up 50 points in his rookie season, Frk is a guy I thought would take a big step forward this year. The concussion he sustained in September really took a toll on his season and forced him to miss three months and the WJC. He struggled when he returned, but started to produce during the last quarter of the season. He has decent size and plays with the type of nastiness and grit a lot of teams covet. He is a goal scorer first and foremost, and probably has one of the best shots in the entire draft. His skating needs improvement, but he's very strong on the puck and can make something out of nothing. Durability and consistency concerns could turn teams off and see him drop to the second round. He is a classic high risk, high reward prospect." – Dobber Prospects' Derek Leblanc Twitter account: @d_leb
***
"An very good skater, Frk is may not be the quickest but he's difficult to stop once he gets going due to his powerful core strenght. His shot on net is lethal and more often than not, he hits the net. In my opinion, his passing ability is underrated. His peripheral vision is not outstanding but he can spot and open team-mate and get the puck to him quickly. When he's on his game, he's a hard hitter who can disrupt opponents and take them off their game. He does have to improve his defensive game as he tends to hesitate a little in his zone. An issue that bothered some scouts is how he handled adversity in the form of the concussion he suffered in august. He seemed to have really not done much to try and stay in shape. His game reminds to that of Erik Cole a little." – McKeen's Rick Springhetti Twitter account: @rick1042
McKeen Contest: Win a signed Sarnia Sting Nail Yakupov jersey (no purchase required)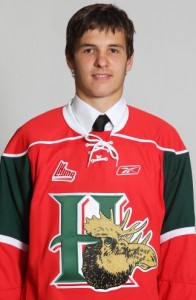 Statistics:
Bio/Interview(s)/Link(s):
• Martin Frk interview as a 16 year-old with a translator
• NHL.com's story on Martin Frk when he returned from his concussion in February. Halifax forward Martin Frk has regained confidence
International Tournaments:
2010-11 IIHF World U18 Championships – 7 games, 1 goal and 4 assists for 5 points
2010-11 IIHF World U20 Championships – 6 games, 3 goals and 3 assists for 6 points
2011-12 IIHF World U20 Championships – Did not play, injured
ETA = 3 years
Risk-Reward Analysis:
Risk = 3/5 Reward = 4/5
NHL Potential:
Second line winger
Strengths:
• Excellent puck skills
• Great stick-handler
• Quick and accurate shot
• Underrated passer
• Gritty player who battles hard along the boards
• Nasty player who plays with an edge and can get under his opponents' skin
Flaws/Aspects He Needs To Work On:
• Takes bad penalties
• Poor physical conditioning
• An average skater, he needs to work on his skating in the off-season
• Needs to improve his decision-making with and without the puck
• Needs to polish his offensive game, especially his decision-making in the offensive zone
Fantasy Hockey Potential:
Offensive = 8/10 Defensive = 6/10
NHL Player(s) Comparison:
– Chris Kunitz
Video(s):

Martin Frk scores two beautiful goals vs Moncton in the playoffs.

Martin Frk interview before the CHL Prospects game.
Follow Fred Poulin for all your 2012 NHL Draft prospect needs and get more information on the NHL.
THW's The Next Ones prospect profile template design architect: Chris Ralph