It is time for everyone who associates themselves with hockey to truly appreciate that the NHL's next superstar has revealed himself — Mathew Barzal has arrived.
The New York Islanders' forward just capped off his second five-point performance in his rookie season, joining Brian Trottier as the only rookies in Islanders history to do so. Barzal's performance against the cross-town rival New York Rangers on Saturday afternoon has also sprung the 20-year old center into first place among rookies in points.
Barzal now leads Vancouver Canucks rookie Brock Boeser by four points. It's clear that it has become a two-man race for this year's Calder Trophy — Barzal vs Boeser — I'm here to tell you that Mathew Barzal will end up carrying home the hardware by season's end.
Barzal's Experience Before Success
This time a year ago, Barzal was leading the U20 Canadian National team to a silver medal in the 2017 World Junior Hockey Championship. Canada was defeated by Barzal's potential future Islander teammate Kieffer Bellows and the United States in the gold medal game.
A few months before that, Barzal was on the cusp of making the move up to the NHL level but, unfortunately, he didn't make the opening day roster. He ended up being called up and playing a couple of games as an Islander, but it was only for a brief stint. Nonetheless, the two games were extremely important — they gave Barzal an idea of what its like to play in the NHL.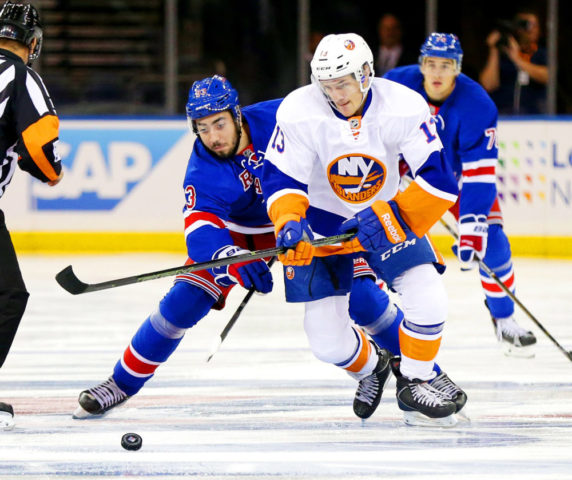 For the first few months of his rookie season, Barzal has put the league on notice. His dynamic speed and precise passing have been remarkable — he reminds me of Washington Capitals center Nicklas Backstrom, who is very well-known for his tremendous passing ability to names like T.J. Oshie and Alexander Ovechkin.
Through the first 44 games of his rookie season, Barzal has 44 points, including 15 goals and 29 assists, averaging a point per game. It's amazing to see just how confident the young rookie is with the puck. He controls the pace of play and is so aware of how the play is developing around him. Sometimes you forget that he is only a 20-year old. Instead, you think he's a 15-year NHL veteran who has experienced it all.
Mathew Barzal vs Brock Boeser – the Debate
Throughout the season, Islanders and Canucks fans have been debating who should win the NHL's Rookie of the Year award – the Calder Trophy. The debate will go on until we finally have an official winner this summer, but I believe Barzal is the clear favorite to win the award.
Mathew Barzal has the advantage in both points and assists. He is also not too far behind in goals scored. While Barzal has 44 points, Boeser trails him by four with 40. In his defense, Boeser has played two fewer games than Barzal due to being a healthy scratch the first two games of the season. This gives Boeser a slight disadvantage when the final numbers are official in April. In addition to leading rookies in points, Barzal also leads rookies in assists with 29, 11 more than Boeser, who is sixth in the category.
Not bad, @Barzal_97. Not bad. pic.twitter.com/cu5asJnUcx

— NHL GIFs (@NHLGIFs) January 13, 2018
Boeser leads all rookies in goals with 22 while Barzal trails by seven, tied for second with Winnipeg Jets' forward, Kyle Connor, with 15. Boeser was also been selected to the 2018 NHL All-Star Game, while Barzal was not. Barzal definitely deserved to be selected, but due to the play of teammates John Tavares and Josh Bailey, Barzal was left off the ballot. Meanwhile, Boeser is the only player from the Canucks to make the Pacific Division's roster.
Other Elements to Consider
Even with Barzal leading Boeser in two of the three main statistical categories, it's easy to say that Barzal's success is because he plays with an NHL superstar in John Tavares. The truth is, though, that Barzal has put up most of his points while leading the Islanders second line. Alongside Jordan Eberle and Andrew Ladd, Barzal has given the Islanders a second dangerous offensive unit that can score plenty. The only time that Barzal has been on the ice with Tavares is on the power play.
With him being on his own line, separate from Tavares, Barzal has shown that he makes the people around him better. Eberle, who was acquired for Ryan Strome in a trade with the Edmonton Oilers, only scored 20 goals and tallied 51 points last season. This season, Eberle's numbers are already at 14 goals and 30 points at the mid-way point of the season. If Eberle continues this pace, he will end up with about 28 goals and more than 60 points on the year — a significant increase compared to his last season in Edmonton.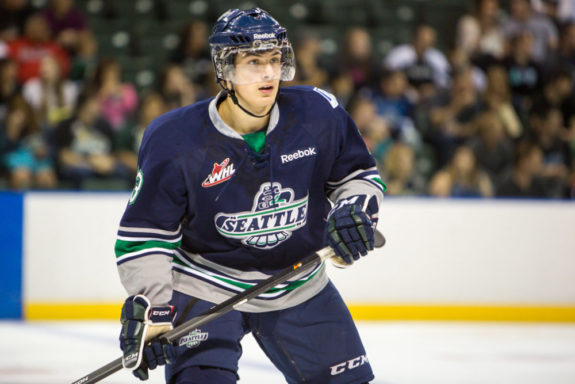 As for Ladd, the first season under his seven-year contract with the Islanders started off slow and ended with 23 goals, but only eight assists. With Barzal now in the mix, through half the season, Ladd has already surpassed his previous year's assist total with nine. Like Eberle, Ladd's performance this year looks to be better than the previous season as he can end up with a significantly higher season point total.
The Big Barzal Picture
For Islanders fans this is an exciting time. The team has finally found a player with a special skillset that hasn't been seen since John Tavares came to the league in 2009. For how good Tavares is, Barzal is having a much better rookie season than Tavares had. Barzal's rookie season is so much better that he might pass Tavares' rookie points total in the next month or so, still leaving March and April left to spare.
This is only the tip of the iceberg for the 20-year old rookie sensation. He is still a kid whose body is still developing. As he gets stronger and more durable, who knows what this career can become. There is a high ceiling for Mathew Barzal's career to go. In fact, there doesn't seem to be a ceiling at all — the sky's the limit.