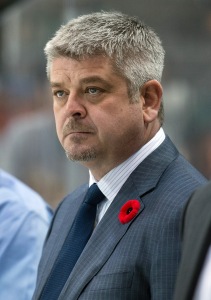 Candid McLellan
The now free agent head coach Todd McLellan gave a long and detailed answer during last week's exit interviews when I asked him if we in the media tend to over blow who wears the captain's "C" and alternate "As".
At times you do. The Cs and As, I think that evolution of the Cs and As is changing. It's changing around the league. When the Montreal Canadiens who are probably one of the most historic franchises in the National Hockey League can do what they did with Cs and As and we've got Larry Robinson sitting in our locker room and the coach's office and he understands why, I think that indicates that there is a change in the way it's dealt with. I really believe that today's athlete is different. It's changing, and why do I believe that? I have a 19-year-old playing junior hockey, I see it, I live it. So the times are changing a little bit and we have to be able to address today's new athlete coming in and give them an avenue to participate. From the Jumbos and Pattys era to the new one, I don't want to say that the young player is spoiled because I think that would be very unfair but a lot is done for that individual. Again I live it at home, you know when it it is time to book a flight, I book it, my wife books the flight. So the independence of a young player isn't near as strong as it used to be. Agents, parents, television, reporters, social media, just think about it when they get in the car and drive home, I don't know how many people are following them on social media. How many people are tweeting them or sending them texts and telling them they were god awful that night? Not a single one. So they have got 10 thousand people saying 'hey you were good but why didn't the coach play you here?' that's the world we are in. We're in a different world. So we have to take some time to understand today's athlete and what makes them go and I think that does tie into the Cs and ties into leadership.
"At Times You Do"
The entire response from McLellan is particularly interesting regarding the social media age with young players but the key response was his opening remark. The coach agreed the media can over blow the captaincy issue. And that is something that General Manger Doug Wilson also over blew this season.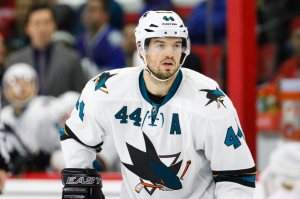 While it may appear through McLellan's comments about the Canadiens that the coach agreed with Wilson's decision not to name a singular captain, McLellan has always talked about leadership by committee. Over four years as captain, Joe Thornton led the Sharks to three out of four really good regular season finishes and four straight playoff appearances. In McLellan's mind his team has always been led by a leadership committee, and it is highly likely that McLellan wouldn't have chosen to mess with the captains had it been his decision and not Wilson's. Coaches don't like to deal with unnecessary drama and that is exactly what McLellan had to do with the Thornton and Wilson spat regarding the captaincy. Not to mention, Marc-Edouard Vlasic was clearly puzzled why the local media cared so much about the captaincy stuff. And this may be yours truly reading into tone too much, but Vlasic sounded a bit annoyed by the media for our obsession over the issue. After posing the same question to Vlasic as I did for McLellan, the veteran defenseman chuckled and said, "Probably. At the beginning of the year Montreal had four As and then they were like 'oh there should be a captain' but then that kind of blew over two weeks later. Here it is a year later and we are still talking about it and Montreal has so much media that covers it. Columbus didn't have [a captain], New York didn't have one for awhile so why is it any different here? I don't know."
Wilson Made the Captaincy a Big Deal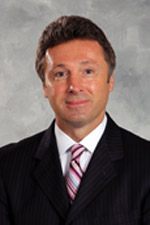 Who wears the letters shouldn't be a big deal, the players often disregard it as being a big deal. And again, McLellan always talks about leadership by committee regardless of who wears letters. However it was Wilson who gave the media free reign to keep bringing up the captaincy issue. Not originally telling Thornton he was no longer the captain and Joe had to find out about it from a reporter?! And then basically ripping Joe's ability to handle the pressure of being captain in a meeting with season ticket holders? All the captaincy talk this past season was self-inflicted unnecessary drama started by the GM's overreaction to thinking a change in captaincy actually has any effect on how the team plays. How many NHL teams out there have won the Stanley Cup with one, yet alone two former captains still on the roster? The 2004 Tampa Bay Lightning come to mind but it is extremely rare that changing captains helps solve anything.
Andrew has been credentialed to cover the Sharks since 2010 and the 49ers since 2012. He graduated with his BA in Broadcast Electronic Communication Arts in 2013 from San Francisco State University.