Depending who you ask in Minnesota, the Wild are one of two things: Either an under-achieving team that tends to impede itself with repeated mid-season struggles, or a resilient one with a talent for pulling itself out of deep, depressing slumps. Perhaps both are fair. After all, each of the past four seasons have seen the Wild put their playoff hopes in jeopardy by hitting a major slump, yet the past three seasons the Wild have turned it around in time. Nevertheless, all the fluctuation has resulted in fans criticizing head coach Mike Yeo. He has been a polarizing figure in Minnesota, seemingly since he arrived. Even before he spent a single game as Minnesota's bench boss, Wild fans have either loved him or hated him. Yeo has even drawn criticism from national pundits. Luckily for Yeo and the Wild though, things always seem to get figured out in the nick of time.
Ups and downs
In Mike Yeo's 4 year tenure with the Wild, the team has done well for itself at the beginning of each season. However, for one reason or another, they always seem to hit a rut and suddenly it's as if a switch is flipped and they become a different team; a shadow of their former selves where poise and execution become as readily available as water in a desert.
The consistency of the Wild's mid-season struggles is hard to believe. In Yeo's first season as head coach (2011-2012), Minnesota got off to a scalding hot 20-7-3 start, then they played the Winnipeg Jets. In an intense game that saw Minnesota forward Pierre-Marc Bouchard leave the game with a concussion, the Wild out-shot the Jets 35-27 yet lost 2-1 on a late goal by Bryan Little. That loss triggered a 15-29-8 finish to the season and the Wild, remarkably, missed the playoffs for the fourth consecutive season.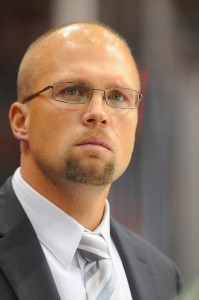 After signing Zach Parise and Ryan Suter to matching 13 year, $98 million contracts in free agency, expectations were high to begin the 2012-2013 season. In a lockout-shortened season, the Wild went into the final month of regular season play 21-11-2 and well on its way to a playoff berth only to finish 5-8-1 in April, necessitating a win in the final regular season game in Colorado to even make the playoffs. They won the tie breaker with Columbus for the 8th and final western conference playoff spot where they turned out to be a nice little appetizer for the eventual Stanley Cup Champions, the Chicago Blackhawks.
Seeing a pattern yet?
2013-2014 brought with it the promise that perhaps the Wild could take the next step in the playoffs with the benefit of a full training camp and more time for new acquisitions to get comfortable. If Minnesota's 17-8-5 start validated those hopes, then a 3-9-0 finish to December crushed them just as quickly. Yet Minnesota again had an answer; Mike Yeo steadied the ship and helped guide the Wild to a 23-9-7 finish that resulted in a second consecutive playoff berth where Minnesota defeated Colorado in 7 games but fell once again to division rival Chicago in 6.
Now you see the pattern I'd imagine.
That brings us to the current season, Yeo's fourth as head coach. With prospects looking bleak after a dreadful 18-19-5 first half of the season, the Wild acquired a goalie from Phoenix for a 3rd round pick in an effort to provide relief to the downtrodden team. That goalie's name? Devan Dubnyk. Since January 15th, Dubnyk has started every game for the Wild, compiling a stellar 20-5-1 record and thrusting Minnesota back into the playoff picture.
The parallels in Yeo's four seasons in Minnesota are startling. One cannot look at these numbers without wondering how each season ends up being a seesaw battle to make the playoffs. The teams inconsistencies have resulted in the yearly "Mike Yeo watch" in which fans and media speculate as to when the heat focused on his seat will cause it to spontaneously combust. If spontaneous combustion represents a firing — and its my metaphor so I say it does — it hasn't happened yet. It's amazing that it hasn't.
Time to panic
The Wild's hesitation to make it easy on themselves has caused many a Wild fan to scratch his/her head while searching for answers. As is the case in most markets when a team struggles mightily for a prolonged period, many call for the coach's head to roll.
In Yeo's first season, many questioned General Managers Chuck Fletcher's decision to hire someone with no previous head coaching experience in the NHL. After the Wild's fast start, many praised Fletcher for his insightful hiring. The praise turned to vitriol after the Wild's collapse caused them to miss the playoffs yet again. A poor finish the following year resulted in more questions about the head coach, but the franchise's first playoff berth in five years was enough to secure Yeo's job for at least one more season. Despite yet another year of regular season inconsistency, a thrilling seven game playoff series victory over the Avalanche earned Yeo a contract extension. This year, the Wild lost 7 of 8 games in January including embarrassing 7-1 and 7-2 blowouts to Dallas and Pittsburgh, respectively. Yeo's job was again called into question, though some did still defend him. Since then however, the Wild have made a meteoric rise from 12th in the west up to 5th, in terms of points.
As Isaac Newton's third law famously states, every action has an equal and opposite reaction, just ask the Minnesota Wild.
Saving grace
Just as each season in Mike Yeo's head coaching career have produced slumps, so too have they provided some amazing comebacks (well… Not the first year, the Wild never put humpty dumpty back together that year but disregard that.)
In 2012-2013, Niklas Backstrom won 11 games in March and also held Colorado to 1 goal in the final game of the season to help the Wild secure the final playoff spot in the west. Then 2013-2014 game and another goaltender stepped up, actually a couple did. Josh Harding started the season for the Wild by going 18-7-3 and compiling a crazy stat line of 1.66 goals against average and a .933 save percentage. Unfortunately Harding's multiple sclerosis caught up with him and forced him out of the lineup. In that same season with the Wild perilously close to missing out on post-season play, Ilya Bryzgalov was brought in and proceeded to go 7-1-2 for the Wild down the stretch and save the team's season (and Mike Yeo's job).
This season's story has been told a thousand times and yet it's still amazing. With the Wild down and out and headed for an abysmal end to the season, Chuck Fletcher brought in Devan Dubnyk, a goalie who was nearly out of the league last year after being sent to the AHL. The Wild responded by rattling off a 20-5-2 record since Dubnyk's first start including a franchise best 11-2-1 road record. Dubnyk has put together a 1.66 goals against average and a .939 save percentage since joining Minnesota. Unbelievable, really.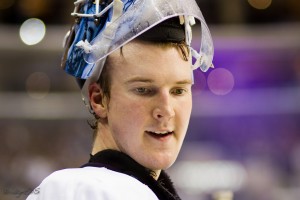 Somehow the Wild always seems to be able to pull some slight of hand just as fans and critics are about to call time of death and salvage the season that once appeared doomed. So what does this all mean, is it under-achievement, or remarkable resiliency? Why does this seem to happen year after year and how can the Wild go about avoiding these swings of performance in the future?
Final thoughts
There are a lot of opinions and theories out there on the who, why and how of the Wild's annual roller coaster rides. People have called the Wild "soft". They point to a delicate mental state and claim that a stiff breeze can blow the team in the wrong direction. Others say the Wild lacks focus at times and gets away from playing the system that makes them successful. Some have even called for Mikko Koivu to be stripped of his captaincy. The majority are content to condemn Yeo and call for Fletcher to deliver him a message along the lines of the one shown directly below this sentence.
https://www.youtube.com/watch?v=cNX_wGyKhmM
Some blame goaltending and will tell you that the Wild's problems are largely solved now that they have Dubnyk. I would tend to agree with the latter of these opinions. The Wild have proven that Mike Yeo's system works with even half-way decent goaltending. They limit scoring chances and out-shoot nearly every team they play while dominating the puck possession. Minnesota has had great success with Harding, Kuemper (at times), Bryzgalov and now Dubnyk. If the Wild can continue to get consistent goaltending at an above-average level like Dubnyk has provided lately, they can beat any team in the NHL.
Nevertheless, Minnesota's consistent struggles at some point of each season provide for plenty of excitement, if not unrest. They have put Mike Yeo perpetually under a microscope and inspired lively debate amongst fans both locally and nationally. It seems that every time you think you have the Wild figured out, you figure out you're wrong.
No the so-called "panic button" is no stranger to Minnesota or to Mike Yeo. At this point, I doubt he leaves home without it.
Nate has been a Minnesota Wild contributor at The Hockey Writers since 2014 and previously spent time covering the University of Minnesota Duluth men's hockey team. For everything Minnesota Wild related, follow him on Twitter @natebauer.