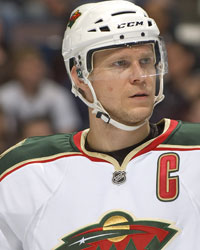 An army made up of just privates and generals cannot win a war.  Much the same, the Minnesota Wild, breaking in promising recruits like Mikael Granlund, Jonas Brodin, Jason Zucker, and Charlie Coyle, while led to the battle by Zach Parise, Mikko Koivu, and Ryan Suter, is lacking the quality personnel between the bottom and top of their organization to get over on the West.
However, this isn't an analysis of Minnesota's already well-documented issues with secondary scoring and defensive depth this season.  While the Wild does boast valuable support pieces such as Cal Clutterbuck and Tom Gilbert, it seems clear already that this team, as currently constituted, isn't complete enough to seriously challenge for the Stanley Cup.
Instead, let's look at General Manager Chuck Fletcher's real challenge: How to acquire the support pieces that push Minnesota toward contention?  Before we try to answer this question, we must assume Parise, Koivu, and Suter are the stars that the $243 million invested in them suggests they are, otherwise, the Wild has another host of problems.
Naturally then, all eyes are on Minnesota's ripening farm system: When will the prospects be ready?  Should they be traded for immediate help?
To which I reply: Don't trade a kid for a goat.  While I've come to believe that this Wild season might be lost without a roll of the dice from Fletcher, trading youngsters for veterans isn't the way to go.  Organizations should go "all-in" when they think they're close, like Dean Lombardi gambling on Dustin Penner, Mike Richards, and Jeff Carter, which led to Los Angeles's Stanley Cup last June.  Right now, Minnesota has too many holes sinking them for a quick cover-up.
Granlund, Brodin, Zucker, and Coyle have shown brilliant flashes, and the Wild should prioritize the optimization of their development, whether it's starring with the Houston Aeros or apprenticing in Minnesota.  Hopefully, at least a couple of these freshmen will fill out enough to eventually flourish as a top-nine forward or top-four defenseman.  That, along with an astute free agent signing or two, is the Wild's best bet to field a Cup-worthy squad soon.
So how does Minnesota improve their secondary scoring and defensive core this season?  Perhaps…they don't.  There will be a lot of stomachaches, but hopefully, they're growing pains.
For an impatient fanbase and ambitious ownership, it's a lot to ask to let the chips fall as they may this season.  But for a franchise that historically has been all too familiar with the short-term, "first-round play," waiting it out is the best chance to come up aces.
To quote Craig Leipold: "Oh yeah, that patience thing again!"