Since mid-January, the Minnesota Wild has been playing lights out hockey. The Wild has gone 26-7-3 since Devan Dubnyk was acquired from the Arizona Coyotes, and while Dubnyk has garnered much of the attention for the Wild's successful playoff sprint, the team's depth through the line up has also been a key factor. Mike Yeo has felt comfortable playing any of his four lines and three defensive pairings against opposing teams' top lines. He's also been able to roll out a bevy of players on the leagues number one rated penalty kill, all the way from skill players like Mikael Granlund to grinders like Kyle Brodziak.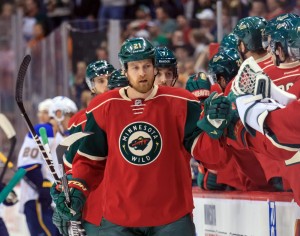 It's no secret that depth is a vital element every team needs to possess in order to be successful and make deep playoff runs. Without question, this year's Minnesota Wild roster is the deepest it has ever been in the franchise's 15 years of existence. In fact, the team has so much depth that players coming back from injury are starting to cause a traffic jam that would make folks stuck on 35E-north during rush hour blush. It's kind of crazy to think that just a couple of years ago, Minnesota's top line consisted of Dany Heatley, Warren Peters, and Nick Johnson. No offence to those players, but they aren't exactly of the caliber the present day Wild posses.
Trades
February injuries to forwards Matt Cooke, Ryan Carter, and Jason Zucker left Minnesota in a slightly precarious spot with its bottom six forwards. After all, the team was winning and General Manager Chuck Fletcher felt he needed to reinforce the organizations belief in the players by picking up another body for Yeo to use. This lead to the acquisition of Sean Berganheim from Florida on February 24th.
He had been a healthy scratch for most of February in Florida and was dealt to the Wild along with a 7th round pick for a 3rd round pick from Minnesota. Berganheim has been something of a disappointment since his arrival having scored just 1 goal in 15 games for the Wild. I'm getting ahead of myself though.
[catlist categorypage="yes" numberposts=3 excludeposts=this]
The March 2nd trade deadline was supposed to be a relatively quiet one for the Wild this year, as Fletcher, Yeo, and the team all felt good moving forward with the roster as it stood, and why shouldn't they have? After all, the team had just gone 11-2-1 in February and was feeling good about the game it was playing. However, when Buffalo Sabres GM Tim Murray called up Chuck Fletcher with just minutes remaining at the trade deadline, Fletcher couldn't pass up the chance to add a forward of Chris Stewart's level for such a reasonable price. Murray had reportedly been trying to trade Stewart all year for a big return but when the other teams in contention for Stewart bowed out, Murray called Fletcher and sent the Scarborough, Toronto native to Minnesota for a 2017 2nd round draft pick while also agreeing to retain half of his remaining salary.
With Marco Scandella, Jared Spurgeon, and Nate Prosser all injured for the Wild, Fletcher also acquired Jordan Leopold from Columbus for Justin Falk and a 5th round pick, fulfilling the special wish of Leopold's 11 year-old daughter in the process.
So what was supposed to be a quiet trade deadline day for the Wild turned out to be quite the fireworks show in the end. It was a day that saw the Wild to it's already existing depth but it also set the stage for what we're seeing now; namely, a sizable log-jam to get into the lineup.
Renewed health
A good portion of the moves made by Minnesota at and around the deadline were responses to injury again striking the team. Carter and Zucker were injured in the same February 9th game against Vancouver and Cooke was also injured in February. After Prosser, Scandella, and Spurgeon went down as well, Fletcher felt he needed to move to bolster the lineup with return dates for some of the Wild's walking wounded being slightly ambiguous.
Now however, the Wild is getting players back and healthy scratches are starting to pile up. The emergence and effectiveness of players like Matt Dumba, Christian Folin, Justin Fontaine, and others have added to jam.
Most recently, Minnesota got surprising news that Jason Zucker — thought to be out until at least early May with a broken collarbone — has been cleared for contact in practice and could play before the regular season ends.
#mnwild coach Mike Yeo: Jason Zucker could return for the end of the regular season next week. That's faster than expected.

— Rachel Blount (@BlountStrib) April 3, 2015
Typically, Zuckers injury takes about 3 months to fully heal which would put him at a May 7th return, well into the 2nd round of the playoffs. Now it appears he will be back before playoffs even begin, certainly good news for the Wild as Zucker had been smack-dab in the middle of a breakout season before the injury. Yet his return (albeit a welcome one), adds to the existing lineup questions for the Wild and coach Mike Yeo. There are so many options but so few open spots.
Lines?
It's hard to guess what Yeo will come up with for lines once the full complement of players are there to choose from after Zucker and Cooke are cleared for games, but that shouldn't stop us from trying, right!?
It's unlikely that Yeo will break up the Granlund/Parise/Pominville line, at least right away. On top of that, the line of Mikko Koivu centering Nino Niederreiter and Chris Stewart has arguably been the Wild's best line as of late. Meanwhile, Justin Fontaine and Thomas Vanek have found chemistry on the third line with Charlie Coyle and Vanek has exploded offensively recently. On the fourth line, Kyle Brodziak and Erik Haula have been extremely valuable as penalty killers, while Jordan Schroeder has proven he deserves to play as well.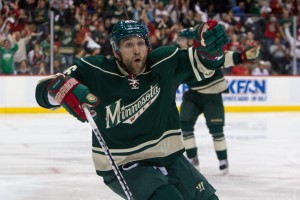 So how do you fit in the rest of the Wild's forwards? Ryan Carter and Matt Cooke have been effective as well and bring valuable playoff experience while Jason Zucker was on a 30 goal pace before his injury.
No matter how you shake it, there will be a few players who deserve to playing that simply wont be because you can only dress 20 players. With that in mind, allow me to take a stab at what lines might look like when Minnesota starts the playoffs. DISCLAIMER: These are not necessarily what I believe they should be, but rather what they might be.
Parise-Granlund-Pominville
Zucker-Koivu-Stewart
Vanek-Coyle-Niederreiter
Schroeder-Brodziak-Fontaine
Suter-Brodin
Scandella-Spurgeon
Dumba-Prosser
Dubnyk
Final thoughts
It's going to be interesting to see how the lines eventually shake down. There are a lot of bodies already and if we can expect one thing it's the unexpected; Mike Yeo is notorious for changing line combinations looking for chemistry so it would be shocking to see any or all of these lines tampered with at some point down the stretch and into possible playoffs. Depth is never a bad thing though and although a lot of tough decisions face Yeo and his staff, he's likely happy to have this problem
What do you think about the Wild's depth? What do you think the lines should be moving forward? Sound off in the comments section below!
Nate has been a Minnesota Wild contributor at The Hockey Writers since 2014 and previously spent time covering the University of Minnesota Duluth men's hockey team. For everything Minnesota Wild related, follow him on Twitter @natebauer.