Following some eye-brow raising comments made by Minnesota Wild alternate Captain Ryan Suter, the Wild have righted the ship (or so it seems) and are winners of two straight games. Fortunately, Minnesota's mini-skid didn't do too much damage to their positional rank in the conference. We will see if they are in the clear (for now) of their annual mid-season slump when they take on the Colorado Avalanche in a home and home set that begins Saturday. Colorado has been playing good hockey of their own as of late, especially the potentially highly-coveted forward Matt Duchene, who has been on an absolute tear over the past three weeks.
Collectively, the overall defense has played much better recently than what had been demonstrated for most of the season up to this point. Devan Dubnyk has been regaining his 2014-15 form after a somewhat lackluster start (stopping 58/59 SOG over the previous pair of wins), and the team is finally back to its opening night roster (albeit Tyler Graovac) after another slew of injuries depleted Mike Yeo's group through November.
Despite the upside being shown, there are still areas needing attention and/or improvement the rest of the way. If the Wild are to make any real noise this year, these areas must be addressed.
Penalty Kill
Shorthanded situations have not been kind to the Minnesota Wild thus far. A year ago, the Wild were tops in the league when defending while a man down. This year is the complete opposite. Say what you will about them, but the Wild lost two key pieces of the PK units in Kyle Brodziak and Matt Cooke during the offseason. Brodziak, in particular, shone brightest while on the ice in shorthanded situations. The Wild tried to replace them by re-signing Ryan Carter and bringing in Chris Porter to shore up the bottom-six. While the duo has provided  the Wild with a relatively solid fourth line, they simply have not done enough to patch up the shorty situations. The Wild currently sit at 27th in the league with an abysmal 75% PK ratio. Not good enough.
Granlund/Pominville
For the first time in a highly respectable career, Jason Pominville went 20+ games without a goal to start the year. This was one of the biggest snake-bitten affairs seen in recent Minnesota Wild history. Now, with two goals in his past three games, he has finally found himself on the goal scoring sheet. Hopefully this trend continues as the Wild undoubtedly need Pommer to be a factor and produce the rest of the way. That leads us to Mikael Granlund, who again has under-performed as one of the Wild's top-six centermen. Closing out the month of October, Granny tallied a single assist in 8 games, after a hot start to the season that saw him notch 4 points through the first three. Both of these players have come on stronger in their play recently, specifically Granlund who has 10 points in his last 11 GP. These are the types of numbers we should expect from a guy averaging upwards of 20 minutes of TOI a night.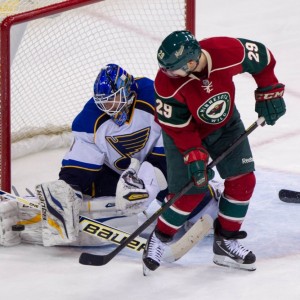 Even when guys like the rejuvenated Thomas Vanek, speedy Jason Zucker, and gritty Zach Parise, are not putting up point per game numbers (even though the latter once was in a non-defensive system), it makes it all more imperative that contributions are being made from all of your top-six forwards, especially when trust is being put in them day-in and day-out.
Bottom-Six Defensive Pairing
The Minnesota Wild in years past have been known for the relatively solid defensive play; back to back to back defensive minded coaches' mentalities will do that. However, no one expected the Wild to struggle the way they have through two+ months worth of play in their own zone with the defensive corp that they possess. One of Minnesota's early liabilities has been the play of nearly half of their blue-liners, specifically, the defensemen who were expected to really shine in full seasons with the club. That however, has not been the case.
The hard shooting Matt Dumba has especially struggled this season and has shown long stretches of highly inconsistent play in the bottom-six pairing. He, and guys like Christian Folin and Nate Prosser, were expected to round out the defensive line-up for the Wild, but have yet to demonstrate enough solid play on the back-end to have enough trust instilled in them by coaches and fans alike on a nightly basis. Folin has been hard-pressed to stay in the line-up, Prosser has been Prosser – mildly consistent, but hardly a standout – and Dumba has been one of the biggest letdowns in 2015 for Minnesota, as a player who was expected to breakout in 2015-16 and show Wild brass his full potential. It's kind of funny, Dumba can score an awesome goal that shows off his absolutely brilliant shot that he contains, and yet folks sometimes instantly forget just how depressing other areas of his game have been up to that point. Number 24 simply needs to string together quite a few more solid outings to be considered a shoe-in as part of the Wild roster moving forward, in my opinion that is.
The Minnesota Wild will continue action Saturday night when they take on the first of two games versus the Central rival Avalanche in what are always spirited affairs. Success may come down to some of these very issues that have plagued the Minnesota Wild thus far, yet we should fully expect them to handle an inferior opponent.
Who do you think is the most vital player(s) mentioned here, that mean(s) the most to long-term success this season? Thanks for reading! Go Wild! SKOL Vikings!