Maybe the correct term is "Moneypuck" as we are talking about hockey, reagrdless, the principle remains the same. In one of the more well-known scenes from the 2011 movie Moneyball, Brad Pitt's character Billy Bean – who is the real life general manager of the Oakland Athletics – meets with his scouting staff to discuss potential draft choices. While many of his scouts are critical of certain players for superficial reasons,  such as, most improbably, the attractiveness of their girlfriends, Pitt wants his staff to focus on how the players have played by looking at their results on the diamond. After his scouts' refusal to do so, he explodes at his scouts yelling, "we aren't selling blue jeans here." The GM's point is that no matter how good a player looks in a scouting report, if he can't turn that potential into results on the field, then none of it matters. They are drafting baseball players, not clothing models.
Tools vs. Results
Broadly speaking this scene reflects a key division in drafting strategy between those who advocate taking players based on their skills or tools  – skating, shooting, work rate etc. – versus those who argue for selecting players on their statistical results in the years leading up to the draft. The prevailing wisdom in the NHL, and professional sports in general which was so cleverly lampooned in Moneyball, has been to favour a player's tools as a better indicator of their ability than their scoring record. However, with the rise of analytics, other voices in the hockey community have been pushing back. One of the best examples comes from a Vancouver Canucks' fan website where they questioned whether a potato, following simple rules based on a players scoring record in the CHL, could draft better than the Vancouver Canucks management. The answer is a pretty unequivocal yes. An increasing body of evidence suggests that scoring in major junior is good predictor of offensive success in the NHL.
Moneypuck and Late Round Value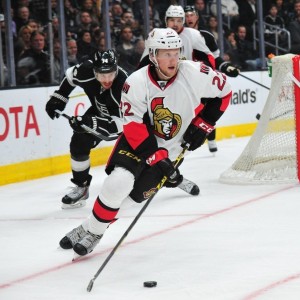 In the past decade the Ottawa Senators' have managed to find value in late rounds of the draft by pursuing a results based drafting policy. Going back to the 2006 draft, Ottawa used the 211th overall pick to select Erik Condra who led the Lincoln Stars in scoring in the USHL and was a point per game player. Condra became a very useful player for the Senators and much to the chagrin of many fans left for Tampa in July of 2015.  A more recent example is J.G. Pageau whom Ottawa selected in the fourth round of the 2011 draft. Pageau recorded 79 points in 67 games in his draft year playing with the Gatineau Olympiques but was passed over due to his small stature. Now, four and a half years later, Pageau has become Ottawa's undisputed third line center, a star penalty killer and a local folk hero due to his performance shown below.

Of course, the two best examples are Ottawa's super sophomores Mike Hoffman and Marc Stone. Stone is particularly interesting because due to injuries in his draft year, his points totals were decidedly unimpressive. However, in both his rookie season in the WHL and in his year playing AAA Midget, Stone demonstrated an ability to put up points. But the combination of injuries and scouts' perceptions of him as a poor skater meant that he was available in the sixth round. Given his stellar rookie season last year, and his current point per game pace this season, its fair to say that Stone has become a late round steal for the organization. Similarly, Mike Hoffman was a fifth round pick for the Senators in the 2009 draft. Undrafted in his first year of eligibility, Hoffman played as a 19-year-old for the Drummondville Voltigeurs and scored 94 points and 52 goals in only 62 games Following it up with 21 goals in 19 playoff games, ensuring that he would be selected in his second year of eligibility. However, due to concerns about his work rate and relatively late-blooming offensive potential, Ottawa was able to selected him late in the 2009 draft. After leading Ottawa in goal scoring last year, Hoffman is on pace for a 43 goal season this year, making him another excellent, late round pick.
Pageau, Stone and Hoffman all form part of a core group of young players that promise to keep the Ottawa Senators competitive in a relatively weak Eastern Conference this year. For a budget team like Ottawa, finding value in the draft is key to ensuring future success. While drafting based on offensive statistics works well for forwards, it is less effective in choosing defensemen and useless when picking goalies. Certainly in the case of drafting and developing defenders, beyond Erik Karlssson, Patrick Wiercioche and maybe Cody Ceci, Ottawa needs to do much better. However, there is always a demand for scoring forwards in the league and these assets can often be flipped to fill holes in the roster, provided the GM is willing to do so. Through clever drafting, Ottawa has managed to assemble a high scoring team that with the right roster moves, could become a contender. Whether Ottawa makes those moves remains an open question, but at least for fans, the possibility is there.
I am a Canadian historian studying at UBC and currently living in Ottawa ON. who grew up watching and playing hockey. I write about the Ottawa Senators, past and present, for The Hockey Writers. I think fancy stats are great. Also a huge soccer and Rugby fan.