Miroslav Satan has one of the greatest hockey names of all time.  The last name pronounced "Sha-tan," the Slovak native made nearly every list of the greatest hockey names of all time.  But Satan is not just a cool name. He was a prolific scorer, having registered 10 straight 20-plus goal seasons.
Most recently, Satan was the Team Europe general manager for the World Cup of Hockey. The Hockey Writers had a chance to talk with Satan about Team Europe's surprising run in the tournament and his time in the NHL.
The Hockey Writers: How satisfying was the World Cup experience for you? Nobody really gave Team Europe much of a chance.
Miroslav Satan: It was a great experience — everybody from the players, the coaching staff and to management. When they created it, nobody knew how it was going to work. Nobody thought much of us. I read that the odds were 33/1. We were the worst team. But we knew we had something special. We had good players, players who had won Stanley Cups before, players who had played on the international level. They wanted to play together and represent the smaller European countries that didn't have teams in the tournament. They wanted to give it all. They played for each other and played well.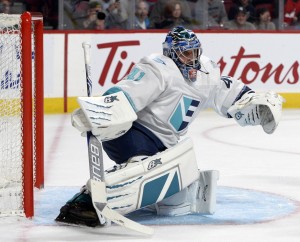 THW:  When Frederik Andersen went down with an injury prior to the tournament, you needed your fellow countryman Jaroslav Halak, who was coming off surgery this summer to step up. Were you concerned?
Satan: I was a little concern when Andersen got hurt because we weren't sure who was going to be the No. 1 or 2 goaltenders, but when he got hurt all of the responsibility went to Jaro and he came up big. He rose to the challenge and it was great for him. He was the best player for the whole two weeks. Other than his playoff run with Montreal in 2010, this was probably the best hockey I have seen him play.
THW: Another player who had a good tournament was defenseman Dennis Seidenberg, who was bought out by the Boston Bruins over the summer. His play got him a contract with the New York Islanders. How impressed were you?
Satan: We knew what we had in Dennis. I played with him for two months in Boston (during the 2009-10 season). He is just a very solid defenseman. Even though he didn't have an NHL team, that didn't bother us. We knew that he could still play. I think his play in the tournament definitely convinced the Islanders.
THW: After your successful run as Team Europe general manager, do you have any plans to pursue a management job in the NHL?
Satan: I don't have any plans right now. If anything comes up, we will see.
THW: You have represented Slovakia numerous times in the Olympics and the World Championships. Do you think the NHL should send its players to the 2018 Winter Olympics?
Satan: I know there are negotiations ongoing. I don't know any of the details but the Olympics are better with NHL players. We will have to see how the talks go.
THW: You were acquired (for Barrie Moore and Craig Millar) from Edmonton Oilers in one of the all-time great Buffalo Sabres trades. Did you enjoy your time in Buffalo?
Satan: I really enjoyed my time in Buffalo. I probably had my best years there (224 goals in 8 seasons). I got to go back last year after some years. I got to see some people that I haven't seen in awhile. It was a great feeling to be back.
THW: The Sabres, with your help, made the Stanley Cup Final in 1999, losing to the Dallas Stars on Brett Hull's controversial series-winning goal. Should the goal have counted?
Satan: No, it shouldn't have. They changed the rule the following season because of that goal. What can you do.
THW: Ten years later you finally got the chance to lift the Cup as a member of the Pittsburgh Penguins. Did you think that chance would come?
Satan: I was fortunate to get a chance again. It took 10 years, but i was finally able to win it. It was very gratifying for me to be on the ice celebrating after Game 7 in Detroit. I thought about the Cup run 10 years earlier and couldn't experience the same joy.
THW: Following the lockout that canceled the 2004-05 season, you signed a three-year deal with the New York Islanders. What made you choose them?
Satan: I had three teams who were interested in signing me. The Isles were looking for a top-line winger. That was the main reason. I didn't want to leave Buffalo but there weren't any negotiations. The Sabres did not try to sign me and I had to choose a different team. The Islanders were the most interesting.
THW: The Stanley Cup playoffs at the Nassau Coliseum is an experience like no other. You were able to experience in 2007 ironically against the Sabres.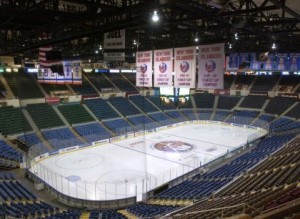 Satan: The Coliseum was great. There was a lot of history and very loyal fans there — many years of supporting the team when things weren't going great. We always felt the support and I enjoyed playing for the Islanders fans.
THW: After your career ended you decided to stay on Long Island. I guess it's more than the Marriott and the Coliseum.
Satan: That was my perception of Long Island. As a visiting player, you only saw the Marriott and the parking lot and then left. When I played there, I got to see the other parts, the North and South Shore. Then you find all of the things it has to offer. It's a great place for a family, so we decided to stay.
THW: In your free time, you play chess. How did you get started?
Satan: I used to play as a kid. My father taught me when I was 8-years old. Then computers showed up and I had programs to play against the computer. I used to play on the travel days on the plane. I can also say that the computer taught me.
THW: Did you play with any of your teammates?
Satan: I only played with Dominik Hasek. None of my other teammates knew how to play (laughs).