Mitch Marner is slumping, right? That is the narrative for the 20-year-old's sophomore season so far, anyway. However, a longer look at his statistics reveals Marner might not be slumping as much as he appears to be.
Two of Marner's 5 goals on the season were scored in the last 3 games of the calendar year. He only scored 3 goals in the first 37 games. To many, that is the tell-tale sign of a sophomore player who has lost his confidence but things aren't always so cut and dry.
Hey Mitch, Where Did the Goals Go?
Marner's shooting percentage last year was just under 11%. He scored 19 goals on 176 shots. Fast forward to this season and that number gets slashed almost in half. Marner has scored 5 goals on 83 shots, good for a shooting percentage of 6%.
His ice time per game is down about a minute from last year, but in terms of where his scoring has gone, it's really just a matter of the puck not going in after he shoots it.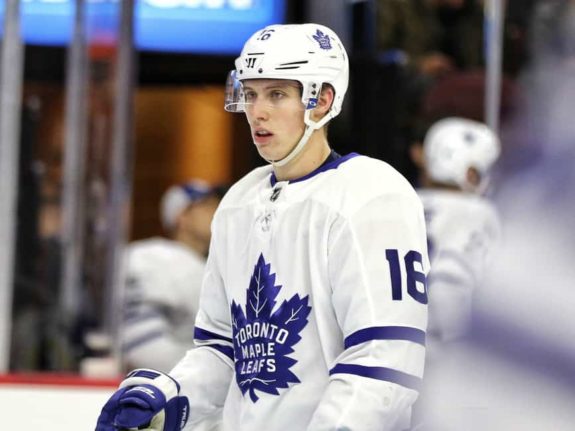 What's the Deal with Marner's +/-?
Another stat that has some worried has less to do with his offensive production and more to do with how the team performs when he is on the ice.  Only two Leafs, JVR and Connor Brown fall lower down the +/- column than Marner's minus-3 this season.
That Patrick Marleau, with 15 goals, is sitting at a minus-2, however, should alleviate some concerns about Marner. In fact, there are plenty of reasons to just toss this stat out completely.
Marner's Route of the Canes
On December 19th, Marner's 3-point effort against the Carolina Hurricanes had many fans proclaiming the end of his slump. His goal that night was just his 4th of the season. Here is what Babcock had to say about how a game like that can help the confidence of such a young player:
"If you're a goal-scorer and you haven't scored in a long time, it starts weighing on you," Babcock said. "I don't care what anyone says. If you're a young person, you can't help it. You've got to look at [your phone]. You get used to getting beat on."
Babcock mentioned at the post-game presser that the afternoon matinee was an advantage for the 20-year-old, as the late evening games can be rough on a little guy who needs to go to bed early.
"Mitchy, you were really good in the first. You've got your classmates here and you're trying to impress them."

"First time you're playing a game that wasn't after your bedtime."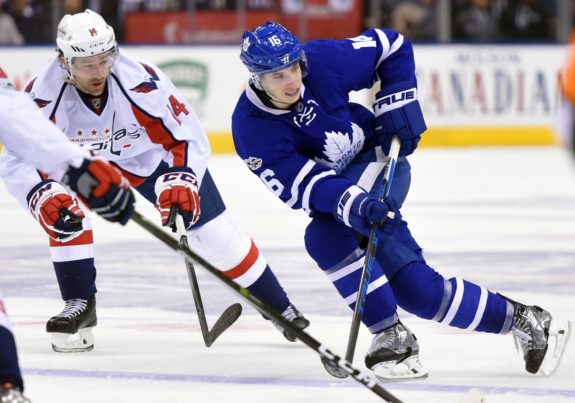 Mitch Marner's Advanced Statistics Tell a Different Story
It's when we start looking at Marner's advanced statistics that a different story begins to present itself. His advanced stats are up slightly from last year with a Corsi percentage up from 50.8% to 54% so far this year.
Critics of this advanced statistic will state that the Corsi percentage (basically a +/- using shots instead of goals as the metric) depends heavily on who the player was on the ice with. Others believe Marner's high Corsi percentage should cancel out any concerns over his +/- or his goal-scoring drought, however.
Marner's Corsi is the 2nd highest on the Leafs this season:
James Van Riemsdyk 55.8%
Mitch Marner 54.3%
Tyler Bozak 53.1%
Morgan Reilly 51.7%
Auston Matthews 51.4%
His Fenwick percentage is up from 49 to 52 this season as well and again he ranks as one of the top Leafs in this category:
James Van Riemsdyk 52.9%
Mitch Marner 52.4%
Morgan Reilly 51.2
Tyler Bozak  50.9%
Auston Matthews 50.4%
This stat, which some feel correlates higher with scoring percentages than the Corsi does, also presents Marner as one of the more productive Leafs this season.
What Leaf fans need to decide is whether Marner's advanced stats are painting a truer picture of his season than his goal-scoring total.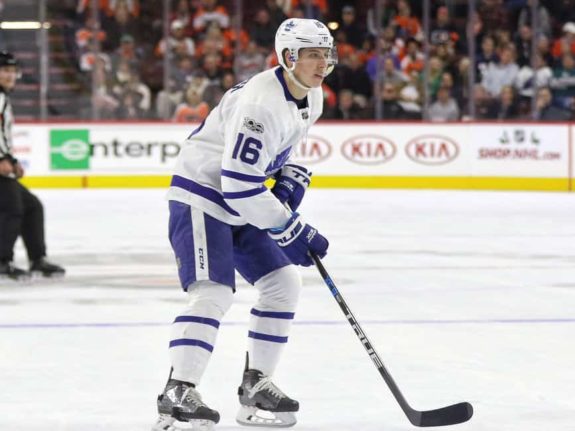 What Does All this Mean for Marner in 2018?
When we look at all of these numbers together, it's clear there is only one thing going wrong for Mitch Marner this season: shooting percentage. He's taking the same amount of shots (more or less), same ice-time (more or less), and all of his other statistics are slightly improved from last year. His 24 assists are nothing to be written off either, obviously. The only thing going wrong for him is that when he shoots the puck, it goes into the net less often than it did last year.
On the bright side, it's only one problem. On the other hand, however, it's not a problem you want someone as young as Marner to experience when you are hoping they develop into a superstar. If you are a believer in advanced stats, however, the full picture of Marner's performance this year indicate his goal-scoring woes won't continue long into 2018.