King of the Hill?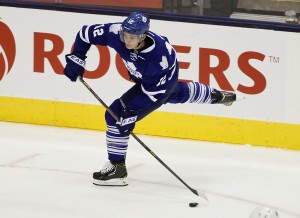 Don't let that 4-1-0 record fool you – the Toronto Maple Leafs are not quite ready to be the cream of the crop of the Eastern Conference.
Despite currently sitting on top of the Atlantic Conference, the Leafs are still a long shot away from being considered a Stanley Cup favourite. After all, the season is still young, and there is plenty of time to separate the contenders from the pretenders.
Sean McIndoe (Down Goes Brown) talks in-depth about why the Leafs could even be atrociously good, or atrociously bad.
Consider, for example, the fact that the heavily-favoured Detroit Red Wings are currently sitting in 6th place. Or that the Tampa Bay Lightning are currently 2nd right behind the Leafs. Clearly, neither of these starts were expected, and clearly, neither of them should last.
A Salary Cap World
In the salary cap world, the decision to keep or demote a talent youngster is no longer quite so clear. The management of said cap is crucial for any team to contend. By demoting a player back to junior, a team gets one "free" year of development while extending that cheap entry-level contract (ELC).
Every year, it seems that true Cup contenders have a few players on ELCs, or cheap contracts, that contribute in a big way. Take last year's Stanley Cup Finalists. Chicago was able to ride the coattails of a brilliant performance by Bryan Bickell, who was getting paid peanuts. They also had the services of the young Brandon Saad, who fitted seamlessly into the top-9. Other the other side, Boston enjoyed the coming-out party of a young relevation (you may have heard of him) named Torey Krug, who made a complete fool out of Henrik Lundqvist and the New York Rangers.
The list honestly goes on and on – Slava Voynov, Adam Henrique, Chris Kreider, Oliver Ekman-Larsson…teams that go deeper in the playoffs need young players that can perform while being barely paid for an NHL player's standards.
So if the Leafs want a deep enough roster considered a "favourite", they will have to have a team of stable veterans bolstered by a few ELC players that can contribute. And not just any ELC player – a player that can actually contribute in a playoff setting.
The Morgan Rielly Dilemma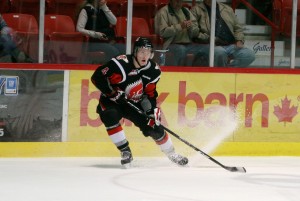 After years and years of consistently horrible drafting and development, it seems that the Leafs may have finally found one worth keeping: 19-year old defenceman Morgan Rielly. Highly touted for his elite offensive skillset, Rielly could be a real difference maker for this team.
With Mark Fraser out with injury, Rielly has been given an opportunity to show his stuff. He has yet to blow everyone out of their seats, but has looked decent so far – at least good enough to be an NHL player. Rielly has posted one assist in three games thus far, and has gotten quite a few good looks on the powerplay.
The Leafs do have time to make their decision – an ELC does not kick in until 10 games played. GM Dave Nonis and crew have a moderate window to assess if they want Rielly in the big league now.
From a management perspective, it makes the most sense to simply send him back to the juniors already, and use that extra year on the ELC as an extra year to build a true contender. If we were only considering the salary cap, this would be the no-brainer. However, there's clearly more to it than just that.
Would Rielly still gain anything from playing in the juniors? The talented blueliner put up 54 points in 60 games for the Moosejaw Warriors last year, and there might simply be nothing left for him to learn that at level.
There are clearly many who believe this is the case.
The Likely Outcome?
There's no way around it – Rielly is likely going back to the WHL this year. Toronto have a decent amount of defensive depth this year, and they have plenty of blueliners in the AHL that are NHL-quality. Korbinian Holzer and TJ Brennan on NHL-ready players that can easily step into a 6/7 spot. With Dion Phaneuf, Cody Franson, and Jake Gardiner all capable of filling the point-producing/power-play role, there just doesn't seem to be any room for Rielly.
Unless Rielly explodes in the next few matches, I think it's safe to say we won't be seeing him again until next year.
Follow me on Twitter! @alexmai11
Alex is a Lead Writer for the Toronto Maple Leafs. Since joining the Hockey Writers, he has also briefly covered the Carolina Hurricanes. He also currently works as an assistant for the Western Mustangs at the University of Western Ontario. Follow him on Twitter @alexmai11.