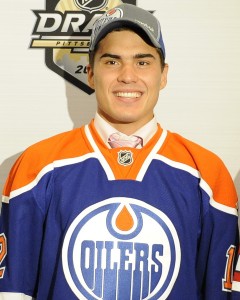 Edmonton Oilers rookie Nail Yakupov is quickly becoming a polarizing figure just weeks into his NHL career. Yakupov has drawn the ire of people around the hockey world with his goal celebrations, and last night's overtime winner was yet another example.
The Oilers had a 1-0 lead over the Phoenix Coyotes for most the game last night, but surrendered the tying goal with under a minute to go in regulation. In overtime, the Oilers got a powerplay, and Nail Yakupov banged in the game winner. Instead of jumping into the glass or sliding down the ice, Yakupov stood behind the Coyotes net motioning for his teammates to come join him.
Now that may seem innocent enough, but it caused a scrum, and many people are scratching their heads as to why. It appeared as if Ryan Whitney chirped Coyotes defenseman Derek Morris, therefore causing the may-lay. Either way, Yakupov's teammates seemed confused as what to do with that celebration. If you can even call it a celebration.
Last week, Yakupov caused quite a stir with his over-the-top celebration after the tying the game in the dying seconds vs. the Kings. It was fun to watch the unbridled enthusiasm of a 19 year old scoring such a huge goal, but many people weren't exactly thrilled. Don Cherry expressed his distaste on coaches corner last Saturday night:
"I am telling you the, LA, is gonna remember this, LA is going to remember this till the dying day that you don't do stuff like that. Don't act like that kids, you'll be in trouble every time. Not only did he hurt himself he hurt Edmonton too." (SB Nation)
Yakupov has played six games in the NHL, and has four goals. Two of those goals have been clutch. He's a talented kid, there's no doubt about that. He's also a guy with a personality. It's becoming abundantly clear that a lot of people aren't a fan of that personality. Hockey players have a reputation for being quiet, humble and reserved,  letting their play on the ice do the talking. As soon as someone who marches to beat of their own drummer comes onto the scene, he's sure to ruffle a few feathers.
Unlike football and basketball, big personalities don't normally dominate the NHL, and many people like it that way. There is a code that rookies must earn respect, and pay their dues. And some rookies do exactly that. But every now and then, a Nail Yakupov enters the picture. There's a pretty good chance he will irritate people no matter what he does. The kid just needs to be mindful of his teammates, because it's their opinions that matter more than all the critics.
At the end of the day, Yakupov needs to play hockey, and continue to score those important goals. What he does after the goals probably isn't of much consequence, but he should probably understand that in the internet age we live in, he will gain a lot of enemies very quickly, fair or unfair. So what say you? Does Yakupov need to tone it down, or just be left alone?