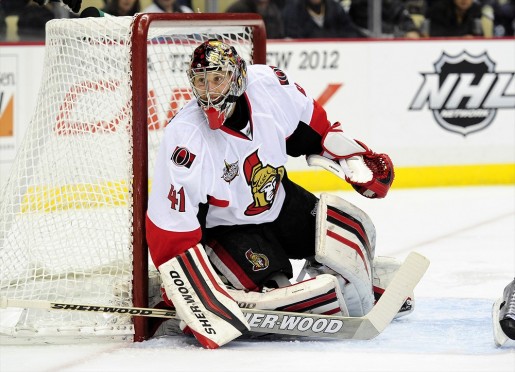 e·lite or é·lite  n. pl. elite or e·lites

1 b. The best or most skilled members of a group.
The term elite is thrown around a lot these days, especially in reference to professional athletes. In the world of NHL goalies, it's usually reserved for the likes of Henrik Lundvist & Pekka Rinne, possibly Ryan Miller, maybe even Roberto Luongo, and, in the not so distant past, Tim Thomas & Martin Brodeur.
But if we're talking strictly about the 2013 season, there's one goalie that has to jump into that conversation, and his name is Craig Anderson.
First, let's look at the straight numbers: in 6 starts this season, Anderson is 5-0-1 (including 1 shutout), with a goals against average of 0.99 and a save percentage of 0.967. These stats put him at the head of the goalie class, with the exception of shutouts, with Jaroslav Halak notching 2.
In simpler terms, Anderson has faced a grand total of 184 shots (most in the NHL) in almost 365 minutes played (2nd behind Corey Crawford), and has surrendered a grand total of 6 goals. And after last night's 5-1 win over Montreal, Anderson has allowed more than 1 goal only once, in a 3-2 shootout victory over the Pittsburgh Penguins. (all stats via NHL.com)
Here's the most recent example of the kind of saves he is making:
https://www.youtube.com/watch?v=SXGhjPpHj-k
Impressive, to say the least. Hey, even TSN's James Duthie agrees:
Craig Anderson has been a whole lot of terrific so far this season.

— James Duthie (@tsnjamesduthie) January 30, 2013
Look, we all get that it's only been 6 games, and that Anderson's path to cementing his status as a true number one goalie in the NHL has been a bit of a roller coaster, to say the least. Anderson has really only carried the load in 2 of his 8 previous NHL seasons and has not made it out of the first round of the playoffs. It's also important to note that Ottawa's wins this season have come against the Florida Panthers (x2), Montreal Canadiens, Winnipeg Jets, Washington Capitals & the Pens, one of which might be classified as a Stanley Cup Contender.
On the flip side, however, Anderson has shown flashes if brilliance in the past, summarized neatly here by James O'Brien of Rotoworld:
(Anderson) compiled a .935 and .924 save percentage as a backup with the Florida Panthers. He frustrated the San Jose Sharks in his first bit of work with the Colorado Avalanche in the 2010 playoffs, most notably pitching an amazing 51-save shutout in Game 3 of that series before San Jose eventually overwhelmed the over-matched Avalanche. Anderson even put the heat on Henrik Lundqvist in last year's playoffs, compiling an impressive .933 save percentage in that seven-game series but eventually just barely falling short to a superior New York Rangers team. (from Hockey Daily Dose, January 31, 2013)
Prior to the start of the season, I said here that Anderson needed to step up for this team to be successful in 2013, with a view to reaching the level of play that he demonstrated in his first 18 games with the team back in 2011 (11-5-1, 2.05 / 0.939). While his current level of play exceeds that mark, there's every indication to suggest that there will be some level of regression at some point; what's to be determined is just how far the drop-off will be, how quickly Anderson might be able to recover from some type of downswing, and if the Senators offense can balance it out enough to keep the team on a winning track.
The lesson in all of this? It's always important to keep things in their proper context & perspective.
Or, as O'Brien again puts it:
Don't put too much weight in small sample sizes, but don't count out a goalie who has shown quite a few flourishes of strong work. (Hockey Daily Dose, January 31, 2013)
Again, the jury is still very much out on Anderson's ability to carry a team through an entire regular season and deep into the playoffs, but there's no denying that this elite-level effort to date demonstrates that he is more than capable of doing so.
Unfortunately, this bit of breaking news might not help matters much:
#Senators expected 2 announce Jason Spezza will undergo surgical procedure on his back. Club doesn't considered this major surgery I'm told.

— Nick Kypreos (@RealKyper) January 31, 2013
Ottawa's next game is Saturday night in Carolina.
Follow Ian on Twitter for more hockey updates and commentary.