In order for the 2013 Ottawa Senators to succeed, their key, core players will have to demonstrate that they are just that; Jason Spezza & Erik Karlsson will need to shine, Daniel Alfredsson must lead by example, and Milan Michalek & Kyle Turris must produce on the regular.
Having said that, there are others who will need to step up as well, supplying that extra dose of offense at one end and the ability to shut down the opponent at the other.
Here are three Senators players that could / should fit that bill.
Jakob Silfverberg
It may be asking too much of the 22-year old Swedish forward to make a meaningful mark in his first full (albeit shortened) NHL season, but there's plenty of reason to believe that the Senators have full confidence in his potential.
Plenty of folks – from Travis Yost at Hockeybuzz.com to Ken Warren of Senators Extra – have made note of the fact that Silfverberg has been placed on the club's top line with Spezza & Michalek to begin camp, and all indications are that he will remain in that spot for the foreseeable future. And while plenty of Toms, Dicks & Bochenskis have tried to hang with Spezza over the years, Silfverberg may be peaking at the right time in order to click with the Sens big guns.
After a slow start in his first couple months of AHL action, Ottawa's 2nd round pick in the 2009 NHL Draft (39th) caught fire in December, rattling off a 6-game goal scoring streak and jumping to the top of the Binghamton Senators scoring leaders with 13 goals and 16 assists in 34 games. This comes on the heels of his Swedish Elite League MVP performance of a year ago, in which he scored 24 goals and 54 points in 49 games.
Clearly, the ability is there, and Ottawa is hoping that what he lacks in experience, Silfverberg can make up in raw talent and youthful exuberance, giving the team an extra offensive weapon needed to storm through the next 48 games.
Marc Methot
Oh boy, it's ridiculous how fired up I am right now. All kinds of emotions. Finally, I get to throw on the jersey! #Sens

— Marc Methot (@MarcMethot3) January 6, 2013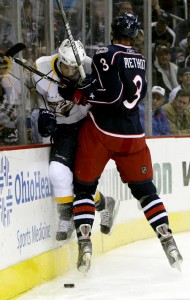 If you've been following Ottawa players on Twitter throughout the lockout, you'd perhaps have noticed that no one seemed more eager to get back on the ice than newcomer Marc Methot; as expressed his his various #marcmethoughts, he's been chomping at the bit to begin the Ottawa leg of his NHL career, as evidenced in the above tweet.
Methot (a 6th round pick of the Columbus Blue Jackets in 2003) was acquired by Ottawa in a straight up deal for F Nick Foligno back on July 1st, 2012. The one-time Memorial Cup Champion (London Knights – 2005) was hindered by various injury issues during his time in Columbus (above and beyond the struggles of being a Blue Jacket, in general), with the '08-'09 season marking highs in goals (4), assists (13) and +/- (7). Methot played in a career high 74 games during the '10-'11 season, but missed 36 games last year due to a jaw fracture.
Like Silfverberg up front, Methot will be given an opportunity roll with Ottawa's top player at his position, as he will likely be paired with reigning Norris Trophy winner Erik Karlsson. As more of a physical, shut down type d-man, Methot will be called upon to be the ying to Karlsson's yang, holding down the fort while the sometimes 4th F on the ice does his thing.
Checking back in on Twitter, Methot definitely seems up to the task:
Hell yes. Time to go to battle. #hockeyisback

— Marc Methot (@MarcMethot3) January 13, 2013
Craig Anderson
It might seem somewhat redundant to suggest that a team's #1 goalie must step up in order for them to succeed, but in this case, context is everything. For starters, over the course of Anderson's career, it's been rare for him to be the incumbent, de facto starting goalie where he was expected to carry the lion's share of the load. He has started the majority of his team's games only twice before in his career (including last year in Ottawa), and posted similar numbers each time:
| | | | | | | |
| --- | --- | --- | --- | --- | --- | --- |
| Year | Team | GP | GAA | SV% | W | SO |
| 2009-10 | Colorado Avalanche | 71 | 2.63 | 0.917 | 38 | 7 |
| 2011-12 | Ottawa Senators | 63 | 2.83 | 0.913 | 33 | 3 |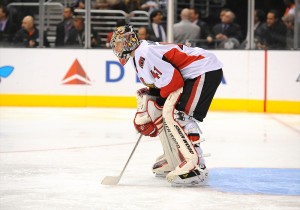 In each of those 2 seasons, Anderson guided his team to 8th place finishes, making a series out of both 1 vs 8 matchups against the Sharks and Rangers respectively.
Anderson is in the midst of a sizable deal that will pay him $3,187,500 until the end of the 2015 season, and Ottawa seems comfortable trotting him out there as the team's best shot to win.Having said that, the Sens possess two other goalies who have been playing at an ultra-high level in Binghamton, both of whom seem capable of rising up and stealing starts & hearts.
Robin Lehner has a record of 14-5-1 this year, with a GAA of 1.90 and a 0.945 SV %. Ben Bishop is 8-3-2 with a GAA of 2.59 and a 0.928 SV %. It's believed that Lenher will return to Binghamton after camp, allowing Bishop to remain in Ottawa as Anderson's backup. The reason for that, according to James Gordon of the Ottawa Citizen, is this:
Lehner is at an automatic disadvantage due to his contract situation. Unlike starter Craig Anderson and the presumptive backup, Ben Bishop, he's still on a two-way contract that makes it easy for the team to ship him to AHL Binghamton. It's likely only an injury or struggling starters at the NHL level could serve as a foot in the door.
There's little doubt in the minds of many that Lehner is quite probably the best goalie that Ottawa has on their roster or in their system, but for now, it seems as though he's at least a year away from seriously battling for the starting job. Anderson is still under contract for 3 more seasons, and, as such, will be counted upon to backstop this team through the majority of this year's 48 games and into the playoffs. His experience (although somewhat limited) should serve the team well, and gives him an advantage over his younger, albeit possibly more talented peers. If he can reach the level of play that he demonstrated in his first 18 games with the team back in 2011 (11-5-1, 2.05 / 0.939), Ottawa should be in good shape in net and well positioned for success.
Like last year, it will take a total team effort for the Senators to thrive; but look for these three in particular to rise up to the task at hand.
Follow Ian on Twitter for more hockey updates and commentary.