With the eyes of the hockey world currently fixated on both the World Junior Hockey Championship in Russia and the ongoing NHL CBA negotiations in New York, regular hockey action continues to roll on in the AHL.
In recent weeks, one Ottawa Senators prospect in particular has been making waves with his hot play, as Binghamton forward Jakob Silfverberg recently put together a 6-game goal scoring streak. In fact, during a 7-game stretch between a December 14th tilt against the Wilkes-Barre/Scranton Penguins and Saturday's game vs the Rochester Americans, Silfverberg put up 6G & 3A, almost doubling his goal output from the first 21 games of the season.
Pushing it back further to his last 12 games, Silfverberg has scored a total of 10 G & 6A. As a result, he has vaulted to the top of the Baby Sens stats board, with a total of 25 points (13G, 12A) in 27 games played. He also currently leads the team in shots, with 87.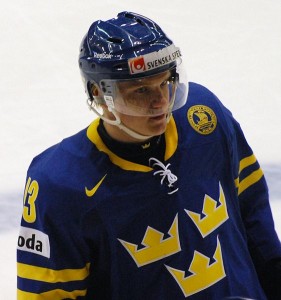 Silfverberg was selected in the 2nd round (39th overall) of the 2009 NHL Entry Draft by the Ottawa Senators, and spent 3 seasons playing with Brynas of the Swedish Elite League before making the jump to North America. He made his pro debut last spring, playing largely on the 4th line in 2 games of last year's series playoff series with the Rangers, in which he failed to register a point.
While he was obviously not afforded the opportunity to begin the year in Ottawa due to the lockout, Silfverberg's time in Binghamton is providing a buffer between the Sweden's Elite League and the NHL. He admittedly got off to a slow start in the AHL, and attributed that to having to adjust to a smaller ice surface:
It's a big difference to play on a North American-sized ice rink. I didn't expect the difference to be as big as this. I thought I'd be able to just jump in the game and be ready to go. I'd been struggling a lot early in the season turning pucks over in the wrong places and if you do that on the North American ice you're most likely going to get caught going in the wrong end. (Pro Hockey Talk)
Of late, Silfverberg has certainly demonstrated that he is adjusting nicely to the North American game, so much so that he has already drawn comparisons to a young Daniel Alfredsson, albeit prematurely. On a smaller scale, the key for the young Swedish forward would appear to be taking it one game at a time as he continues to find his way. And shortly before his streak began, Silfverberg alluded to the fact that he was on the brink of doing so, in these words: "I'm starting to feel real comfortable out there, I know what to do with the puck when I get it. It's getting better and better." (Ottawa Sun)
Binghamton coach Luke Richardson also had this to say on Silfverberg's development, and his potential for future success:
Who's to say how far he can go? If he can do all (he's done) in a quick period of time, after 12, 15 years of playing in the NHL, he should have some great accomplishments. (Ottawa Sun)
If things continue to go this way in the coming days, there's a very real possibility that Silfverberg could get a look with the big club should the lockout finally be resolved. If so, it would give him at least a few months to learn from Alfredsson, who may indeed end up passing the torch to Ottawa's next great Swedish forward.
For now, Silfverberg and the Baby Sens will look to finish off 2012 with a win on New Year's Eve against the St. John's IceCaps.