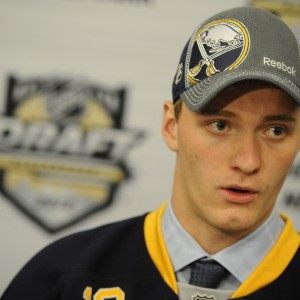 With the World Junior Hockey Championships (WJHC) underway from Ufa, Russia, it is a good time to take a look at some of the potential stars of the future for the Buffalo Sabres. Buffalo has four prospects at the championships, which ranks them tied with four other teams for the second most. Buffalo has Finnish forward Joel Armia, Russian forward Mikhail Grigorenko, American defenseman Jake McCabe and Russian goaltender Andrei Makarov all representing at the tournament. Here is a look at how they have fared over their first few games, how they are performing this season with their club teams and what scouts from Hockey's Future are saying about them.
Joel Armia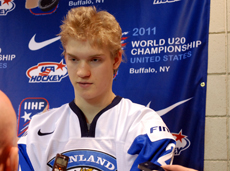 The Sabres selected Armia in the first round of the 2011 NHL Draft.  He is currently playing for Assat Pori in the SM-liiga, the top tier division of hockey in Finland, and has been there for the past three seasons. Through 25 games this season, Armia has 10 goals, four assists, 18 penalty minutes and a plus minus of +3. He has worked his way up through the Assat development system, playing for their under-16 and under-20 team before he made the jump to the top squad.
Scouts have already recognized his goal-scoring ability and have linked comparisons to Thomas Vanek. At 6'3 he already has good size for a 19-year-old and his stick handling gives him the ability to make his way to the net. The area for improvement is his speed.
After two games at the WJHC, Armia has a pair of assists from Finland's 5-1 win over Latvia. Finland fell 3-1 to the Czech Republic in their second game. Armia also had an assist in one pre-tournament game against Canada.
Mikhail Grigorenko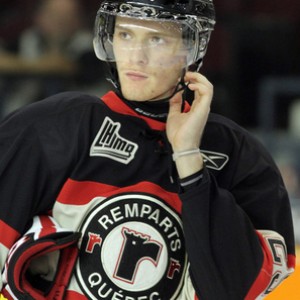 Before Nail Yakupov ran away with the pre-draft ranking in 2012 many were comparing him to Grigorenko. At the draft, the once top-five prospect Grigorenko slipped all the way to 12th where the Sabres drafted him.Grigorenko is one of the rare cases of a Russian player coming to North America to play in the Canadian Hockey League for the Quebec Major Junior Hockey League's Quebec Remparts. In his two seasons with the team he has put up impressive numbers. In 2011-12 he scored 40 goals and added 45 assists in 59 games. This season he has 29 goals, 21 assists, eight penalty minutes and a +12 rating through 30 games.
Much like Armia, the 18-year-old Grigorenko has size at 6'3. For a big player, he already shows great patience and a solid vision of the game. There is no doubt that he has talent, the issue with him is that he has dealt with injuries throughout his young career.
He is already showing his playmaking ability at the WJHC. Through three games he has three assists. The Russians have beaten Slovakia, the United States and Germany.
Jake McCabe 
Jake McCabe was chosen days before the tournament as the captain of Team USA. McCabe spent three years with the U.S. Developmental program before committing to the University of Wisconsin for the 2011-12 season. In his first season he registered three goals and nine assists and through 16 games in 2012-13, McCabe is on pace to improve his totals with two goals, seven assists, 18 penalty minutes and an even plus/minus rating.  The Sabres selected McCabe in the second round, 44th overall, of the 2012 draft.
McCabe, 19-years-old, has been touted by scouts for his game intelligence, anticipation, stick work, grit and skating ability. The area that they would like to see him improve is in his decision-making.
Through two games at the WJHC he has yet to register a point but has a +1 rating. Team USA beat Germany before losing to Russia.
Andrei Makarov
Makarov is an interesting prospect for the Sabres, mainly because they did not spend a draft pick to get him as he was signed as a free agent. Much like teammate Grigorenko, Makarov came to North America to play his junior hockey, first in the QMJHL for Lewiston in 2010-11. He moved to the Western Hockey League with the Saskatoon Blades
last season where he appeared in 54 games registering 29 wins, 21 losses, two ties, a goals against average of 3.01 and a save percentage of .913. This season he has improved on his numbers. He has made 30 appearances winning 15, losing 13 and earning one tie. His goals against is down to 2.84 and his save percentage is about the same at .908.
The 19-year-old has been praised for his athleticism but needs to work on his angles and challenging shooters.
Team Russia seems to be alternating between Makarov and Andrei Vasilevski, but Makarov had the more important start against the Americans, which he won 2-1, with a 41-save performance. Makarov was also on the 2012 silver medal team.
These four prospects are just another reason why Sabres fans should tune into the WJHC. Before long, they could be making an impact in the NHL.
An avid sports enthusiast, Darren presently is the Communications and Marketing Coordinator at the Golf Association of Ontario. He has served as a Sports Editor with Etcetera Publications and colour commentator on TV Cogeco's junior hockey coverage. He has covered a wide range of junior and professional sports including: hockey, golf, baseball and football to name a few.