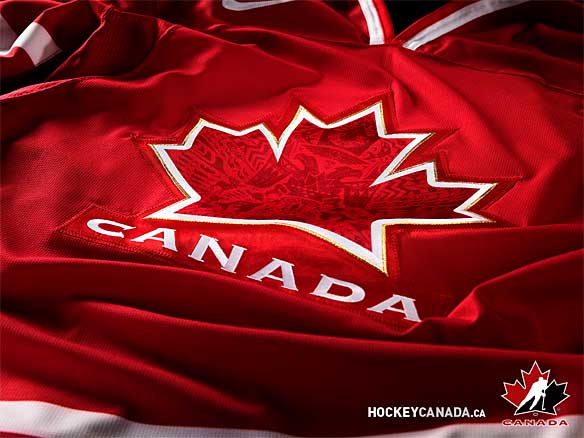 When you reflect on past World Junior Championships, the rivalry between Canada and Russia instantly comes to mind. Both Canada andRussia have dominated the WJC at times, with Canada emerging as the all-time leader in gold medals with 15, while Russia/Soviet Union sits right behind them with 13. Overall,Canada has earned a total of 28 medals, while Russia has earned a total of 30.
While Canada-Russia continues to be the "Gucci" match up for most hockey fans, both Sweden (who won gold at last years tournament) and Team USA (who won Gold in 2010) are quickly establishing themselves as legitimate hockey programs with ample ability to win gold.
Canada dominated the tournament for five straight years, taking home the Gold in 2005, 2006, 2007, 2008 and 2009. No other nation in the history of the tournament has won five straight; something Canada has accomplished twice, winning five straight in 1993, 1994, 1995, 1996 and 1997 as well.
Besides Canada's five straight wins, the Czech Republic has won the tournament twice since the year 2000, while Russia (3), United States (2) andSweden (1) round out the past eleven tournaments.
To say Canada has been a dominant force at the WJC would be an understatement, but there is reason to believe that the competition is catching up to Canada, with Team USA emerging as a serious threat.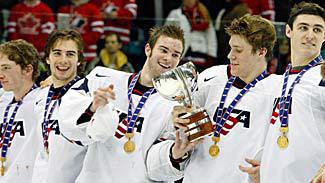 Canadians remember every gold medal win, but just like every poker player that has ever experienced a "bad beat", Canadians also remember every loss at the World Junior Championships, perhaps even more.
Outside of last years horrible loss to the Russians, the 6-5 overtime loss to the United States in the 2010 tournament probably stings the most for Canadians, and it still hurts.
It wasn't that Canada lost to the Americans, it was the way the Americans beat Canada. The Americans were relentless with their attack, beating Canada with timely goals, a plethora of speed and superior discipline. To put it mildly, Canada plain got outplayed by the Americans, and in the end Canadians had to tip their hats to Team USA.
Canada's roster was loaded with talent in 2010 with the likes of Taylor Hall, Brayden Schenn and Jordan Eberle (who scored eight goals for Canada) up front, while Jared Cowen, Alex Pietrangelo (who led all defensemen with 12 points) and Ryan Ellis starred for Canada on Defense.
The duo of Jake Allen and Martin Jones between the pipes played well for Canada, with Allen emerging with the best Goals Against Average in the tournament at 2.06, most shutouts with two and a decent save percentage at 0.902.  Allen would play horribly for Canada in the Gold medal game, leaving many Canadians to question whether or not Canada was capable of developing top-end netminders anymore?
Team USA was also loaded with talent in 2010. Chris Kreider, Derek Stepan (who led the tournament with 14 points), and Jerry D'Amigo (who scored six goals for Team USA) led the way up front, while the trio of Cam Fowler, Jake Gardiner and John Carlson were dominant on defense. Jack Campbell and Mike Lee formed an impressive duo between the pipes.
Both Campbell and Allen were replaced in the gold medal game with their backups. Martin Jones came in for Canada, Mike Lee for the States, with Jones allowing the eventual game winning goal to Team USA's defenseman John Carlson.
Throughtout the 2010 tournament, many Canadians doubted Canada's netminding. Unfortunately, their doubts came to fruition at the wrong time, and it cost them a gold medal.
That said, you cannot put all the blame on Canada's goaltending. As the saying goes; "you win as a team and you lose as a team", and on that day, USA was the better team.
Canada would extract a measure of revenge on the Americans in the 2011 tournament with a 4-1 stomping over the Americans in the semifinals.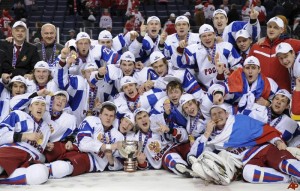 The victory over Team USA was thrilling for Canadians, but in the end it was bitter sweet. After earning a 3-0 lead over Russia in the gold medal game, Canada would surrender five unanswered goals to lose the game by a final score of 5-3 as Russia captured their first gold medal since 2003. If the loss to the Americans was bad, The loss to Russia might just go down as the worst in Canadian history.
Over the past three years Canada has earned a bronze and two silver medals. Good results, but hardly what Canadians (fairly or unfairly) expect from Canada, which is gold or nothing most years.
Team USA has a gold and bronze medal over that same three year period, and while they did lose to Russia by a score of 2-1 at this year's tournament, there is every reason to believe that they will be part of the conversation heading into the Medal Rounds.
Much like 2010, both Team USA and Canada are loaded with talent from top to bottom.
Team USA boasts one of the best goaltenders in the tournament in John Gibson. The United States' defense includes Seth Jones (who may emerge as the top draft pick at the 2013 NHL Entry Draft) and a group of forwards which includes the ultra-talented Alex Galchenyuk (Montreal Canadiens first round draft pick this summer), bruising forward Tyler Biggs (a Toronto Maple Leafs first-rounder this summer), and the speedy Rocco Grimaldi.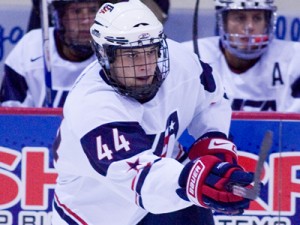 At 6'3" and 224 pounds, Biggs is known for his bone-jarring hits and tenacious play. Biggs will use his physical play to his advantage, making it difficult for Canada to cycle the puck down low.
As good as Biggs is in a physical role, his offense cannot be ignored. Biggs has found his offensive game this season, registering 15 goals and 33 points with the OHL's Oshawa Generals. If you were looking for an unsung hero on the American Team, Biggs might just be your guy.
Given the fact that Canada's defense has been caught flat-footed against the Slovakians and Germans, look for a player like Rocco Grimaldi to expose the Canadians with his excellent speed and tricky puck handling skills.
Grimaldi is a slick player, and exactly the type of player that could cause Canada's defense fits as he weaves his way through open ice. Look for Canada to send a message to Grimaldi early on in the game with a stiff check…that is, if they can catch him!
If the Americans have any chance of beating Canada they will need a big game from star forward Alex Galchenyuk. Galchenyuk has not disappointed thus far, registering four points in two games, but he must find another gear against Canada.
Between the pipes the Americans have played well, giving up just two goals in a loss to the offensively minded Russians. Starting netminder John Gibson brings a stingy 1.21 goals against average into the game against Canada and has looked as solid as they come throughout the tournament.
On the backend Seth Jones' solid play has backed up why so many scouts like him to go first or second overall in the upcoming 2013 NHL Entry Draft, while Jake McCabe and Connor Murphy have also had an outstanding tournament. Jones has all the tools to be a star at this tournament, but he is yet to put it all together.
Make no mistake about it, Team USA is loaded with talent, but much like Team USA, Canada will ice a virtual all-star team Sunday morning. 
Between the pipes Canada boasts Malcolm Subban and a solid backup in Jordan Binnington. Subban has given up a few soft goals thus far, but with his team taking what seems like a record number of penalties, Subban has proven his worth by keeping Canada in games.
There has been a lot of talk about Subban's ability to win the big game. He will get his first real test against the Americans, who are sure to send a lot of rubber his way. Subban (who has given up six goals in his first two starts) is yet to show us his best game and has been far from an elite goaltender thus far.
If I was to point out a weakness in Subban's game it would be his shaky positioning and a penchant for leaving the five-hole vulnerable. Canada is banking on Subban coming up huge the rest of the way, he will need to clean up his game in order to do it.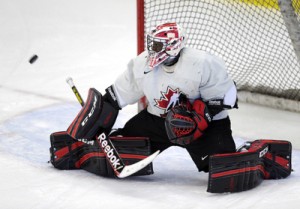 Both Subban and Gibson play in the OHL. Subban plays for the Belleville Bulls, Gibson plays with the Kitchener Rangers.
Through 26 games Subban owns a record of 15-7-3 with the Bulls to go along with a 0.932 save percentage and a tidy 2.17 goals against average. Gibson brings similar stats to the table with a 13-7-0 record, 0.929 save percentage and a 2.33 goals against average with the Rangers.
Both goaltenders are capable of having a big game. Still, there are doubts surrounding Subban, even if they are unfounded thus far.
On defense Canada owns arguably the best group in the tournament. Boston Bruins first round draft pick Dougie Hamilton will lead the way for Canada, while Toronto Maple Leafs first-round draft choice Morgan Rielly and Carolina Hurricanes first-round draft choice Ryan Murphy are chipping in on offense.
Like Jones for the Americans, Hamilton is yet to show us his best game, Canada is banking on him playing at an elite level against the Americans and beyond.
Rielly has quickly established himself as an offensive force, registering four points to lead all defensmen in the tournament thus far. As great as Rielly has been up front his defensive play has been average at best. That said, with no signs of slowing down in the offensive department, Rielly may very well be Canada's hero when the dust settles on the match between Team USA.
Ryan Murphy has a blistering shot from the point. If Canada can find a way to draw a few penalties against the States, Murphy could be a factor. Murphy has a penchant for making poor decisions in his own zone which could lead to him being benched by Canada's coaching staff if he is not careful.
As good as Canada looks on the backend, it is their forward depth that may be the deciding factor when Team USA and Canada face-off.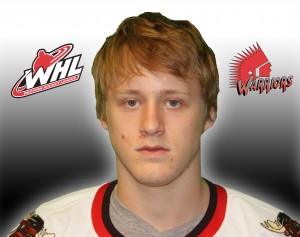 Canada currently boasts five of the top ten scoring leaders in the tournament with Ryan-Nugent Hopkins leading the way with seven points and Ryan Strome sitting right behind him with five points. Canadian defenseman Morgan Rielly, forward Jonathan Huberdeau and the player I think will emerge as Canada unsung hero, Mark Scheifele, round out Canada's top five scorers thus far.
Team USA has just one player amongst the top ten, Alex Galchenyuk, while Riley Barber sits at a distant 23rd overall.
On paper, Team Canada has a roster that is fully capable of dismantling the Americans, but as we learned in 2010, what's on paper means nothing, especially for two teams that hate each other when they go head-to-head.
Due to some undisciplined play, Canada heads into the match against the Americans without the services of forwards J.C. Lipon and Boone Jenner. Both players were suspended by the IIHF for what they deemed to be illegal hits on opposing players.
Jenner is a key member of Canada's shutdown line and a tremendous presence on the penalty kill, while Lipon was quickly establishing himself as a solid two-way forward and energy player.
While it is hard to disagree with the Jenner suspension, the Lipon hit appeared to be fairly clean, but the IIHF did not agree.
"The panel determined that although Lipon did not deliberately attempt to injure Mikus, his elbow to the head of Mikus was careless and dangerous, and the player has to be held accountable," the IIHF said in a statement.
With Lipon and Jenner out, many of Canada's forwards can expect some additional minutes on the ice. Playing a fast paced team like the Americans with a shortened bench is not enviable for Canada, but with most of the forwards playing 25-30 minutes a night with their club teams Canada should be alright.
Canada's team depth should see them through the suspensions to Lipon and Jenner, while the same can be said for the Americans, who will be without the services of one of their top forwards Stephan Noesen, who has been out of the tournament due to a ten-game suspension in the OHL, which made him ineligible for the WJC.
So, how do the teams stack up?
If Canada has the edge in terms of forwards and the defense of the two teams is somewhat equal, the game will likely be decided by the goaltenders. On that front I have to give the edge to the Americans, but time will tell.
Look for the Americans to bring a fast-paced game to the table on Sunday morning. Their defense is mobile, their forward lines are filled with speed, and while there will be a temptation to bang with the Canadians, speed is where the Americans will hold the biggest advantage. Another key for the Americans will be staying out of the penalty box. Canada is yet to impress on the power play thus far, but with a trio of Ryan-Nugent Hopkins, Morgan Rielly and Ryan Murphy on the ice a breakout game is very likely.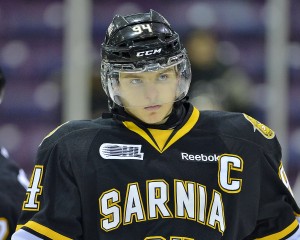 They say if your team is going to win the big games your best players have to be your best players. In my mind that means the Americans will have to get huge games from Gibson, Jones, and Galchenyuk.
Conversely, Canada will look to use its mobile defense to establish the rush and get the puck deep in the Americans end. Gritty forwards like Anthony Camara and Ty Rattie will be counted on to keep the pressure on the American defense, while Ryan-Nugent Hopkins and Mark Scheifele should see plenty of minutes.
A trio of QMJHL forwards must find another gear. Jonathan Huberdreau, Jonathan Drouin and Phillip Danault have played well, but they must step up when the chips are down. There has always been a lot of talk amongst Quebec residents that their players are not properly represented by Team Canada. Well, you got your wish; the "Q" is well represented. Canada will be banking on the selection of these players paying off.
Overall, these two teams are very well represented, which means we can expect a well contested game. I give the edge to the Americans in the goaltending department; Canada gets the edge on offense, while I also give a slight edge to the Canadians on the backend.
Coaching will also be a big factor, but again, with hard-nosed head coach Steve Spott behind the bench for Canada, and former NHL defenseman Phil Housley behind the bench for Team USA, it is hard to give either one an advantage.
Spott will be under the gun to lead Canada to a gold medal; how he handles that pressure will go a long way in determining Canada's success.
Prediction: I hate making predictions. If you are correct, everybody says they knew it. If you are wrong, everyone questions your hockey knowledge. That said, in the spirit of the WJC, I feel strongly that I must make a prediction, so here it goes.
The Americans take advantage of  Team Canada early, who will come out flat. Canada struggles to find their game, taking a few penalties along the way. In true Canadian spirit, Canada outworks the Americans for much of the second and third period, emerging with a hard fought 4-3 victory.
Let the game begin.