The video clip of Patrick Kane celebrating, seemingly alone, as he skated down center ice after scoring the Stanley Cup winner back in 2010 plays over and over again in the memories of both Blackhawk fans and hockey fans.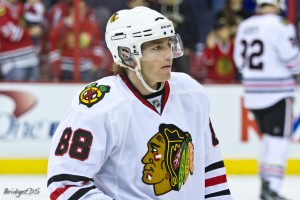 Any hockey fan has dreamed of that exact moment. Of scoring the Stanley Cup winner in overtime. Interestingly, this scenario is a reoccurring dream-come-true for Chicago.
The latest Stanley Cup game-clinching goal for Chicago echoes the goal that helped give Chicago their first Stanley Cup at the end of the 1933-34 season.
Only a few short years after the Blackhawks came into existence in the Original Six days, they were looking less than Stanley Cup worthy. Early on, their season records were poor, a characteristic of newly born teams that is still seen with the latest NHL expansions. But when the 1930's rolled around the Blackhawks were starting to find their footing and a scrappy right-winger from Sitton, Saskatchewan named Harold March made his presence felt. But March has enough in common with Kane to make hockey historians believe that lightning can strike twice.
Harold March was born October 18, 1908, while Kane was born one month, one day, and seventy years later on November 19, 1980. Both players had successful hockey careers before wearing Chicago's famous Indian head.
While Kane was playing for Team USA's Under 18 Team where he lead the team in scoring along with helping the London Knights get to the Western Conference finals just  before he entered the NHL draft, March spent time on the Regina Monarchs' roster where he helped his team take the Memorial Cup. The junior leagues before the big stage were good to each man.
Both players took those successful early hockey experiences to make their way to the NHL where both of their professional hockey careers would begin with the Chicago Blackhawks.
Before either player was assigned to Chicago's roster, the team was experiencing some struggles in the league. Chicago was the worst team in the NHL when March was first signed, and in the years previous to Kane's arrival Chicago wasn't as bad, but pretty close. They were third and fourth from the bottom in league standings the two years before anyone saw Kane wear an NHL jersey.
But the addition of both players would help push Chicago back to the top of the pack. Both men stood just over five-foot, and took their position at right-wing.
While March is credited with scoring the first-ever goal at Toronto's Maple Leaf Gardens, an honor that will be forever etched in NHL history, Kane has an Olympic Silver Medal in his trophy case.
Eventually both March and Kane would help Chicago get to the Stanley Cup finals, where they would prove priceless.
March's goal to give Chicago their first Stanley Cup, is recorded in NHL history books as the first ever overtime goal to give a team a Stanley Cup. An event repeated 66 years later.
Chicago faced heated rival the Detroit Red Wings in the 1934 Stanley Cup finals when, in Game 4, March was able to put the puck through the legs of Detroit goaltender Wilf Cude at the 10:05 mark of the second overtime. That goal, the only one of the game, made Chicago Stanley Cup Champions.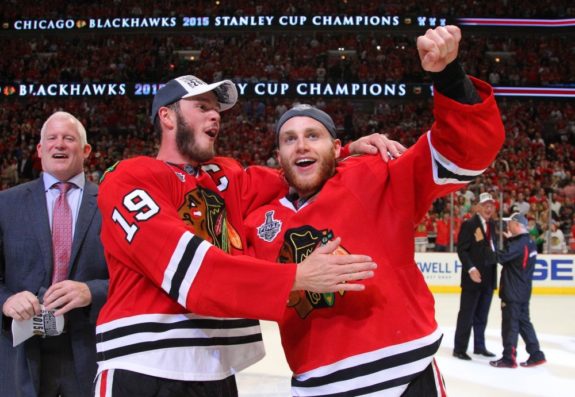 Kane's goal in 2010 has some similarities. Chicago was facing the Philadelphia Fliers in the Finals and the teams quickly became heated rivals. A competition that still carries on today. It only took Kane one overtime instead of two, but at the 4:06 mark, Kane sent a shot at Michael Leighton that slipped through his legs and into the back of the net.
Both goals were scored, and both Stanley Cups were won, while Chicago was on the road, away from their passionate fans.
Afterwords, the goal-scorers had similar remarks about their accomplishments.
"I knew it was in right away," said Kane. "It's unbelievable to be a part of this. I can't believe this just happened. It's something you dream of as a kid. To score the winning goal in the Stanley Cup Finals, it was just unbelievable."
Perhaps Kane's dreams were remakes of what March made possible. "Well on that goal, that won the series, they had a face-off," March remembers.
"I shot it and it went through Cude's legs and into the net. I didn't realize it at the time, that we'd won the Stanley Cup, but it was great. The fellows grabbed me and wheeled me on their shoulders all the way around the rink," said March.
"It's always nice to be a champion," he added.
Harold 'Mush' March would go on to play 759 games in the NHL, all of them with Chicago. He would tally up 153 goals and 230 assists for 383 points.
As of currently, Kane is on track to surpass March in goals, assists and points. Kane has 126 goals in the NHL with 243 assists to amass 369 points. Many believe Kane will top those marks eventually. But his 399 games with Chicago may not catch up to March's total.