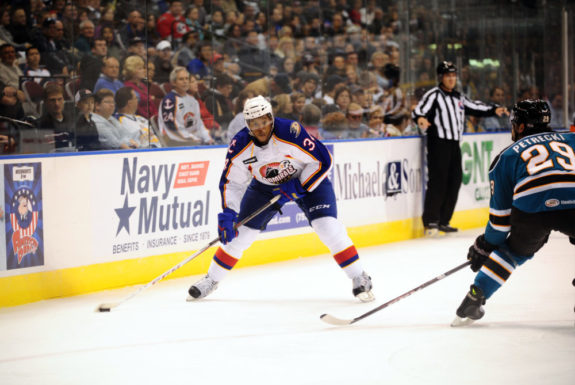 At 20 many young Americans and Canadiens envision what their life is going to be like in 5 years down the road.  Ducks prospect Devante Smith-Pelly doesn't have to worry about that. His future points towards a great career in the NHL.
At such a young age he has already climbed the ladder to success.  Devante has put his stamp on the NHL last season leading all Anaheim rookie skaters in games played, goals, assists, scoring and ice time. On top of his whirlwind performance last season the Scarborough, Ontario native was called upon to represent team Canada in the 2012 WJC Tournament in Alberta. He was one of only two NHL players that suited up for his country alongside Tampa Bay's Brett Connolly.
Things don't always go as planned.  Smith-Pelly's was knocked out of commission when he broke his ankle blocking a shot during a preliminary game against Sweden. Devante opted to stay with team Canada and root them on to the bronze medal rather than go back to Anaheim and start rehabbing his ankle"It sucked that it wasn't gold and it sucked not being able to play but it was a great experience in Canada and it's something I'll never forget." Stated Smith-Pelly sharing his thoughts on the WJC tournament.
With the NHL on hold for the time being many players that should be playing in the NHL are competing with their AHL affiliates. Devante Smith-Pelly is no different competing with the Ducks AHL affiliate the Norfolk Admirals. The rugged right-winger commented on how he is using his time in the AHL to improve saying, "I'm using the time to get better and more mature. It's a great league this year. The travel is different and I'm learning as I go here."
Admirals Associate Coach Mike Haviland commented on Smith-Pelly's playing style as "A power forward and a guy who can skate well. When he finishes checks he makes other team's second guess themselves going to get pucks."
Coach Haviland hit the nail on the head so to speak Devante has opposing clubs second guessing themselves weighing in at a solid 220 pounds while standing at an even 6 feet. Haviland also spoke about how he still needs to work on using his weight to his advantage and finishing his checks.
As far as handling his time in the minor leagues Coach Haviland had this to say about his rugged power forward, "He's been okay. I think early on he struggled with it but now he was done pretty good with it."
When you play in such a high profile league like the AHL young guys need a place to regroup and recharge the batteries. Devante and his roommate Emerson Etem are no different. They like to go home and hang out and listen to music and just kind of relax according to Smith-Pelly. If you follow either roommate on twitter you can tell they are huge music buffs who are always jamming out to Drake whose hometown is about 25 miles from Devante's.
It's no secret in the hockey community that some players play the role of prankster. The second year pro shared that his roommate Emerson Etem is a real good jokester while in addition Smith-Pelly stated,"Kyle Palmieri isn't funny but he is funny looking." Its little things like this that make teams bonds grow stronger going down the stretch to the AHL All-Star break that's what the Admirals need.
As the season rolls along Devante will find himself playing in different situations that will help improve his ability as a player. Rather it be on the power play, Penalty kill or just going out and grinding the opposition down using his hefty frame Smith-Pelly is improving his skill set so when the owners unlock the doors to NHL arenas he can suit up for his second full season in the National Hockey League and take what he learned in Norfolk and apply it at the NHL level. Not to mention this youngster has a bright NHL career in front of him. Granted he is only 20.