The Goal of My Life: A Memoir
By Paul Henderson with Roger Lajoie. (2012, Toronto: Fenn/McClelland & Stewart. Hardcover. Pp. 304. $32.99. ISBN 978-0-7710-4650-6.)
But if you ask me the question, "What is the goal of your life?" then you might be surprised to hear my answer. – Paul Henderson
Paul Henderson is best known as a former NHL player and hero of the 1972 Summit Series for Canada. The majority of people who have any idea about the name 'Paul Henderson' will make that connection. But, it's been over 30 years since he retired, and Henderson has become known to many as a Christian who speaks to groups of men on spirituality. And, most recently, it's become known that he now is dealing with cancer.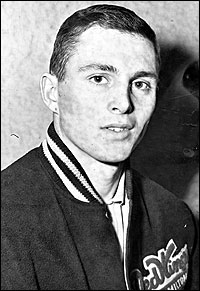 In 1992, Henderson published Shooting For Glory, an autobiography. It would seem to cover much of the best-known parts of Henderson's life… growing up in south-western Ontario; joining the Hamilton Red Wings and eventually playing with Gordie Howe, Terry Sawchuk, and the other Detroit Red Wing greats; the trade to Toronto and his selection to the Summit Series team; his move to the WHA and eventually to the Southern US with the Birmingham Bulls and a short stint with Atlanta's Flames. And his life after hockey.
Now, twenty years later, The Goal of My Life covers some of the same material. Written in the first person, Henderson discusses his early life, his relationship with his dad, and the pressures he put upon himself to succeed. He recalls meeting, marrying, and building a life with Eleanor and his three daughters.
Paul talks about his life in hockey, from junior to playing with some of the greatest in hockey's history both in Detroit and Toronto. Paul details how the trade from the Red Wings and success with linemates Norm Ullman and Ron Ellis (who wrote this book's foreword) led to an invitation to the Summit Series. And of course, there are many pages devoted to that September series.
The Goal in 1972
Henderson has never shied away from the notoriety he gained after having scored not only The Goal, but the winning goals in games 6 and 7 as well, and seven goals total in the series. But Henderson also covers some of what may be seen as the controversial, or at least unconventional, aspects of his life as someone who made his living in the rough and tough world of sport.
Not everyone recalls that Paul was a spokesman for CCM helmets at a time when 'real men' didn't wear them. He also left the Maple Leafs for the WHA, a move that may well have cost him a post-playing career. Henderson also discusses his experiences with concussions and fighting, and his current views on these issues now prominent in today's game. But certainly much of the focus falls on Paul's decision to welcome Jesus into his life, and then help others do the same for the last 30-plus years, and be completely open about it – not necessarily something people expect. And most recently, Paul talks about his diagnosis with chronic lymphocytic leukemia, and how he is handling this new challenge.
Henderson on George Stroumboulopoulos Tonight from September 2012.
In addition to the story, there are five appendices which provide a timeline of Henderson's life, information on the drive to put Paul in the Hockey Hall of Fame and on the Cops for Cancer campaign, updated information on the members of Team Canada '72, and memorable quotes about the Summit Series.
The Goal of My Life is the story of one of hockey's heroes. It reads as though you are sitting next to Mr. Henderson, listening to him speak over a cup of coffee. The inclusion of paragraphs written by men who have known Paul through his ministry, as well as observations by Paul's good friend and former linemate Ron Ellis, paint a l picture of a man whose life and career go well beyond a few weeks one September.