The puck drop for the 2013 CHL NHL Top Prospects game has almost arrived as scouts converge to take in the talent available for the upcoming NHL Entry Draft. The annual game, that features teams named after the great defenseman Bobby Orr and legendary coach and hockey personality Donald Cherry, takes place in the home rink of the Halifax Mooseheads at the Halifax Metro Centre.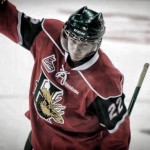 The game featuring the Canadian Hockey League's top draft eligible talent is an important event in the evaluation process of NHL scouts as they analyze how these exceptionally skilled players match up against their same aged peers.  Headlining this year's contest are potential first overall selections in centreman Nathan MacKinnon and blueliner Seth Jones. MacKinnon and Jones will be competing for Team Cherry and Team Orr, respectively, and will be joined by several of their teammates from their junior squads.  The host city of Halifax will be represented by three Mooseheads including MacKinnon, linemate Jonathan Drouin and potential top drafted netminder Zach Fucale.  Portland is well represented with Seth Jones, Oliver Bjorkstrand, and Nic Petan all of whom will don the Team Orr jersey. Max Domi, Bo Horvat and Nikita Zadorov will join the Portland trio on Team Orr as the three London Knights bring their diverse talents to Halifax for the showcase game. Leading the way with the most participants are the Rimouski Oceanic with four players making the trip to Halifax in Frédérik Gauthier, Samuel Morin, Jan Kostalek and Philippe Desrosiers.
The Ontario Hockey League is represented by a league-most 16 players (including two injury replacements) while the QMJHL sits second with 13 players competing (not including the injured William Carrier) and the WHL will skate 11 players (not including the injured/sick Ryan Pulock, Hunter Shinkaruk and Eric Comrie).
At the last year's CHL-NHL Top Prospects game, the storyline was the number of players sidelined with injuries as three of the eventual top five picks of the 2012 NHL Entry Draft were unable to participate due to injury. The Sarnia Sting duo of Nail Yakupov (1st overall, Edmonton Oilers) and Alex Galchenyuk (3rd overall, Montreal Canadiens), as well as WHL defensemen Morgan Rielly (5th overall, Toronto Maple Leafs) were unable to showcase their individual talents as they continued to nurse and rehabilitate injuries that limited their playing time throughout their draft season.
Fortunately, heading into this year's event the lineup remains healthier with only a few notable injury replacements. Replacing potential top-10 defenseman, Ryan Pulock (Brandon Wheat Kings, WHL), on Team Cherry is defenseman Jordan Subban (Belleville Bulls, OHL) while Cole Cassels (Oshawa Generals, OHL) will be entering the lineup for the injured William Carrier (Cape Breton Screaming Eagles, QMJHL).
EDIT (Game Day Update): Laurent Dauphin (Chicoutimi Sagueneens, QMJHL) will replace Hunter Shinkaruk (Medicine Hat Tigers, WHL) on Team Orr who will miss the game with the flu. Furthermore, top goaltending prospect Eric Comrie (Tri-City Americans, WHL) will be unable to participate due to injury and will be replaced by Philippe Desrosiers (Rimouski Oceanic, QMJHL).
The annual CHL-NHL Top Prospects game has featured several of the National Hockey League's current NHL stars including Joe Thornton (1997), Vincent Lecavalier (1998), Rick Nash (2002), Jay Bouwmeester (2002), Eric Staal (2003), Jeff Carter (2003), Corey Perry (2003), Mike Richards (2003), Ryan Getzlaf (2003), Dion Phaneuf (2003), Claude Giroux (2006), Jordan Staal (2006), Patrick Kane (2007), Drew Doughty (2008), Steven Stamkos (2008), Alex Pietrangelo (2008), Tyler Myers (2008), John Tavares (2009), Taylor Hall (2010), Cam Fowler (2010), Ryan Nugent Hopkins (2011), and many more.
Of the 40 participants in the 2012 CHL-NHL Top Prospects game, including 26 forwards, 12 defensemen and four goaltenders, only two players went undrafted in the NHL Entry Draft showing that this game can serve as a significant launching pad to a player's professional career. All 40 participants in this year's top prospect game have been ranked in the mid-term rankings of the NHL Central Scouting Service (released yesterday).
To prepare for Wednesday's Top Prospects Game, let's take a closer look at each participant.
TEAM CHERRY
William Carrier, LW (Cape Breton Screaming Eagle, QMJHL) *injured*
Big powerful forward has carried his team's scoring despite having little support.
Cole Cassels, C (Oshawa Generals, OHL)
The Ohio-native has really amped up his game over the past month or so and he has been rewarded with an invitation giving himself a real opportunity to introduce himself to the hockey world.
Laurent Dauphin, C (Chicoutimi Sagueneens, QMJHL)
The former 1st round selection in the 2011 QMJHL Draft sits third among league rookies in scoring.
Jason Dickinson, C (Guelph Storm, OHL)
Dickinson is a big centerman with good hands and instincts that could develop into a great player as he shows a ton of raw potential.
Jonathan Drouin, LW (Halifax Mooseheads, QMJHL)
A creative and heady player that has rocketed up the draft boards and is starting to receive first overall consideration.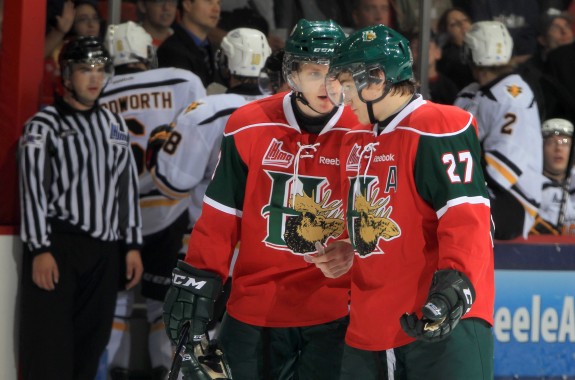 Frédérik Gauthier, C (Rimouski Oceanic, QMJHL)
Pivot with great pro-size and a strong two-way game that has first round potential written all over him.
Stephen Harper, RW (Erie Otters, OHL)
Streaky winger with a good frame started the season strong but needs to show he can bring it every game.
Ryan Hartman, C (Plymouth Whalers, OHL)
Tenacious and skilled forward has been trending upwards since winning gold for Team USA at the 2013 WJHC.
Morgan Klimchuk, LW (Regina St. Pats, WHL)
Leads his Regina team in scoring, Klimchuk has been a well-known name for several years and is looking to continue that trend. 
Ryan Kujawinski, C (Kingston Frontenacs, OHL)
Inconsistent pivot that plays at his best when engaging physically and driving to the net. 
Nathan MacKinnon, C (Halifax Mooseheads, QMJHL)
Speed, speed and more speed. MacKinnon is an elite skater with franchise potential and will certainly be drafted within the opening few picks.
Anthony Mantha, LW (Val-d'Or Foreurs, QMJHL)
Mantha is one of the more appealing prospects with his size, skill and hockey intelligence. Currently sits among the top 5 in QMJHL scoring, ahead of draftmates MacKinnon and Drouin (both have played less games).
Zach Natasiuk, RW (Owen Sound Attack, OHL)
Gritty forward who can play a number of different roles and should be considered within the opening four rounds of the draft.
Valentin Zykov, RW (Baie-Comeau Drakker, QMJHL)
Strong winger who excels along the boards winning puck battles and is coming off one of the CHL's best single game performances this year with six points.
Samuel Morin, D (Rimouski Oceanic, QMJHL)
Massive defender (6'6") who projects as a solid defensive defenseman who can log huge minutes against the opposition's top players.
Josh Morrissey, D (Prince Albert Raiders, WHL)
Morrissey is among the draft class' top defensemen with his astute offensive skills that include effortless skating, great on-ice vision and the ability to control the pace of the game.
Mirco Mueller, D (Everett Silvertips, WHL)
The Swiss defender is just another great defenseman coming from the Western Hockey League and scouts are appealed to his consistent mistake-free style of game.
Darnell Nurse, D (Sault Ste. Marie Greyounds, OHL)
With great athletic genes, Nurse has shown impressive potential at the major junior level. His mobility is among the best of any defender in his draft class.
Ryan Pulock, D (Brandon Wheat Kings, WHL) *injured*
The kid with a howitzer of a point shot will not be able to participate in the top prospects game (due to injury) leaving many disappointed as he will not be able to compete in the hardest shot competition either.
Eric Roy, D (Brandon Wheat Kings, WHL)
With room to grow defensively, Eric Roy certainly makes up for any shortcomings with above-average talents on the offensive side of the puck.
Jordan Subban, D (Belleville Bulls, OHL)
The youngest Subban was recently named as an injury replacement and this opportunity might be the perfect situation for him to show that he can excel against the best-of-the-best.
Zachary Fucale, G (Halifax Mooseheads, QMJHL)
Playing on a strong Mooseheads team, Zach Fucale has posted mediocre numbers but certainly has all of the attributes that scouts seek in a potential starting goaltender.
Tristan Jarry, G (Edmonton Oil Kings, WHL)
The Oil Kings' backup netminder to Laurent Brossoit certainly does not play like he is second string, especially since Jarry leads all WHL goaltenders with stingy 1.68 GAA and four shutouts in only 16 starts.
TEAM ORR
Justin Bailey, RW (Kitchener Rangers, OHL)
Skilled forward with lots of raw potential features a great shot but needs to stay healthy.
Oliver Bjorkstrand, RW (Portland Winterhawks, WHL)
Winger with a great shot and a sniper's mentality will continue to push for a top 60 selection.
Max Domi, LW (London Knights, OHL)
The small offspring of former NHL favourite tough guy, Tie Domi, Max possesses elite offensive upside and shows a hunger for the puck.
Anthony Duclair, LW (Quebec Remparts, QMJHL)
Duclair has speed to burn and it is the vehicle he uses to provide solid offensive numbers.
Adam Erne, RW (Quebec Remparts, QMJHL)
American that has the total package of size, skill and intelligence to become a great professional player.
Bo Horvat, C (London Knights, OHL)
Underrated offensively, Horvat is a player that can do it all with few weaknesses in his game which makes him a coach's dream.
Curtis Lazar, LW (Edmonton Oil Kings, WHL)
Two-way forward with invaluable intangibles should fall somewhere inside the top 30 picks.
Sean Monahan, C (Ottawa 67's, OHL)
Arguably, the 2013 draft classes' most complete player has remained a top 10 selection for over a year.
Nicolas Petan, C (Portland Winterhawks, WHL)
Small but extremely skilled and elusive forward who currently leads the WHL in scoring and is making it hard not to consider him as a potential first round pick.
Kerby Rychel, LW (Windsor Spitfires, OHL)
Scoring forward with ideal pro size but competing harder and more consistently would really elevate him to the next level.
Hunter Shinkaruk, C (Medicine Hat Tigers, WHL) *flu (will miss game)*
Slick skating forward that displays great vision and offensive flair to warrant a top 10 selection in a very deep draft class.
Nick Sorensen, RW (Quebec Remparts, QMJHL)
Lanky good skating winger with a knack for getting to the scoring areas to snipe goals.
Chris Bigras, D (Owen Sound Attack, OHL)
Underrated rearguard has a solid two-way game that should interest NHL teams anywhere inside the top 50 selections.
Madison Bowey, D (Kelowna Rockets, WHL)
An athletic blue-liner that jumps into the rush with authority and can operate the powerplay well. 
Seth Jones, D (Portland Winterhawks, WHL)
Potential franchise defenseman has the attributes every NHL team dreams about – size, offensive skill, defensive acumen and poise.
Jan Kostalek, D (Rimouski Oceanic, QMJHL)
Not overly flashy but a solid two-way defenseman that can skate, move the puck efficiently and has the ability to go within the opening two rounds.
Shea Theodore, D (Seattle Thunderbirds, WHL)
This sizeable offensive defenseman could potentially slide into the first round with his puck-moving ability and good defensive awareness.
Nikita Zadorov, D (London Knights, OHL)
Raw, raw, raw.  Zadorov has probably the most intriguing upside of any prospect entering the draft and his downside is not too bad either as a solid shutdown defender.
Eric Comrie, G (Tri-City Americans, WHL) *injured*
The younger brother of former NHLer Mike Comrie, Eric has had success at all levels of competition and stands to be one of the early goaltenders taken at this year's draft.
Philippe Desrosiers, G (Rimouski Oceanic, QMJHL)
A late birthday makes Desrosiers one of the younger participants in this game and is considered the second best goaltender in the QMJHL behind only Zach Fucale.  Entered into the game after news that Eric Comrie would miss the contest with an injury.
Spencer Martin, G (Mississauga Steelheads, OHL)
Extremely agile goaltender that plays big in the blue paint.  Has an extremely low panic threshold that gives him a stabilizing presence.
Be sure to tune into Sportsnet TV to catch the annual CHL-NHL Top Prospects game beginning at 7pm EST Wednesday, January 16th.