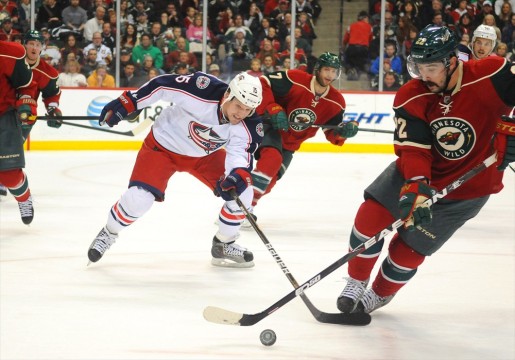 After a very active offseason in free agency, Minnesota's top two offensive lines look as deadly as any in the NHL. With the top six looking set, the Wild has a plethora of character forwards to create a lethal bottom six from. Kyle Brodziak and Zenon Konopka will be the third and fourth line pivots, respectively, and will have four of the group of Pierre-Marc Bouchard, Cal Clutterbuck, Darroll Powe, Torrey Mitchell, Stephane Veilleux, Jake Dowell and Matt Kassian as their wingers. Each NHL team can only have 23 players on the roster, which means that one or two of these forwards will not make the team, at least not right away.
Of that group, Dowell is the only forward on a two-way contract this season, which means if he's sent down the Wild will not have to pay him in the AHL like they would in the NHL. Plus, it isn't all that likely that he'd be picked up off waivers and re-entry waivers no longer apply under the new CBA if Minnesota chooses to recall him. If Minnesota does send him down, then both Veilleux and Kassian make great extras to the Wild's roster. However, the defense corps isn't looking so good at the moment with two top young guns (Marco Scandella and Jonas Brodin) out with injuries and Minnesota is now forced to run training camp with AHL defenseman Steven Kampfer and top 2012 draft pick Mathew Dumba acting as temporary band-aids until help arrives. With the abundance of depth forwards and a weakness on defense, it's time for Wild GM Chuck Fletcher to consider his options.
As of right now, head coach Mike Yeo has his bottom six drawn up like so going to camp:
Bouchard-Brodziak-Clutterbuck
Powe-Konopka-Mitchell
Dowell, Veilleux and Kassian are on the outside looking in at this point and there's fresh blood like prospects Charlie Coyle, Jason Zucker, Johan Larsson and Brett Bulmer chomping on the bit for a chance to wear Iron Range Red. It's time to make a trade that not only benefits the defense, but also gives the young guns a shot.
So who does Fletcher trade? Who brings the most value? Bouchard is untouchable at this point due to his injury history and the uncertainty that surrounds, plus Minnesota will likely let him walk this summer in free agency. Konopka and Mitchell are here to stay for a few seasons as they bring much needed grit and aggression to the Wild lineup. Powe and Veilleux are both great character guys that Minnesota desperately needs, so they're not going anywhere anytime soon, not to mention they wouldn't fetch much value in return. How about Kyle Brodziak? Three words: no way, Jose! Brodziak is one of the best third line centers in the entire NHL and Minnesota doesn't have a guy ready to take his spot at the moment, though 2010 2nd rounder Johan Larsson is probably the man for the job. Okay, why not Matt Kassian? Well, there are always teams looking for that next great enforcer, but Minnesota has seen what he can do and the idea of a Powe-Konopka-Kassian line in games against tough teams is too good to pass up.
So who does that leave us with? That's right, Cal Clutterbuck. Before you come after me with your torches and pitchforks, hear me out. Clutterbuck is one of those guys you just love to watch; he's consistently among the league leaders in hits, is a guy that can quickly get under the skin of his opponents and can also score goals, especially shorthanded. The man who, according to Don Cherry, has "the prototypical hockey player name" is a guy that would fetch considerable trade value for Minnesota because 29 other teams are looking for a guy like him. Though only 25, Cal's days in Minnesota could soon be at an end. Not because he's terrible by any means, but because Minnesota has talented young guys like Jason Zucker and Brett Bulmer who could instantly step into his spot in the lineup and succeed. Zucker in particular is an explosive player, wielding speed and a dangerous scoring touch that Minnesota could especially use on the third line.
Well, where does Clutterbuck go? What NHL team would be a good fit for him and what player would be a good return for Minnesota? The logical thing to do would be to look at Minnesota's most recent or common trading partners and the Boston Bruins is one of the first teams that instantly pops to mind. Looking at the defensemen on Boston's roster, Andrew Ference is an enticing. According to Cap Geek, Ference has a cap hit of $2,250,000 and is a UFA after this season. An older defenseman at age 33, he isn't a permanent option for Minnesota, but he brings a wealth of playoff experience (106 games) and is a guy that can be counted on to lead the Wild's young defensive corps while playing top minutes in all situations.
Could a trade like this happen right away? It could if it takes longer for Scandella and Brodin to come back than expected, but don't be surprised if it happens at the trade deadline when teams are looking for that top four veteran defenseman. A guy like Ference would certainly become a hot commodity and you can bet Fletcher will be actively looking for a good #3-#4 defenseman before it gets to that point. Minnesota acquiring a guy like him could mean all the difference between a deep playoff run and missing the playoffs for the fifth straight year.
So, back to the title of the article: is Cal Clutterbuck expendable? Yes. The fact of the matter is, while Clutterbuck has certainly been a fan favorite during his time here in Minnesota, it's time for him to move on to greener pastures. The young guys are ready and Minnesota desperately needs a veteran top four defenseman. Clutterbuck is simply Minnesota's best trade bait at the moment without having to sacrifice the future of the franchise. Whether it's to Boston for Ference or to any other team for any other defenseman, Fletcher needs to use this commodity while it's hot and use it as an opportunity to shore up his defenses. If he doesn't, Minnesota could be in for a rude awakening once the season begins.