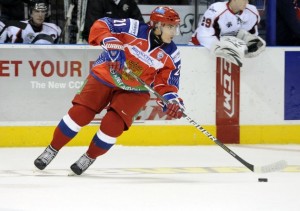 The moment the Edmonton Oilers won the draft lottery and the right to select first overall at this years NHL entry draft, the speculation began. Would the Oilers keep the pick or trade it for someone who could help the team now? Would they take the best player even though they have more pressing needs at other positions? Oilers GM Steve Tambellini isn't tipping his hat, nor is he dismissing any possibilities. The consensus number one pick this summer is Russian forward Nail Yakupov who plays for the Sarnia Sting in the OHL. He is highly skilled, with the speed and hockey smarts to be an impact NHL player. But he is an offensive forward, something the Oilers have plenty of, leading many to wonder if Edmonton will choose him or go with a defenseman like Ryan Murray. Having a plethora of skill up front is never a bad thing, but there are so many holes in the Oilers line-up, and as the team grows together in the years to come, will they even be able to afford all these players in the salary cap era? Lots to think about. Yakupov, however, has already appeared to have his mind made up.
Yakupov's agent, Igor Larionov revealed some fascinating tidbits from his client, mainly that the youngster wanted to be an Edmonton Oiler.
"Nail Yakupov is very happy Edmonton is picking No. 1. If it's going to happen, he'd be very happy to play for a team like that, with all the talent they're putting together. I know he wants to play for the Oilers. I know his work ethic and I know his desire to be No. 1. He told me he'd be very happy to play with a team like that, with such a great future, for the next 10 years." (Edmonton Sun)
Yakupov was asked about his agents quote, and it was in fact very true.
"I definitely want to go to Edmonton and play for the Oilers, for sure. I've played in Canada, in Sarnia, for the last two years. I love the people. I very much want to play for a Canadian team like Edmonton. I want to play for those guys. If they draft me, I will work very hard to make the team." (Edmonton Sun)
It must very refreshing for Oilers fans to hear Yakupov say such positive things about Edmonton, especially after Chris Pronger wanted out a few years ago, and Dany Heatley flat out refused to come. To hear a young player who hasn't even been drafted by the team express that excitment is not lost on Oilers management. Character is an important factor when selecting a player.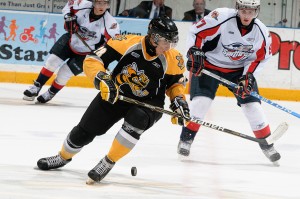 "Getting to know Yakupov is going to be big going forward," said Tambellini. "If you are the first overall pick, playing in a Canadian market, you have to have special qualities. You have to have maturity and confidence. You have to have courage, aside from all the talent. That's what you have to find out, whether they're from Russia or Sweden or Canada. We have to know what Yakupov's family is like, what his teammates think of him, his coaches. How does he react to this scrutiny?" (Edmonton Sun)
The prospect of Yakupov joining an already potent offense is no doubt tempting for the Oilers, but it's not yet a lock. Scouts may feel that he is as close to a sure thing as you can get, but Edmonton would be remiss to not seek out every possible option when it comes to their 3rd consecutive 1st overall pick. There is a very good chance though, that Nail Yakupov could be wearing an Oilers jersey on June 22nd in Pittsburgh.