After three seasons, the National Collegiate Hockey Conference has proven to be a strong conference from top to bottom. There are no off nights. While it sounds cliché, every game is a war.
Week-to-week, in NCHC  play, there are no easy games. Any team can win on any given night. If your favorite team has aspirations of winning the Penrose Cup, they can't take a night off. Take two night's off and your team's conference title hopes can go down the drain. Teams shuffle in the standings from game-to-game. The NCHC coaches, players, and fans wouldn't have it any other way.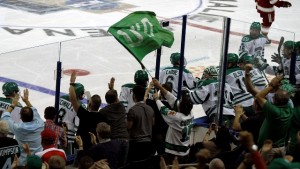 Develop Brand Before Expanding
Some NCHC fans have joked that the conference's regular season trophy should be a meat grinder. All jokes aside, the NCHC has developed an identity as being a very tough league with top teams. Any team in the conference can beat anybody on any given night. Series sweeps are hard to come by.
In the first three seasons, the NCHC has had 13 teams qualify for the NCAA tourney. Four NCHC teams have made the Frozen Four. In their third season, UND won the NCHC's first national championship. That's a pretty good start.
Before the NCHC considers expansion, the conference should continue to develop their Branding and identity. The NCHC needs to take care of the eight teams currently in the conference before they add other teams.
NCHC only Conference with a Third-Place Game
Recently, I've been pondering some of the things that make the NCHC unique. The NCHC is the only conference that still has a third place game. All the other major conferences have eliminated the third place game.
After this year's third-place game, Denver Pioneers head coach Jim Montgomery said something that resonated with me. Despite the fact that both teams had already qualified for the NCAA tourney and didn't need to play in third place game. Second, both teams rested many of their key players for various reasons.
With these facts in mind, Pioneers head coach Jim Montgomery was still in favor of keeping the third place game. It's part of the building a brand and establishing a league identity.
"I think it's important for us to build our brand and our league, and for us to be able to sell tickets first of all," Montgomery said. "For us to be able to… a lot of people think there's nothing in the consolation game. Our players are used to playing back-to-back games. So when we go to the NCAAs, we have to be in that kind of condition. If you get out of that rhythm it does affect your body physically."
At times, it will be tough for the players to get up for a meaningless third-place game. Especially, when both teams have already qualified for the NCAA tourney. However, that's not always going to be the case. In the NCHC's first season, UND needed to win the third-place game just to have a chance to make the NCAA tourney. So, there will be times where the third place game has a purpose. This also part of the NCHC branding that makes the conference unique.