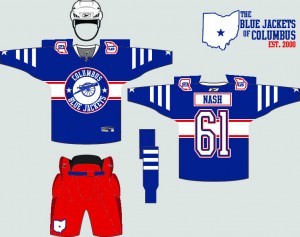 The Columbus Blue Jackets will be unveiling their new 3rd jersey on Wednesday, and the team will debut the new sweater on the ice on Friday agains Detroit.  The displayed concept drawings have fallen into my hands, represented as being one of the concepts under consideration.  So, can't say that this IS the new third jersey, but it is an intriguing hint as to direction, in any event.
Certainly the design is evocative of the "old school" kind of charm that rumors had suggested was in the offing, and prominently displays "The Cannon", which is rapidly becoming a signature image(and sound) for the franchise.  If this proves to be the design, Columbus could do far worse.
Again, can't say that this is IT — but it seems to fit the rumors.    Tomorrow, the suspense will be over, and we can return to focusing on hockey!