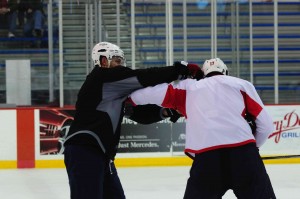 During the offseason, General Manager George McPhee sent popular prospect Stefan Della Rovere to St. Louis in a deal that brought heavyweight D.J. King to the nation's capitol.  McPhee sold it to the media and fans alike by saying that King wasn't strictly a fighter, that he could play too and wouldn't necessarily be a scratch every game the opponent didn't have an enforcer on their roster.  21 games into the season, the definition of King's role on the top team in the league is murky at best.
King has dressed for only six of the Caps' games so far this season, and the 15 scratches have all been healthy.  That isn't too far off from what was expected going into the season, but what is unexpected is some of the games he has watched from the press box.  King has, for example, sat out both games against the Philadelphia Flyers this year.  The Flyers are known for their rough style of play, and those were the kinds of games it was initially thought King would play in.
In the six games he has played, King has recorded zero points accumulated a plus-minus rating of minus-3.  These numbers likely don't inspire confidence from the coaches, and that has probably been a reason he has watched so many games from the press box this year.  King doesn't even lead the team in penalty minutes or fights (Matt Hendricks holds the lead in both categories with 30 PIM and 4 fights).
At a salary of $637,500 per year, it is a reasonable price for an asset that can be significant against certain opponents.  However, the lack of a role King seems to be playing on this team so far brings into question why McPhee would trade away such a promising prospect in Della Rovere, who has accumulated two goals, five points, and 31 penalty minutes in 17 games for the AHL's Peoria Rivermen this season.
King's contract keeps him with the Capitals through next season barring a trade.  It is possible that King's lack of playing time is simply because there haven't been many opportunities so far this year.  It is somewhat surprising that he hasn't suited up for either game against the Flyers so far, but he was dressed against the Rangers for the purpose of keeping Derek Boogaard in check.
There is still time for his role to grow, and King is likely also still adjusting to a new city, organization, and system.  Tonight, the Capitals are set to face the New Jersey Devils.  The last time these two teams met, King was out of the lineup and a melee ensued that began with a fight between Mike Green and Ilya Kovalchuk.  It would seem like a prime opportunity to get King in a game, but it is looking like he will be a healthy scratch yet again.
It is still early in King's time with the Capitals, and role will continue to evolve the longer he is with the team.  His potential role seemed to be overstated at the time of his arrival, and the Capitals don't want to change up the lineup as they find their form.  The trade can only be properly judged at the end of the year, but as of now, the payout has yet to be shown.
Keara is a DC native and correspondent for the Washington Capitals. She studies Journalism with a minor in Sport Studies at Ithaca College, where she reports sports news for the television station. Follow her on twitter @KGDowd.