The Calgary Flames made their biggest off-season decision in terms of off-ice personnel yesterday as General Manager Jay Feaster opted to tab a familiar face to coach the Calgary Flames, bringing Bob Hartley into the fold.
Hartley and Feaster share a personal and professional relationship that spans over a decade. Before Feaster got his big break as GM of the Tampa Bay Lightning, he served as the President of the American Hockey League's Hershey Bears when they were then affiliated with the Colorado Avalanche after the Nordiques moved to Denver in 1995. Feaster's head coach in Hershey was none other than Hartley, and the two proved to have a winning formula as the Bears won the 1997 Calder Cup under their tutelage. While this may be seen as a formidable duo for the Flames, there is an unfortunate underlining to the relationship as Hartley is also the god-father to one of Feaster's children. While this obviously has no bearing as to how Hartley will perform as the Flames coach, it will undoubtedly be a topic of interest should the Flames continue to struggle. After the organization was finally rid of Darryl Sutter, it is unfortunate to see Feaster make himself vulnerable to the same accusations of nepotism that dogged Sutter to the point of being unpopular with the fan base.
That being said, Hartley has much more pertinent value to the Flames than becoming a critical trope to the media. Hartley simply has coached winners at every level and has a reputation for demanding accountability and passion from his players. This is probably the most needed changed in the Flames room right now, as much has been made over how lackadaisical the team appears on certain nights and how content they seem to be with losing. Flames fans by now have likely memorized the trite excuses offered by players and management, everything from "we need to try harder and capitalize on our chances" to "we simply need to find a way to get to that higher compete level" to "I really thought we were good enough to make the playoffs this year." Hartley will certainly to his best to eliminate this attitude as these were never quotes that appeared in Denver and Atlanta newspapers during his tenures there. Ideally under Hartley, the players won't just think they are good enough to make the playoffs- they will want to be good enough.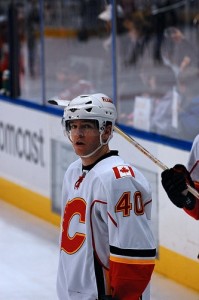 That being said, Bob Hartley is a head coach, not a miracle man. This is still a Flames team that, if Olli Jokinen departs via free agency, is incredibly thin down the middle. Their best players are well into their thirties or in the twilight of their careers. It will definitely be interesting to see the impact of Hartley's hiring on winger Alex Tanguay, who will be counted upon to deliver on his big-money, long-term contract and continue his resurgence after down years in Montreal and Tampa Bay. While Tanguay did not have his most productive regular season with Hartley when both were in Colorado, he did prove himself as a clutch playoff performer. Hartley trusts Tanguay and Tanguay seems to respond to that trust, as he was the Avalanche's biggest player when it mattered most- when he tallied 2 goals in Game 7 of the 2001 Stanley Cup Finals. If the Tanguay-Michael Cammalleri-Jarome Iginla line remains intact under Hartley, Tanguay will be feeding two proven snipers while receiving coaching from a familiar face. This certainly is a tantalizing prospect.
Hartley is certainly an intriguing choice as his name has been out of the league rumor mill for quite some time. While he has been away from the NHL game in a coaching capacity, he has certainly been involved in various facets of hockey since he was released as coach from the Atlanta Thrashers in 2007. He served as an analyst for the French RDS network and most recently coached the Zurich Lions to the Swiss League Championship. In his four full seasons with the Avalanche, he won the Stanley Cup and was a conference finalist 3 times. In his 3 full seasons with the Thrashers, he only made the playoffs once but recorded two 90+ point seasons. In addition to this, offensive-minded players have always seemed to thrive under Hartley. Ilya Kovalchuk captured the Maurice Richard Trophy under Hartley, Joe Sakic won the Art Ross, and Marian Hossa combined with Marc Savard and Kovalchuk to form one of the most offensively potent trios of the post-lockout era. While Hartley will not be working with young players of this ilk in Calgary, there is a promising Swiss goal scorer by the name of Sven Bartschi who will be looking to crack Calgary's lineup in training camp. There may be no better choice to coach a burgeoning Swiss NHL goal scorer than a man with a resume for getting the most out of his stars and has just finished winning a league championship in Switzerland.