Max Iafrate THW Close-Up:
Date of birth: 28 March 1994
Hometown: Livonia, MI
Ht: 6′ 2″  Wt: 220
Shoots: Right
Position: Defense
NHL Entry Draft Eligibility: 1st time eligible 2012
*Click Here for "Notes Up Front" and the "Legend" for various topics covered below in the "Live Updated" THW's NHL 2012 Entry Draft Guide – The Next Ones home page.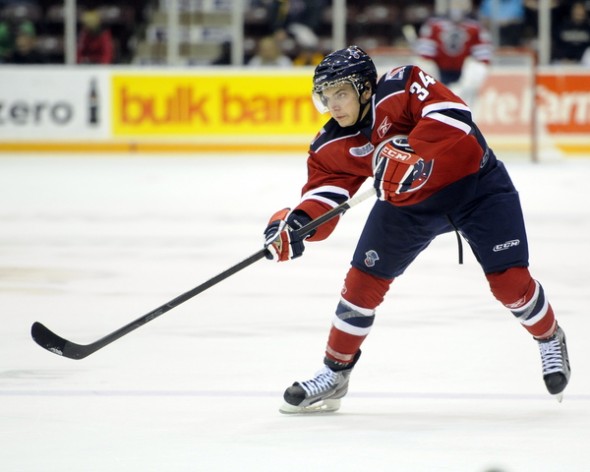 The name Iafrate isn't hallowed in hockey circles like some other names, but it does carry a legacy. NHL All-Star defenseman Al "the Planet" Iafrate had nine 30+ point seasons and six 100+ PIM seasons in a celebrated 12-year career spent largely in Toronto and Washington. His 105.2 MPH slap shot in the 1993 All-Star Game stunned the hockey world and smoked the previous record of 96 MPH (also set by Iafrate), standing until 2009.
Enter Al's 18 year-old son Max Iafrate, defenseman for the OHL's Kitchener Rangers. At 6′ 2″, 220 lbs, Max is already not too far off his dad's mammoth size (6′ 3″ 240 lbs). He also wears his dad's #34, so he doesn't seem overly concerned about separating himself from the Planet's shadow.
A 2010 OHL first round pick by the Plymouth Whalers, the kid struggled for ice time in Plymouth and over last summer found himself traded to Kitchener. Not only did he flip one sweater for another, he flipped his game, shifting from the puck-moving, point-producing defenseman he'd been in Detroit's minor hockey leagues, to a reliable blueliner who can also join the rush and contribute offensively.
With Plymouth in 2010-11 he scored 5-2-7 in 62 games, but with Kitchener this past season he managed 6-10-16 in the same number of games, including a shorty and a goal on the power play.
After hulking defenseman Julian Melchiori went to Oshawa half-way into the season, an opportunity arose for Iafrate to see more ice time and assume more responsibility, and he made the most of it. His game has matured considerably since October, earning Max an invitation to the NHL Scouting Combine and a chance for pro scouts to get to know him–beyond the famous surname.
Scout's Honor:
NHL Central Scouting's final rankings have placed Max at #70 among North American skaters, and he earned an invite to the Scouting Combine. THW's Chris Ralph has Iafrate ranked at #85 overall among his top 120.
"While there isn't much that is flashy about Iafrate's game, there are elements of his game that can make him a reliable defender at the professional level. A nice blend of good skating, strong positional play and good size, Iafrate has the ability to be a tough blueliner to play against when he lets the game come to him." Future Considerations 2012 Draft Guide.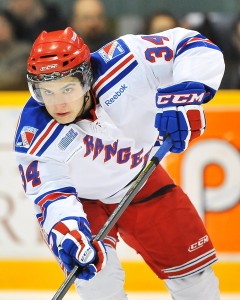 "High-end ability and a good ice presence that helps him make good decisions. Has excellent feet, and moves the puck very well. Confident player in both the offensive and defensive zones." Bill Placzek, Draftsite.com.
"Al was a pretty special player, but Max is a special player in his own right … [and] he has a bomb of a shot." Kitchener coach Steve Spott.
"Last season he seemed lost at times in his own zone, but this year he looked like a different person … showed strong positional play in his own zone, and was strong at angling opposition forwards into the boards and away from high potential scoring areas of the net …effective down low in puck battles… continues to show strong mobility and agility, and above average footwork … [however] I'm not sure how much offense he will bring to the next level …. and he also has some room to develop with his decision-making with the puck in all three zones." Sean Lafortune.
"Iafrate is a raw talent but like his father, has good size and plays with an offensive edge to his game. At 6'2 and 220 pounds … Iafrate could develop into a physically imposing presence on the blue line." Hockey's Future.
Statistics:

Bio/Interview(s)/Link(s):
ETA = 4 yrs. His dad went 4th overall in 1984 and his development was notoriously rushed by the Maple Leafs. Max won't go nearly that high; for his sake let's hope his development goes differently as well.
Risk-Reward Analysis:
Risk = 4/5   Reward = 4/5
NHL Potential:
A top 4 defenseman who can contribute on offense.
Strengths:
*See "THW Close-Up" section above.
Size. Revisit his vitals above if necessary.
Strength. Can move you out of the slot, flatten you along the boards, or ring your bell on the open ice.
Shot-blocking. An increasingly valuable skill these days.
Shot-taking. He's got a cannon like dad (but without the criminal mullet).
Offensive instincts. He may not flash 'em as often, but he's still got 'em.
Flaws/Aspects He Needs To Work On:
Skating. Skates well but will have to improve if he wants to be in the NHL.
Size. A strength because he has it, an improvable aspect because he can put it to even better use.
Simplicity: Can't allow himself to overthink the game; his instincts are plenty good and he should trust them.
Fantasy Hockey Potential:
Offensive = 5/10   Defensive = 5/10
Video(s):
In this clip, Iafrate follows the rush and scores on a booming slap shot:
In this one, Max joins the rush and scores by driving hard to the net:
Off The Iron (Interesting Notes):
In 2010 Iafrate had been heavily scouted by Kitchener and was expected to be their first-round pick, only to have Plymouth grab him before Kitchener's pick came up.
When Max scored his first goal as a Ranger, his dad was on hand to see it.
THW's The Next Ones prospect profile template design architect: Chris Ralph